In the small office or home network, the router or modem is the device connecting computers with a local area network. The router device has two types of IP address such as internal and external IP address. The internal address is an also known as private address which is used for connecting the router and the internet network. The external address is used for connecting the router to the internet or external network.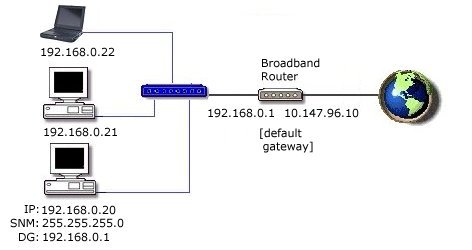 The IP addresses are assigned to every connected network computers or device and they identify the device's network location. Commonly, all addresses are based on the TCP/IP protocol and every address in this protocol is constituted by numbers separated by decimal points. Many routers have web based interface so that they can be easily configured and managed. People who like to access this interface of their router have to know these things.
They have to know the username and password of the router. They can check out the router manual to find these details.
People have to know the internal IP address of the router. This data can be available in the router's manual as well as from other computers that are connected to that router.
Users who want to find the internal IP address of their router from any computer can follow the instructions.
Steps to find the internal IP address
First thing users have to do is connecting the computer with the router. If the router is already set up for internet access, they have to ensure that they access the internet. If they are going to configure the router for the very first time, they can use a LAN cable to connecting the LAN port of computer with an empty port on the routing device.
If you are using windows PC, press the windows and R keys together to bring the run box. Then type ncpa.cpl and hit enter key. Next you have to double click on local area connection under the open network connections menu. If the PC is connected wirelessly, double click at wireless connection.
At the window, click on the support tab. Then at the network connection details you can find the default gateway with a series of numbers. This is the internal IP address of your router.
Enter the IP address in the address bar of any browser to access the web interface of the router.
Things should know about 10.0.0.1 and 192.168.1.1 IP address
Basically, the IP addresses are the unique private addresses that are available in the range of 192.168.0.1 to 192.168.0.255. The internet protocol address is a sequence of four blocks of numbers that value between 0 and 255, which means each block has 256 possible values. Usually, every computer has a default internet protocol address for communication, which serves two main functions such as network or host interface identification and location addressing. If you want to check your IP address on your system, you just press the Window key + R and bring up a command box by just type as CMD and then press enter. Once it opens, you just type ipconfig and hit enter to know your IP and all network card settings.
Easy ways to find your router's IP address
The router internet protocol is also called as internal internet protocol or default gateway. Actually, this IP is often used for home network, which is automatically assigned by the router itself. You should also need to know your router IP for accessing your router's web administration settings page. Here are the lists of easy ways to find out your router IP address that includes,
Find router IP with the use of IP config on windows
Network details
Get router IP using iOS with mobile Wi-Fi network details
Find router IP by using Android
Get router IP from network details on windows PC
Find router IP by using Mac or OS X system's network information and Net stat
When you use IP config to find router IP, it is a very simple method for you to identify your device's address on your network. For this, you need to follow the below steps,
First of all, run CMD from the start menu and press the Window+ Alt and then type in CMD to show the list of options on your command prompt.
Next, type in Ipconfig and press enter to find a group of parameters. This will show the router's internal IP address under the wireless LAN adapter.
When you find the router's IP by using Mac or OS X system IP config,
First of all, you go to Utilities -> Terminal. Once the terminal screen has opened, you just enter the below command,
Net stat –nr | grep default
The output to this above command will be looking like this:
Default 192.168.1.10 UGSc 317 2 en0
Get more stuff like this

in your inbox
Subscribe to our mailing list and get interesting stuff and updates to your email inbox.
Thank you for subscribing.
Something went wrong.