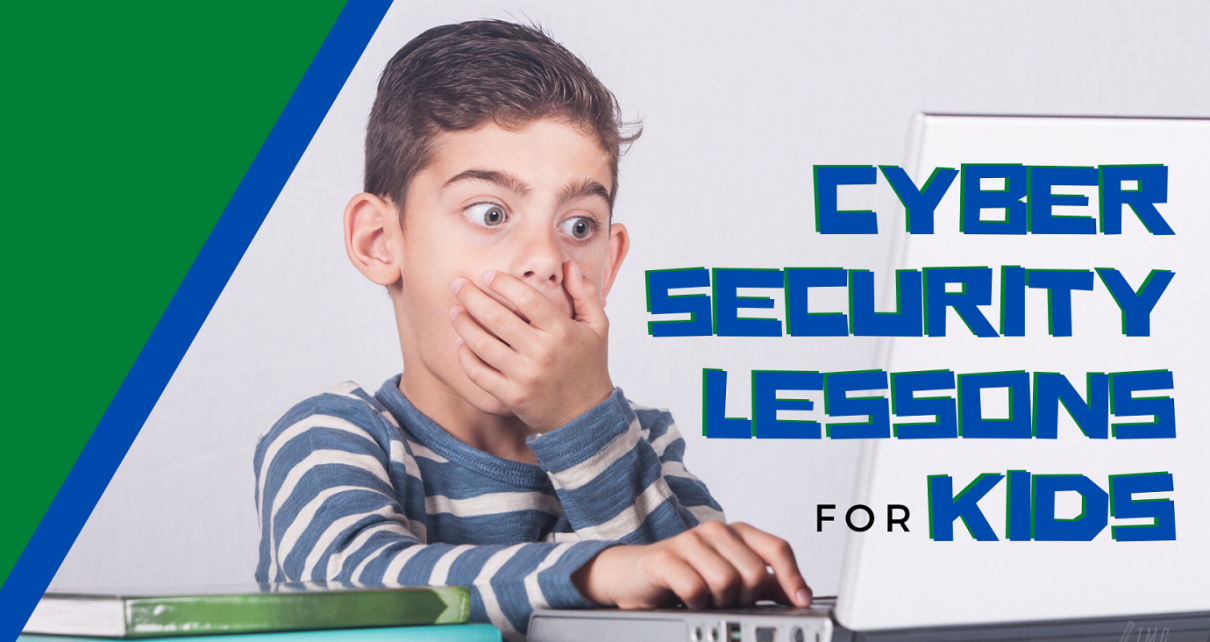 10 Essential Lessons on Cyber Security We Need to Teach Our Children
The internet is a modern marvel, and it has been changing the way we live since 1991 when it first came out. The internet brought the world closer. However, it also brought cybersecurity threats and trends so close to home.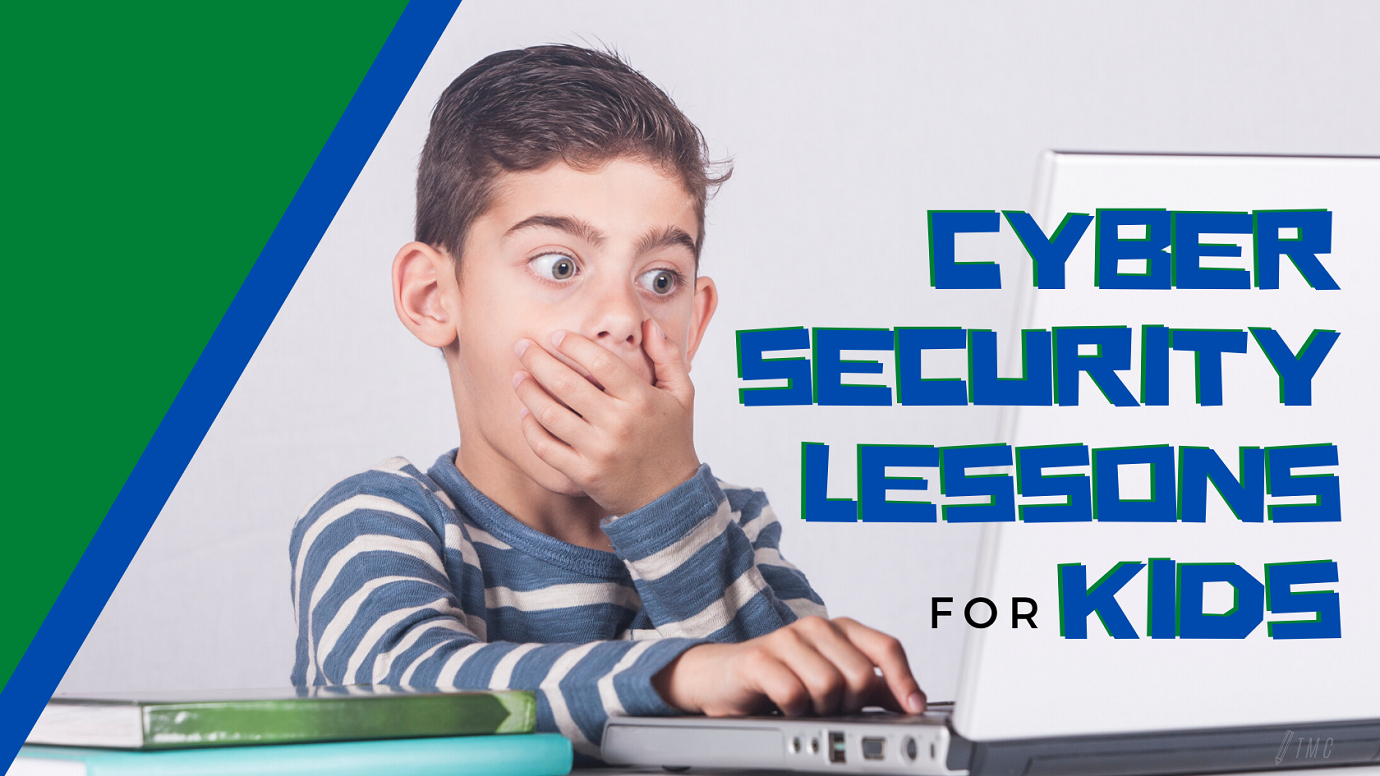 Gone were the days when kids can just play outdoors without you or any grown-up supervision. Predators lurk for unsupervised children because they are vulnerable. If you will not let your children play around the neighborhood without you or the supervision of a trusted grown-up, you should follow the same guideline whenever you allow your children into the internet neighborhood, because staying safe online is a lot like staying safe in the real world.
It has to be clear to your children that the internet is like a big, worldwide neighborhood or network that connects people using computers, phones, or other devices. Within this internet neighborhood, there are different communities with groups of people who share common backgrounds, or interests.
Not all of these neighborhoods or communities are safe, especially for children to explore. Not all digital citizens—those who use technology to learn, create, and participate—can be trusted.
Not all social interactions, through talking or messaging people in these communities, are safe.
Not all digital media, or information that is available in the internet, are beneficial.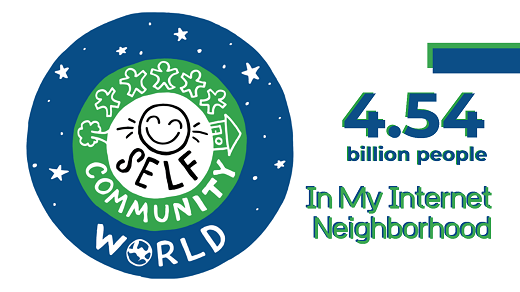 Digital 2020 report by We Are Social says that the Internet neighborhood is 4.54 billion people strong, and 3.80 billion of its digital citizens are on social media. That's a big, wide world of strangers, and if you are not careful, you and your family will be exposing yourself to great risks.
 Alarming Statistics
The Center for Cyber Safety and Education released the "Children's Internet Usage Study" in 2016 that reported on the internet activities of 4th to 8th graders in the US. What they discovered was alarming: children are constantly connecting with strangers on the internet. Some meet-up in the real world, without their parents' knowledge. A lot of these meet-ups have put minors in great risks, some even subjected to nightmarish experiences. The internet is not something to be careless about.
The study also showed the following:
29% used the internet in ways their parents wouldn't have approved
21% chatted with strangers through apps with private messaging features
17% visited sites with obscene, adult content
11% visited sites to get tips for cheating on schoolwork
4% visited gambling sites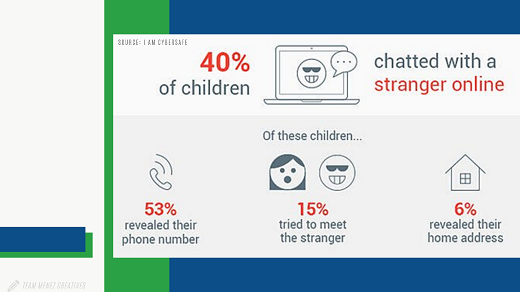 70% of children are on cellphones, 64% on tablets, and 48% on a personal computers INSIDE their bedrooms, which makes it harder to monitor their internet activity and protect them from cyber dangers they may not even be aware of.
Thus, we really need to sit our children down and talk to them about responsible browsing in this internet neighborhood.
Note to Parents and Guardians
For parents, please take note of the following before we begin:
Teaching lessons on cybersecurity to our children is NOT a one-time thing.
You need to build a culture of safety in your home when it comes to using the internet. This means you talk about it often, include it casually in conversations over the dinner table, watch media about it together, and the like.
Whatever you teach your children, you need to observe yourself.
A culture of cyber safety at home begins with you. No matter how you lecture your kids about being safe online, if they do not see you following these guidelines yourself, then your words will fall to the ground and have no bearing. Children are very visual. They will mostly follow what you DO more than what you SAY.
Teach your kids how to be responsible digital citizens.
The solution to keeping your kids cyber safe is NOT to be on watch 24/7, because that's nearly impossible. Being so strict on the children that they'd feel repressed or left out is not a sensible solution either. We need to build a culture of safety where we help the children become responsible digital citizens, able to use the internet wisely from a young age.
Heed recommendations of child psychologists and other experts.
Before buying your child a gadget of any kind, do your research and check what age is appropriate for kids to start using gadget. Check the recommended number of hours for gadget use. See what experts have rated as kid-friendly sites.
Set ground rules right from the start and stick to it.
Don't make it so complicated the kids will never remember. For small kids, create a catchy rules-of-three so they'd remember easily. You could post more ground rules as they grow older or more mature, but still, keep it short and simple. You'll see our list below where you can get inspiration from. Do set these rules from the start and be firm with them. It's normal for kids to test boundaries and see if you are really serious with what you say. Set consequences from the beginning when they break the rules. These rules are not just for them but for you too. If you have previously agreed that they'd lose WiFi privileges for three days, for instance, if they miss a homework because of gadget use, then stick to that. Don't get carried away changing the agreed consequences mid-way just because you got too emotional. Experts say that children feel safer when there are ground rules, actually, and that these rules don't just bend or change on a whim.
Make it clear to your kids that using the internet is a privilege, not a right.
Children cannot treat the internet as their property and keep their parents out of it. Just like in real life, there are rules to follow to be an acceptable member of the community. The laws of the community require minors to be taken cared of by responsible parents or adult guardians. Internet usage IS included in the scope of you parenting your children, and it needs to be clear to them from the beginning.
10 Cyber Security Lessons for Children
1. Always ask your parent (or teacher) first.
2. Stick to places that are just right for you. Observe internet traffic lights when visiting websites:
A site or app that is just right for you.
A site which is fun, with things for you to do or see.
A site that has appropriate words.
A site you're not sure is "just right" for you.
A site where the words are hard to read or understand.
A site that that asks for information such as who you are, where you live, or your phone number.
A site that has you fill out a form.
A site that has everything that a yellow site has.
A site that is clearly not "just right" for you.
A place you have gone by accident.
A site that is filled with pictures, words, and videos that are for older kids or adults.
A place where you are allowed to chat with people you don't know.
3. Don't talk to strangers.
Only talk to people you know.
Do not open messages strangers.
Don't share your username and password with other people.
Don't tell strangers private details about you.
4. Do not overshare.
The human brain is wired to share with others. When your brain gets excited, and you feel emotions, something called the "autonomic nervous system" causes you to want to share with others. Sharing with others has lots of cool benefits:
It helps you feel good! Sharing positive experiences helps you remember them, even after they're over.
It helps you learn! Sharing knowledge helps everyone be more informed.
It helps you connect! Sharing your interests is a way to make new friends and strengthen relationships.
It helps you persuade! Sharing what you care about can inspire others to act and to support good causes.
But it is NOT good to overshare. See the video below by Common Sense Education, talking about the dangers of oversharing on the internet:

5. Protect your privacy with a strong password.
A password is a secret string of letters, symbols, and numbers, that you can use to restrict who can access something digital. You need to have a strong one to avoid other people from easily guessing your password and getting into your accounts, like a burglar coming into a house illegally. For minors, no private passwords allowed, so parents can still check up on you and your activities on the internet and your gadgets.
6. Think before you post anything on the internet.
Ask grown-ups for help if you are in doubt about what you are going to post. Don't believe everything you see in the internet either. Share only what you know is true, will not expose private details about you and your family, and that you think will add value to your friends and family.
7. Allot a reasonable time for gadget use and stick to it. Take gadget-breaks in between.
8. Be positive and have fun while playing games online.
Social interaction is part of what makes online gaming so popular and engaging for kids. But online communication comes with some risks. Show your children how to keep their gaming experiences fun, healthy, and positive.

9. Be kind online. No hate speech and cyber-bullying.
Kids make friends everywhere they go—including online. But you need to make it clear to them that not all these friendships are the same. Teach them to start online friendships only with people they know, and you know, in real life. Help your children understand both the benefits and the risks of online-only friendships.
Games, social media, and other online spaces give kids opportunities to meet and chat with others outside the confines of their real-life communities. But they need to be careful whom they're talking to and the types of information they're sharing online.
Teach children to be kind online as well. Cyberbullying is one of the leading causes of teen depressions. Bullying of any kind is not acceptable, whether in real life or in the digital world, but cyberbullying does take bullying on another level because of the embarrassment and isolation it can produce for the victim on a more massive scale. Add to the fact that whatever you post online does not ever go away, leaving a trace of digital footprint behind even after you have deleted the post, image or video. The golden rule applies to the internet neighbor as well—do unto others what you want others to do unto you.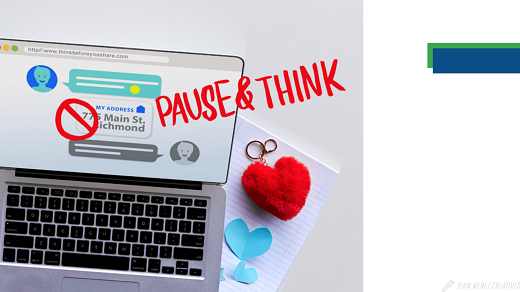 10. Alert your parents when something does not feel right.
Never hide from your parents or guardians when there are suspicious people on the internet asking you to do unusual things or give up personal information. Never meet up with anyone you meet from the internet. Stay safe, both in the internet and in real life.
Conclusion: Stay on the Safe Side of this Internet Neighborhood
Again, we need to treat the internet with caution. It is not a safe place to let kids roam around unsupervised. If, as an adult, you constantly have to filter the content you pour through online, and despite your efforts to secure yourself, still experience cyberattacks along the way, how much more unsafe is it for our children? Parents should be the first level of defense for children, and that includes cyberattacks and other malicious intent that target our kids. Stay on the safe side of the internet neighborhood at all times, you and your family.