The holiday season is just around the corner, and most marketers have already amped up their strategies to boost sales. After all, a holiday sale is always enticing to prospective customers.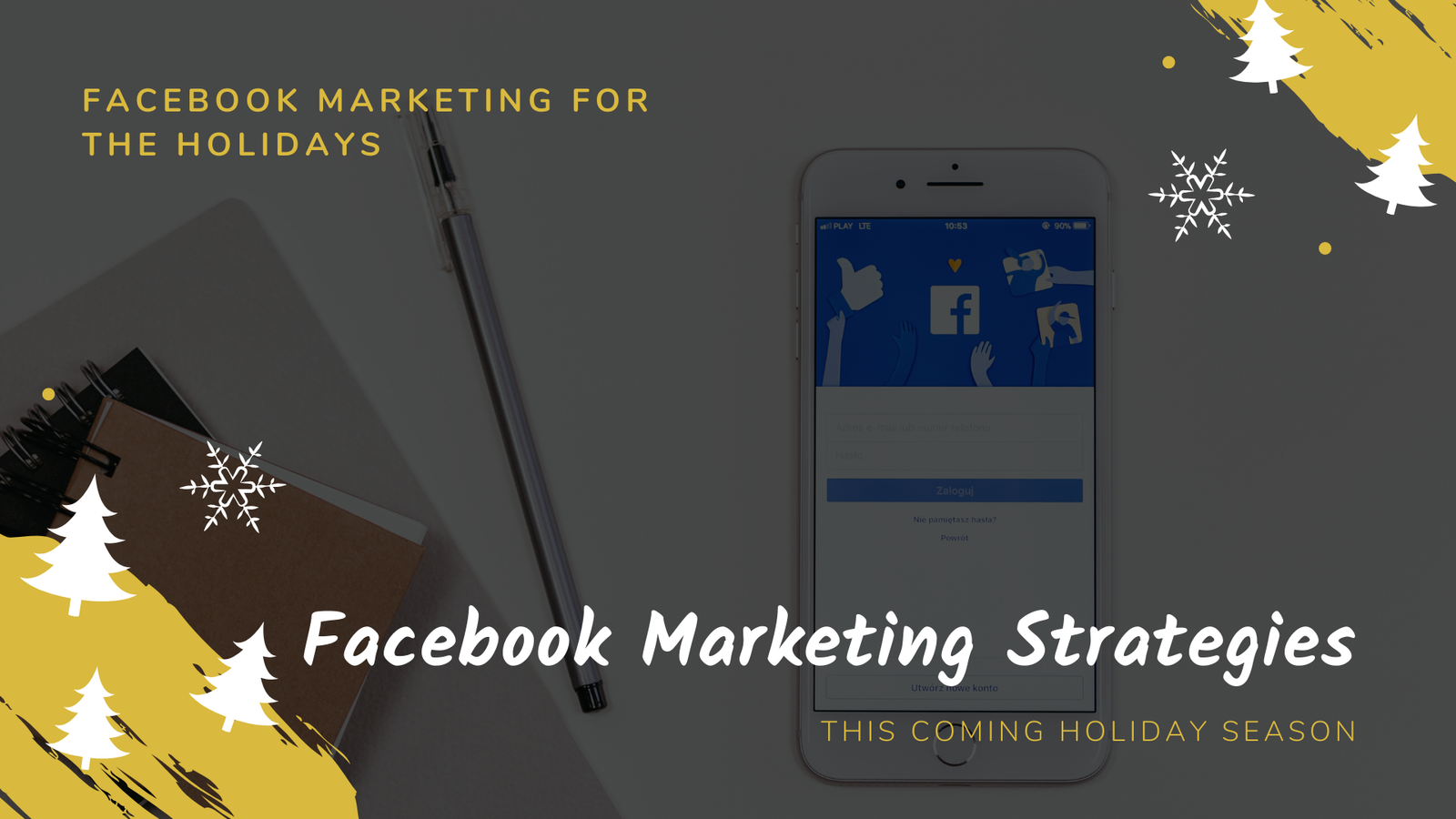 Cyber Monday, Black Friday, Thanksgiving, Christmas Eve, and New Year are usually one the largest sales days, all within a two-month period.
Since the holiday season usually happens between November and December, retailers and marketers alike are planning to make a holiday sale, going head to head against their competitors.
That's why you need to come up with an excellent marketing strategy on Facebook this holiday season.
Are you ready? Let's dive in.
1. Outline your Facebook marketing goals
Setting Facebook marketing goals will help you drive your business into a success, and will also let you know where you currently stand.
This also explains why we at Voy Media marketing agency always set marketing goals with our clients first. Doing so allows you to understand better where your current Facebook marketing campaign is heading. It will also be easier for you to gauge the performance of your social media campaigns, and if it's going to help you with the expected outcomes or not.
Here are some key questions to ask in planning your social media holiday strategy:
What are the goals and objectives of your social media holiday campaign?
Will your existing social media campaign focus only on marketing and promotion?
At this time, who do you want to target?
For your content, what particular strategy do you want to follow?
How much time do you need for planning?
How many resources do you need for this?
How long do you want to run your offers?
Outline your goals and ask yourself what you wanted to achieve in your campaign.
2. Mark out important dates on your content calendar
The last quarter of the year is going to be busy for you. Between November to December, we have the holiday season, and these key dates give you an excellent opportunity to connect with your audience and prospects.
Initially, it might seem that it's too much to keep up with, but with a little advanced planning on your part, you're sure to meet your goals.
3. Give your Facebook Page a holiday makeover
Did you prepare your Facebook page for the holidays? If you haven't changed it yet, then now is a great time to do so.
Here are some things that you can add:
Holiday-themed cover photos: When users land on your Facebook page, your cover photo will be the first thing that they see. Consider changing your cover photo, especially for the holidays. Since people are browsing more than usual, checking gift ideas and special offers, a fresh cover photo will motivate them to check out your page more often.
Spruce up your profile photo: Most brands hardly change their profile photos, but this holiday season, it's time to shake things up a little and be creative! You can ask an employee to dress up for winter clothing. Better yet, if someone is willing, they could dress up as an elf or Santa. If you prefer to keep your logo, you can still add a couple of holiday accents to it.
Decorate your app thumbnails: You can edit your app tabs with custom images that are fit for your branding this holiday season.
4. Produce shareable content
You have to be intentional with the type of content that you create if you want to boost your engagement.
Here are some questions to ask:
Will your post-capture your audience's attention?
Will it entice them to stop, read/watch, engage, and potentially share your post?
Are you creating educational and entertaining content?
Does it meet your audience (and their audience's) needs?
5. Delight your audience with exciting contests
The holidays are the season for giving, and it's high time that your brand joins the fun. You can run a Facebook holiday giveaway to boost engagement, increase your number of followers, and establish brand loyalty.
If you're still not convinced yet, keep in mind that 63.4 percent of users on Facebook will share a link if it's a holiday giveaway or contest.
One thing you can do is to offer prices that are relevant to your brand. For example, give away one piece of your best selling item as a prize.
If you're offering something that isn't related to your business, like cash or iPhone, then you could end up with a bunch of people who engage and follow you only because of the prize. You're less likely to leverage their contact details and encourage them to converge.
6. Create Scarcity
When you use scarcity, you're making your potential customers believe that they'd miss out on something good if they refuse to take action now.
There are various ways you can create scarcity, from setting up a timer to flashing the overall availability of your products.
7. Make use of Facebook's Holiday Guide
Each year, Facebook publishes a holiday planning guide for advertisers to help improve their marketing strategies.
Facebook's Holiday Planning Guide for advertisers contains a lot of insights and valuable information that will help you map out your campaigns during every stage of the sales funnel.
That way, you'll be able to maximize your sales and make the most of the holiday season.
Wrap Up
The holidays are when your customers would spend the most. People would splurge for themselves, as well as buy gifts for their family, friends, loved ones, and colleagues.
That's why it's this time of the year for you to shine the light on your business. By using the various Facebook marketing tips mentioned above, you'll be able to help bring in more sales and revenue to your business.