The Nokia Lumia, as a quick overview, is a device with a 3.7" glass touchscreen, which integrates fantastically into the body itself.  It comes with many social media widgets, including Facebook and Twitter, but also LinkedIn.  It also includes links to email, offers SMS functions and chat.  You can use the phone to go online through Internet Explorer 9 and Bing.  It also has Wi-Fi and HTML5.  The camera is very good, with the 8MP Carl Zeiss lens that we have come to know and love with Nokia.  Furthermore, it allows for HD Video.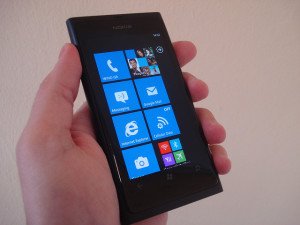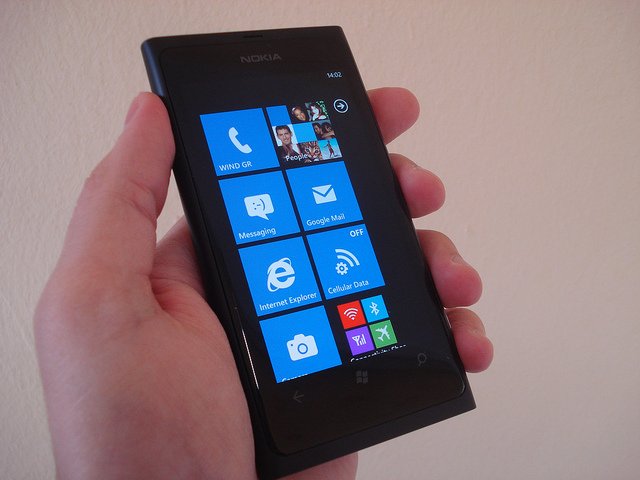 Design of the Nokia Lumia 800
It is a small, candy bar style phone that is easy to carry with you.  It has touch screen technology, as you would expect from a phone in this day and age.  The display orientation as standard is portrait, with an 800 pixel display.  The width is 480 pixels.  It comes with a light time out, as well as an ambient light detector.  The brightness can be controlled as well.  The class is Gorilla glass, meaning it is very tough.  The feedback is tactile and it has an orientation sensor.  Naturally, it has a low power mode and it also comes with a proximity sensor.  The user input is through touch.  It comes equipped with a number of physical keys, including the Camera, Windows UI, the power, the lock and the volume.
Additional Features
The device comes with some amazing additional features.  Some of these are standard and what you would expect from any mobile phone, others are really cool little gadgets.  Some of the standard features include the Micro SIM, the sensors and the microphones.  The more out of this world features include the compass (which uses a magnetometer sensor) and the 3D accelerometer.  Then, there are the standard Nokia applications, including music, maps, contacts transfer and drive.
Personal Management
One of the great things is that the Nokia allows you to manage your personal life.  They do this by offering a calculator and calendar, notes, a phonebook, an alarm clock and a to-do list.  All of these are things you would expect from a good mobile phone.
Benefits of the Nokia
The big benefit of the Nokia Lumia is that it is a really affordable phone.  Whether you want to buy it on its own as a sim-free phone or as part of a contract, the prices are really good.  Besides this, it's a Nokia.  It is certainly true that Nokia no longer is the favourite of the market, but this isn't because their phones are not good quality, but rather that others simply offer more in terms of usability and features.  However, let's not forget that a mobile phone should be able to make phone calls before anything else.  If you want something that looks good, that works the way it is supposed to work and that has one of the most amazing cameras that any mobile phone can offer, then this is the phone for you, without it draining the purse strings.
About Author: Laura Ginn wanted to be able to look professional, but still have a bit of fun with her phone as well. Most importantly of all, the device had to be affordable. Her choice was the Nokia Lumia 800 (http://www.uswitch.com/mobiles/deals/nokia_lumia_800/) and she couldn't be happier with her decision.