Avira Security For Android (Free)
Have you ever felt lost after forgetting your smartphone at home? If so, then you already know that your Android is worth much more than the sum of its parts. This constant companion keeps some of your most important data at your fingertips. That's why you need to be prepared in case your device ever leaves your side. After all, your smartphone may be replaceable, but what about its contacts, messages, photos and private accounts? Install Avira Free Android Security to protect your data and increase your chances of being reunited with your device.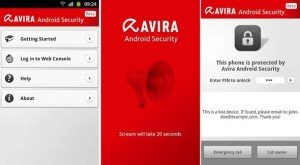 Features of the new Avira Android Security app,
Make It Scream! – Can't find your phone? Maybe it isn't far away or people nearby aren't aware of the unattended phone. By logging on to the Web Console from any browser, you can trigger a loud noise from the device, even if it was in silent mode.
Lock the Phone Remotely – Shield your personal information as soon as you think your device is missing. The Remote Lock feature locks the device from the web and can even display a message to the person who finds the device.
Pinpoint a Missing Phone's Location – Search for your smartphone the smart way! Avira Free Android Security can locate your device's signal and display its location on a Google map.
Call the Owner – Being a hero was never so convenient! The person who finds your locked phone can call and report the discovery by tapping a button on the touchscreen. All you have to do is set an alternate number in the Web Console.
Manage Multiple Devices –  Perfect for families and power users, Avira Free Android Security accommodates up to five devices on a single account. Easily add and remove devices, or adjust preferences for individual devices, right from any web browser.
Monitor Battery Life and More – The Web Console provides a handy overview of your devices. In one place, you can see remaining battery life and installed Android version as well as device specifics such as model and carrier information.
View a Device's Security History – The Web Console stores the history of all Avira Free Android Security functions performed on your device(s). Places a phone has been located, dates and times of remote screams, locks and unlocks are conveniently available online.
For more information and download, visit the Marketplace for Android.