How to Backup Contacts from Samsung Galaxy S8 to Computer
According to the report by Consumer Reports in 2015, 2.1 million Americans had their smartphones were stolen. The number is a million short from 2013's reports. The numbers are decreasing but still are significant. There are higher chances of getting your phone stolen if you own a high-end one, like an iPhone 7 or Samsung Galaxy S8. That attracts more pickpockets. Even after these frightening number. Only 29% of all smartphone users have backed up their data to a computer or online.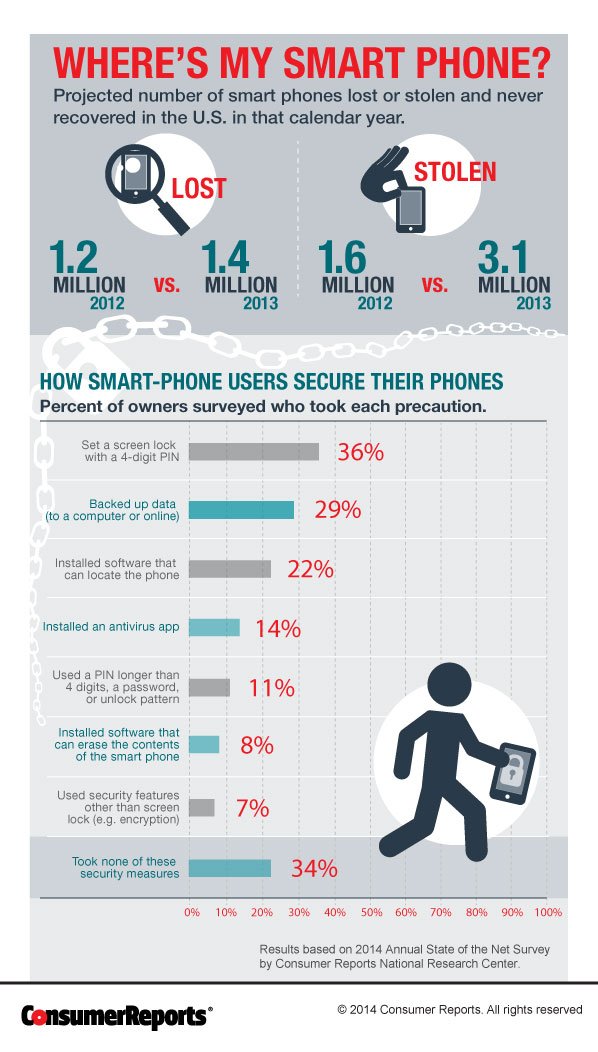 Losing your phone is something you can prevent, but cannot have total control over it. Still, you can be proactive enough to back up your data in case you lose your phone. Most importantly, contacts of your family, friends, and co-workers. Losing the contacts can adversely affect your personal and professional life.
To prepare yourself, the best time to start is now. Most of us do not backup our contacts because we think it takes a lot of effort and time. To clear the smoke, here are 3 ways to back up your contacts.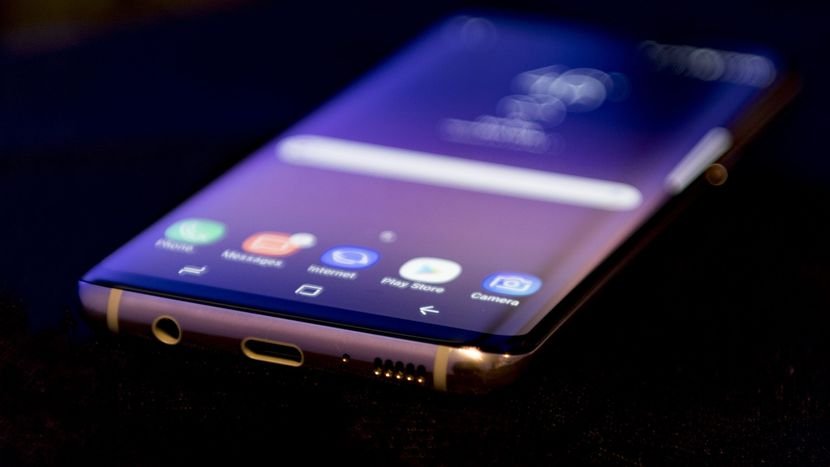 Method 1: Using Androidphonesoft Android Assistant
Androidphonesoft Android Assistant is a free desktop application. You can backup contacts from Galaxy S8 to PC easily with a few clicks. You can also recover lost contacts, transfer data between Android and iOS based devices. It is also good for managing bulk data. It does the extraction for you and saves the contacts as a vCard file. The process is as simple as selecting the contacts and pressing the "Backup" button.
Step 1: Run the Syncios Contacts Android Manager and connect the phone
Download and install the program on your computer. Then connect your Samsung Galaxy S8 via USB.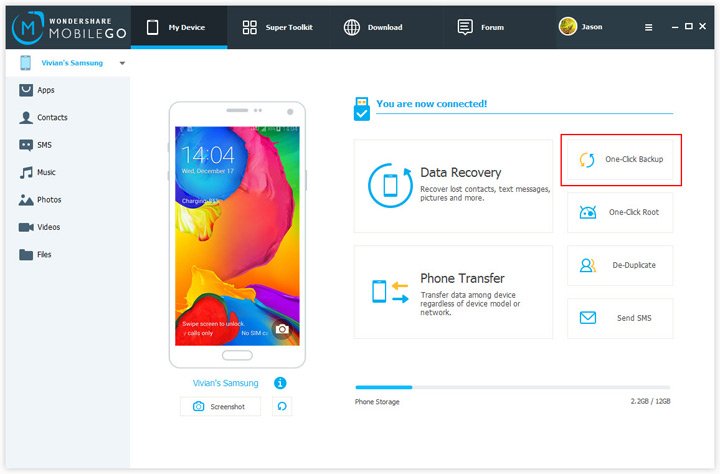 Step 2:  Select "Contacts" option on the left side of the menu.
Select the contacts you want to back up. If you want to back up all the contacts. Select all by clicking the selection box below "My Devices" tab.
Step 3: Press Backup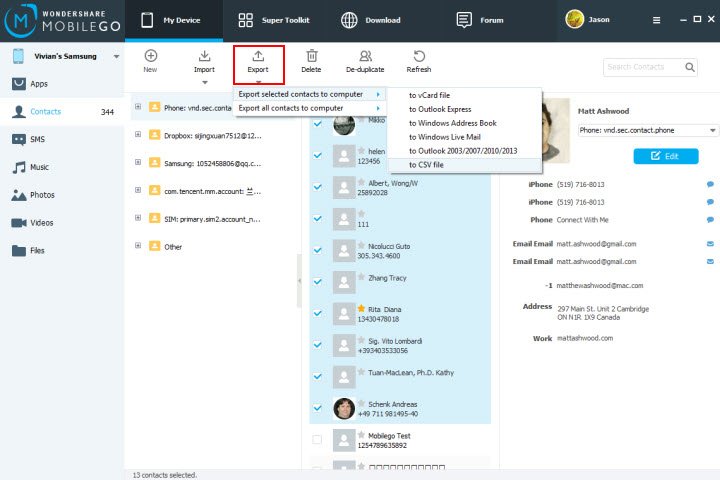 After selecting the contacts, press Export button. The application will create a vCard file for your contacts.
If you ever lose your phone or damage your database. Your contacts can be recovered. Still, there are other ways we can try. Including backing up using a USB cable.
Method 2: USB Backup
You can directly backup Android contacts to your PC. Your Samsung Galaxy S8 will treat your PC as a USB and export the contacts to PC in form of .vCard file. This method is quite simple and does not require any external software. Just plug-in and export the contacts to your PC. This method is good if you want to back up all contacts. Backing them selectively can be a tedious job.
Step 1: Connect the Galaxy S8 to the PC.
Step 2: Open Contacts app and export the contacts to PC.
After opening the contacts app, click the 3 vertical dots (or more) button. Then select "Export to USB storage" from the menu. The contacts will be saved as a .vCard file. Now, drag and drop the file from the phone's storage to your PC.
Method 3: Google Contacts
If you have a steady internet connection. Google Contacts will most convenient option for you. Unlike any other method mentioned above. The Google Contacts will automatically sync the contacts you add and delete. It also has an option to merge duplicate contacts to avoid the clutter. In all other methods, you will have to periodically backup contacts manually. But Google Contacts will do this for you. Making the maintenance of a regular backup a lot easier. You can access contacts on your PC via Google Contacts website. Here is how to set up the Google Contacts.
Step 1: Setup a Google Account
If you already have one, that will do too.  Sign in with the Google Account in your Samsung Galaxy S8.
Step 2: Enable Sync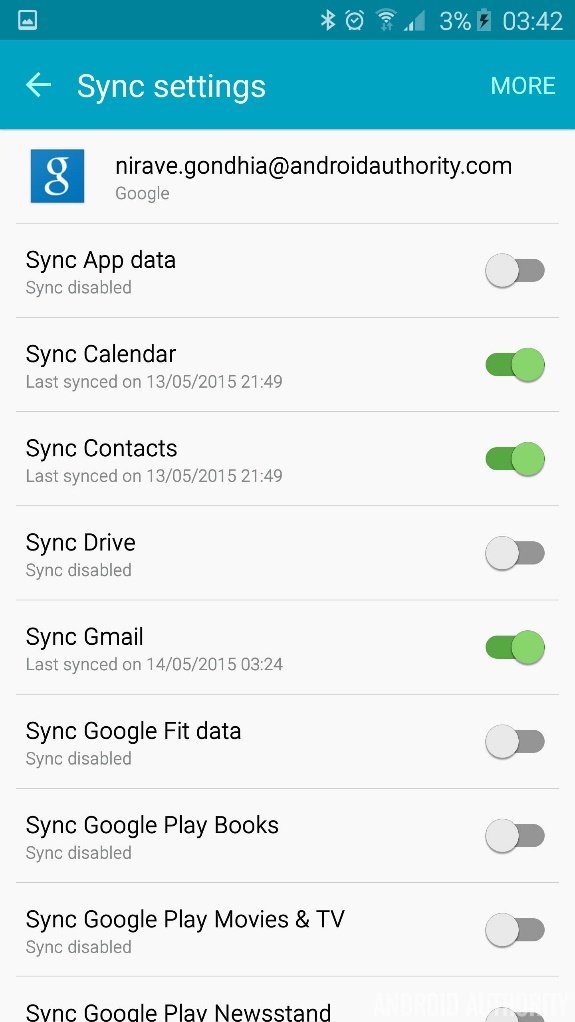 Go to "Accounts" in your settings. Select your Google Account and check the box for "Sync Contacts".
Now you are all set to create your backup contacts. All three methods mentioned above will work fine. If you prefer working offline, then use the USB backup method. If you want to back up your contacts selectively. Then use the Syncios Android Contacts Manager.
I will recommend using Google Contacts to keep things simple. And as the backup contacts is on your Google Account you can access it on anywhere. In the end, it is on your preferences. Backing up your contacts keeps you one step ahead of your adversities.