Become a Business Success on Pinterest
Many companies are using Pinterest to successfully tell the story of their company. That's a smart move, considering it is one of the fastest growing social networks.
Pinterest for Businesses provides a new opportunity for brand awareness and a helpful boost for potentially viral content.  But success won't come automatically; after establishing your target audience, you must build a real Pinterest strategy.
Create the Right Boards
Don't rush in to pin. There should be a good amount of planning behind setting up your first Pinterest boards.
Don't host boards solely about your business. You'll want to add variety to your content.  Here are a few examples for adding flair:
Office Boards – Give your company a splash of personality by adding boards that feature items your employees enjoy (e.g. favorite recipes or memes).
Seasonal Boards – Can your company and its products and/or services be applied to different seasons? For example, if you're a hardware store, consider a springtime board that inspires projects for homeowners.
Event/Information Board – If you're hosting an event or if you appear in a publication, create a board to feature it!
Services/Products Adaptation Boards – Consider the uniqueness of your products or services.  Can it be applied to something other than it's typically used for? Create a board that shows your product/service in action – you'll be automatically promoting your company's results.  Lowes does this well by suggesting projects you can create with their products.
Sales and Specials – Give those products you're trying to promote an extra boost by adding a board! Just be sure to update pricing or availability as it changes.
Engage Followers
As with any other social network, the best way to be successful on Pinterest is to have a high engagement rate on your posts.  Engaging with your fans and having your content shared helps to expand the reach of your posts.
Gaining traction on Pinterest is a little different than a simple like or comment.  You can incite engagement in a few ways:
Follow relevant pinners – This allows you to make social connections and prepare yourself with an arsenal of material to repin.
Repin – If you want others to share your content, show that you're willing to share as well. Pinning is a two-way street.
Update image captions – Whether you're creating an original pin or re-pinning, add to the caption.  Add a bit of your brand voice to spruce up the caption.
Utilize the search bar – Pinterest is massive; utilize that search bar! Search your brand's name or relevant topics to find other relevant users (and pins).
Add hashtags –They're everywhere, so you might as well embrace them. By using hashtags in the pins' descriptions, you'll automatically be linked to those posting similar items.
Entice Your Followers
Take engagement to another level by enticing users to get involved.  Hosting a contest or giveaway on Pinterest is a great way to get others involved in your message.
Create Contests
"Pin It to Win It" type contests increase the chance of your products/services going viral.  If your promotion is exciting enough, users will share it.  Make sure to utilize your site as an aspect of your contest.  After all, Pinterest is still a marketing effort.
Here's an example of a promotion that is easily adaptable for small businesses: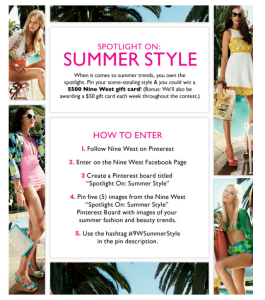 Shared Boards/Cross Promotion
Pinterest has the option to share your boards with other users, so consider joining another company to develop a cross promotion!  Add hashtags into the campaign to expand reach.
Measure Success
80% of posts on Pinterest are repins. Are yours being shared?  The only way to know if your Pinterest marketing strategy is working is to measure it.
Pinterest's Analytics Platform
Any verified Pinterest account can gain access to the analytics section.  This area lets you dive deep into your followers' behavior.  The new platform helps you track what people are pinning from your website, making it a great tool to see what's trending on your site.
Another great data point to take note of is impressions/reach.  They provide a good idea of the number of people who see your site's pins (but don't visit your site).  This way, you'll be able to measure the evolving visibility of your brand.  Here's a screen grab of what it may look like:
Other Analytic Tools
Many other Pinterest measurement tools are starting to disappear with the introduction of Pinterest's own suite.  However, there are a few out there that can help you measure your activity on the Pinterest site.  This data includes listing the influencers in your following and the reach of pins you may have pinned or repinned from other sites.
Tracking these aspects will inform you about what your audience is responding to and what's working.  In knowing this, you'll be able to adjust your Pinterest marketing strategy accordingly.
What aspects of Pinterest have you seen working best for your brand? We'd love to see how Pinterest works for you! Tweet us @Ripen_eCommerce or leave a note below.
About Author: Jessica Kornfeind is the Social Media Specialist at Ripen eCommerce, which has provided comprehensive eCommerce marketing solutions for clients since 2004. Working in close partnership with online businesses, Ripen's web development, marketing, creative and technology teams build intuitive user experiences that boost online sales. Follow the team on Twitter, @Ripen_eCommerce.