MS Outlook takes information from Excel spreadsheet that contains a list of email address and export data to a virtual address book. To import Excel spreadsheet into Outlook, users should convert spreadsheet to CSV (comma-separated values) format. Once the Excel spreadsheet is exported, Outlook Import and Export Wizard will upload the data into "Contacts" folder. Therefore, in the upcoming section, we are going to discuss a manual way to move Excel spreadsheet to Outlook contacts in a reliable and efficient way.
A User Query to make the concept more clear:
I am having Microsoft Excel Spreadsheet and now, I want to transfer contacts from spreadsheet to Outlook application. Although I was unable to export address book in any other email client. Therefore, I want to know that is there any suitable way so that I can easily convert all my contacts from Excel Spreadsheet to MS Outlook. Kindly suggest me a relevant approach.
Excel XLS/XLSX files can be migrated to MS Outlook using manual as well as by any relevant automated solution. We will discuss both these solutions, first let us check the manual way in the next section.
Export Excel File to Outlook Contacts Manually
Go through the following steps by which users can transfer contacts from Excel Spreadsheet to Outlook 2010 application. Here are some set of instructions as mentioned below:
1. Save Excel file in CSV format using following steps:
Open XLS/XLSX Sheet >> Go to the File tab.
Now, click on Save As option.
Select a location (from the left pane of the Window) to save the file.
Select Text CSV option from the Save as type drop-down list.
Click OK. The file will be saved on the given location.
2. Now, open Microsoft Outlook application.
3. Now, you can create a new folder in MS Outlook.
Right-click on Contacts folder.
Select option of New Folder.
Enter name for a new folder, and click OK button.
4. Click on File tab and choose Open button from the menu.
5. Go to the Import tab and you can open the Import and Export Wizard.
6. Select an option Import from another program or file, and press Next.
7. Click on Comma Separated Values (Windows), and hit on Next.
8. If a particular file that is shown which is not a correct file, click on Browse. Then, browse to the desired folder that is discussed in step 3, and double-click a file for choosing it.
9. If you are importing into a new mailbox folder, the Options settings are negligible because there are no duplicate items. If you are not importing in this new folder, choose the logical selection. Click on Allow duplicates if you are not sure, and afterward, click the Next button.
10. Click on Contacts folder or another contacts-type folder which you have already created, and click Next button.
11. If you are not really sure that column names available in the first row of Excel spreadsheet will map the data correctly to MS Outlook fields, click on Map custom fields to confirm them.
There are many users who find manual solutions a bi lengthy and time-consuming. So, to save their time they want to know how to import contacts from Excel to Outlook Address Book in a quick and trouble-free way.
Read the next section to know Excel contacts to Microsoft Outlook migration.
Experts Recommended Solution to Transfer Excel Spreadsheet to Outlook Contacts
In case, if the above-described method gets failed then, users can take help of a reliable third-party tool i.e., Excel to Outlook Converter. It is designed in such a way to convert multiple contacts from Excel file to Outlook address book in bulk. It permits a user to load and preview stored data within Microsoft Excel file. It has a simple and easy-to-use interface that even a novice user can understand the working of this tool. The best part of this software is that it can support both Windows as well as Outlook versions. Some of the extraordinary features of the software are given below:
Option to exclude duplicate contacts during MS Excel to Outlook conversion
Allows the users to create Distribution List within Outlook for all Excel contacts
Directly configure and save Excel contacts into Microsoft Outlook contact folder
Permits to preview all content of the Excel Spreadsheet in an effective way
Software enables to Map Excel fields properly with Outlook attributes
Steps to Convert Excel Spreadsheet to Outlook contacts
There are following steps that will help to import contacts from Excel file to Outlook mail client. Let us have a look:
Step 1: Launch Excel to Outlook Converter on your local system.
Step 2: Click on Browse button to select the Excel file. After browsing, software can preview the entire content of XLS file. Press Next button.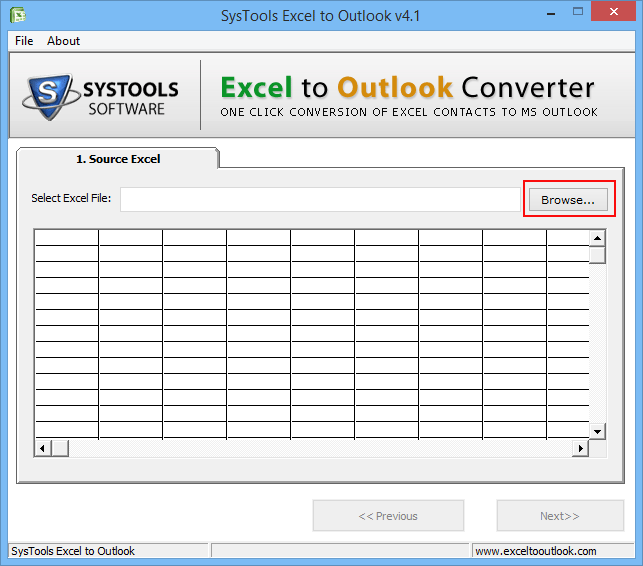 Step 3: Then, match the field of Excel file with MS Outlook attributes:
Select Excel fields from the left screen.
Then, choose all the Outlook Attributes from the right-hand side.
Step 4: After mapping the fields, go to "Add" button. Now, the software will show a list of mapped attributes. Then, click Next.
Step 5: Next, enable the options you wish the software to handle during migration.
Step 6: Once the required options are checked. Then, choose Convert option to start the conversion process.
In the above-discussion, we have described a direct manual way to convert Excel spreadsheet to Outlook contacts. In any case, if users get failed to perform the manual procedure then, you they can take help of a commercial tool. Thus, we have highly recommended an alternative approach i.e., Excel to Outlook Converter. It is the most amazing solution that will help to export contacts from Excel to Outlook with an ease.