Export Exchange Calendar to PST Outlook 2010 Without PowerShell Commands
In this article, we try to find the best method to export exchange calendar to PST format, as Calendar details stores import information about user meeting and appointments. As Outlook Account Configured with Exchange Server for Email Communication. In Outlook Calendar Section is included so that user can manage every day task, can schedule meeting, events, to work effectively and to increase productivity and coordinate with colleagues and other people easily.

Benefits of Using Calendar Section
Calendar not only help user to manage the task with Date, it provides more benefits such as:
Help in Creating in Appointment with Other People (Client).
Set Reminders for Appointment and Meetings.
Create To-Do list to keep up Work List
Create an Event to schedule all day event work.
Share Schedule Calendar Details with Other People and allow permission to change.
Since Various Condition Exchange user need to export exchange calendar to PST format and all the Folder section such as Deleted Items, Drafts, Junk E-Mail, Inbox, Sent Items, Journal, Calendar, Contacts, Notes, Tasks details moved while during Export Process. Exchange Offer Power shell commands to export entire mailbox to PST format. This increase the size of resulted PST File format and opening the PST file Outlook application import entire data of PST File that include junk data, unusable for user.
Best Way to Move Exchange Calendar Details to Outlook Application
To export exchange calendar to PST format so that only details save of Calendar Section included in PST file format with any other section Details can be possible using Exchange Exporter Tool. Tool equipped with functionality that helps user to transfer Different folder section separately. Also software includes Date Filter to Select details of later Dates, to know how utility export exchange calendar to PST without PowerShell Commands. With friendly Interface, user just need to select the Option offered by tool. Understand complete process in given screen shots:
Download Demo Version of Export Exchange Calendar To PST Tool
Note: Software Supports Exchange Version 2016, 2013, 2010, 2007 and 2003 and Outlook
1) After Downloading software, Install software on the system.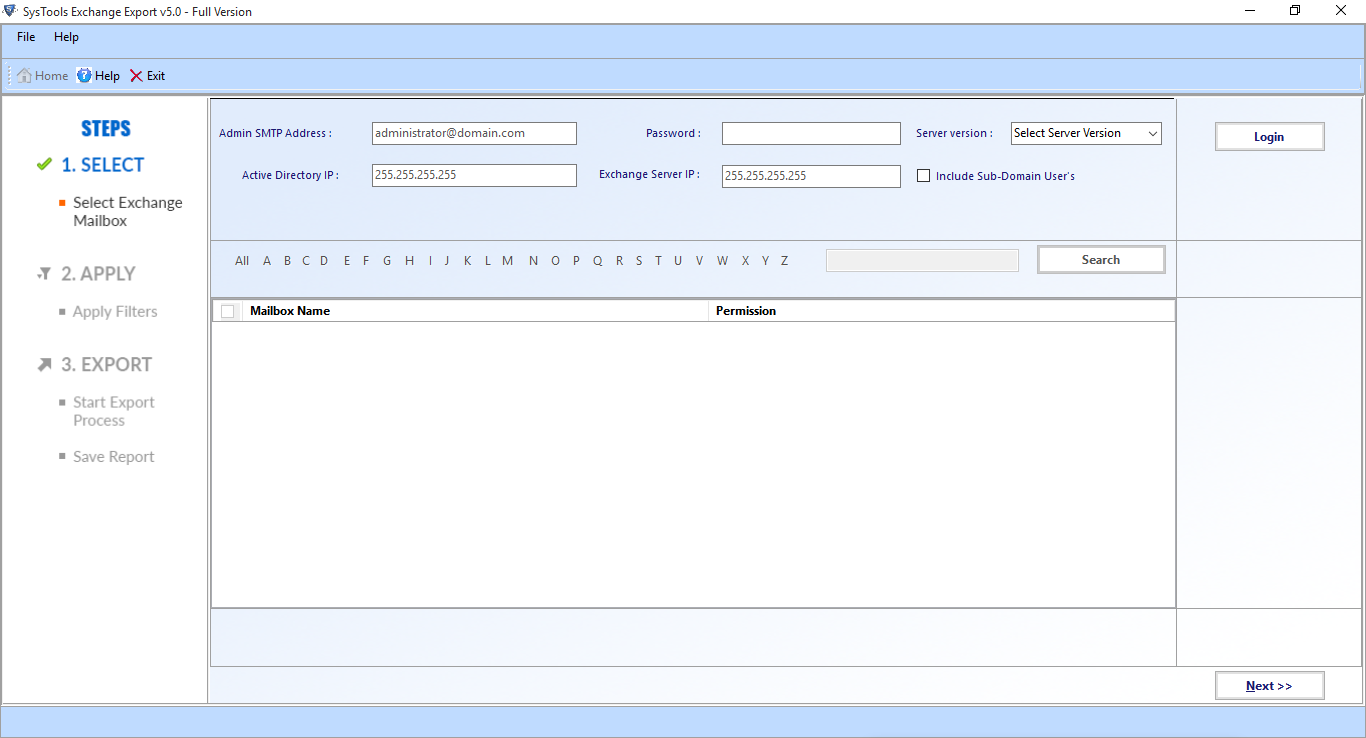 2) Select Exchange Mailbox: User can Export Calendar Details of Live Exchange Server Mailbox, for that you need to give details needed by software to get access to the mailbox stored in Exchange.

3) Details Needed by Software to Access Mailbox:
a) Admin SMTP Address and Password b) Active Directory IP
c) Exchange Server IP                            d) Exchange Server Version
4) To Find Mailboxes stored in Sub-Domain user, Tool offer an addition features to reach the stored mailbox.
5) After Filling all Details, tool Display complete list of "Mailboxes" in Mailbox Pane with Details such as "Mailbox name" and "Permission" related to Mailboxes.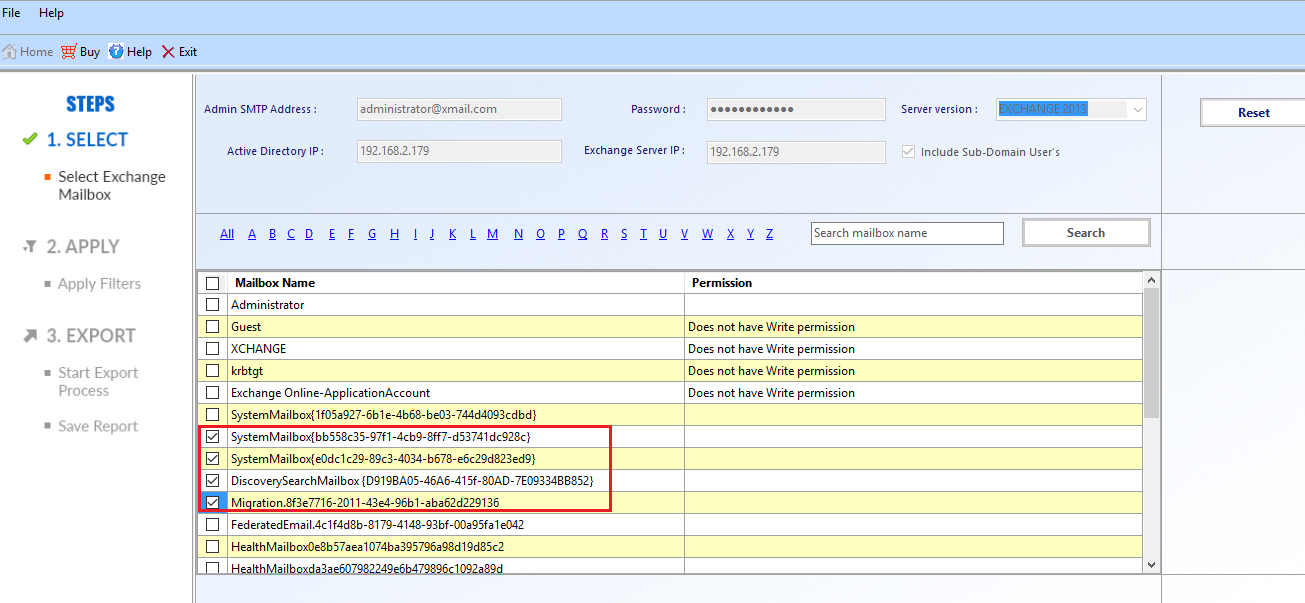 6) Now Click on "Next" and Select the Specific Category Section.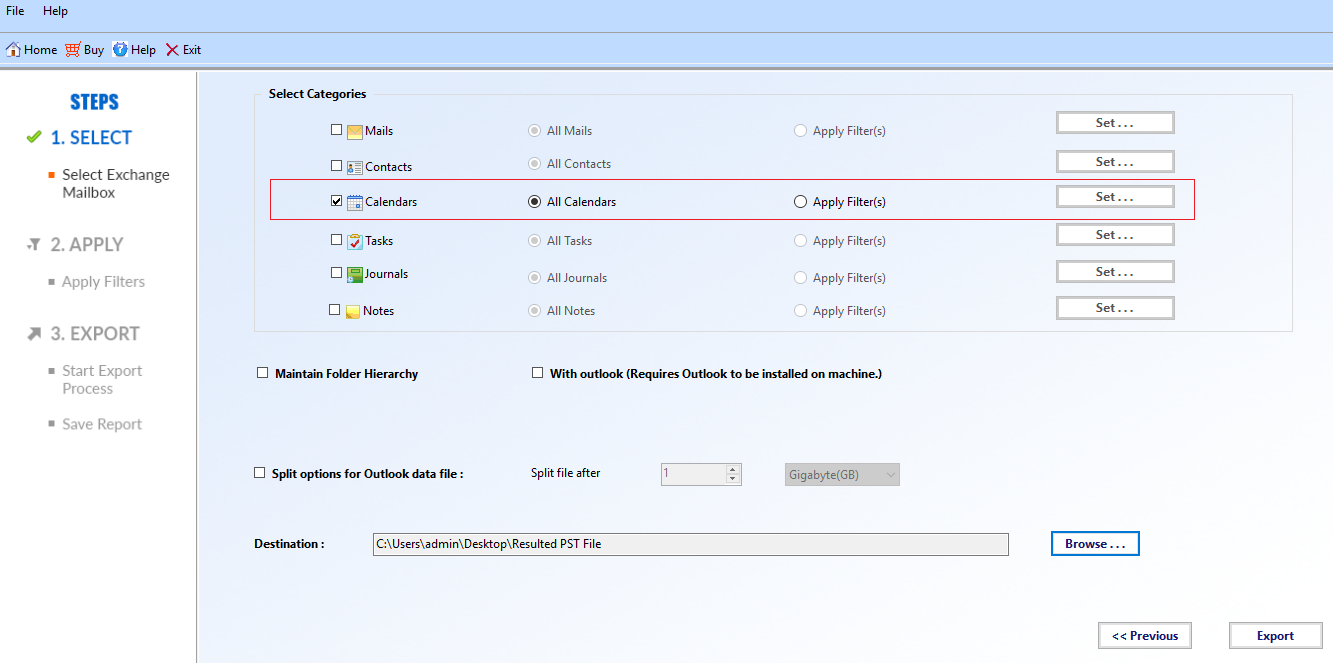 Note: Since we have to export Calendar section only of User mailbox. For that Check only the Calendar section to export exchange calendar to PST format.
8) With Calendar section, Filter section also include to export Calendar details of specific Date Range. For that Click on "Set" Button.
9) Now Select the Destination Path to save the result in PST File format using the "Browse Button".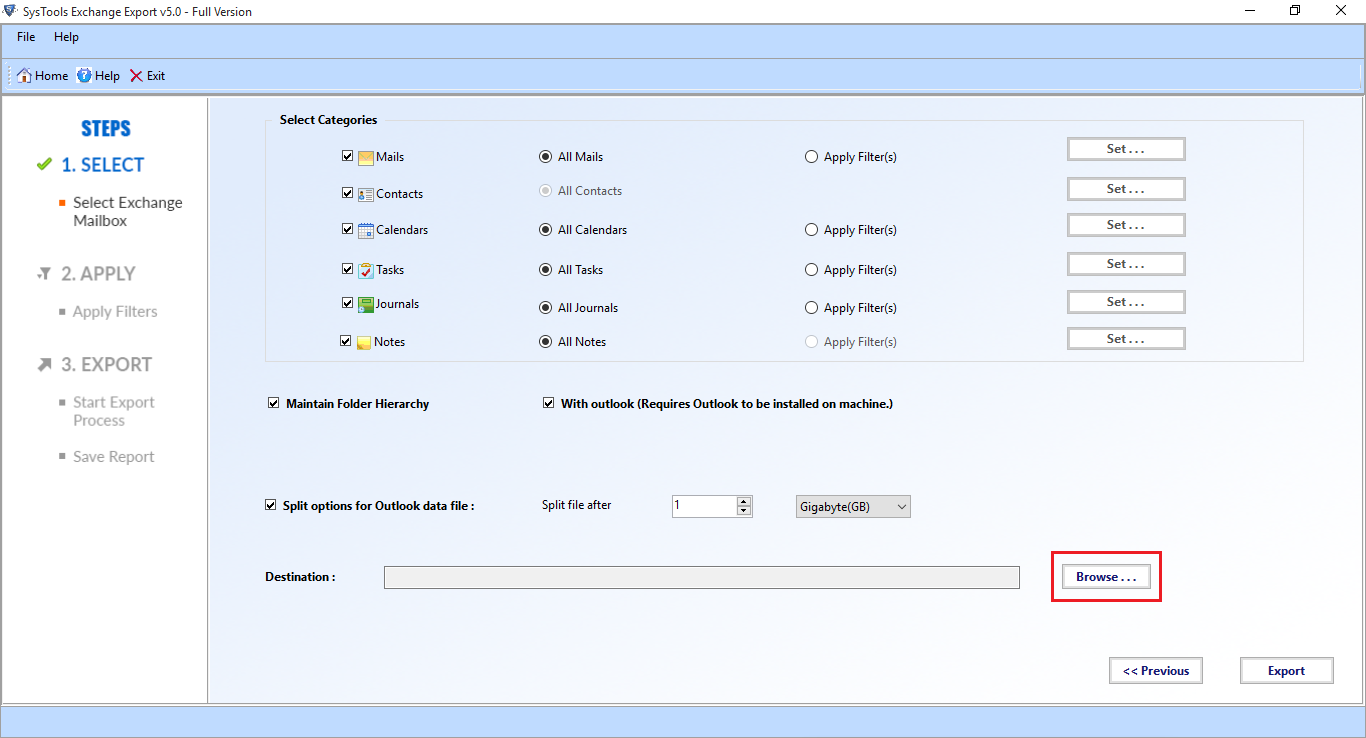 Note: Not only Calendar, user can export other items by click the check box in front of Different Section as above Screen.
10) Now click on "Export" option, Tool will Display Progress Report of Complete Export Process.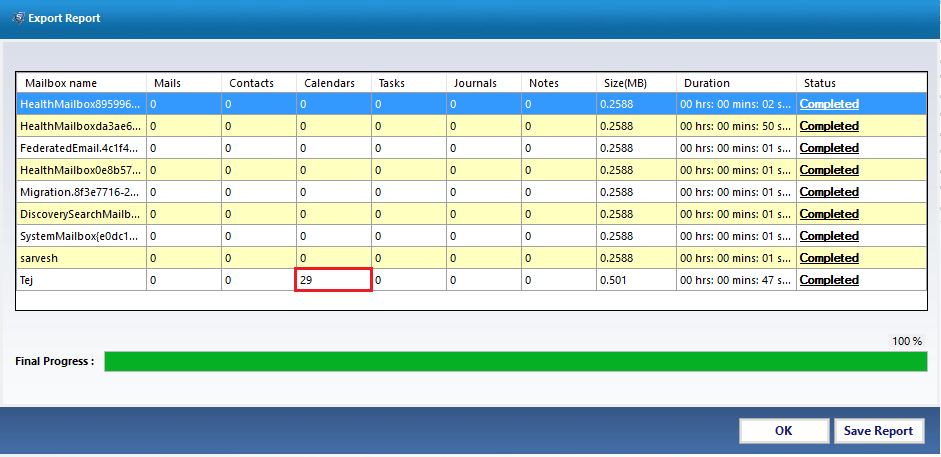 11) Open the Resulted PST File in any Outlook application to view the Export Calendar Details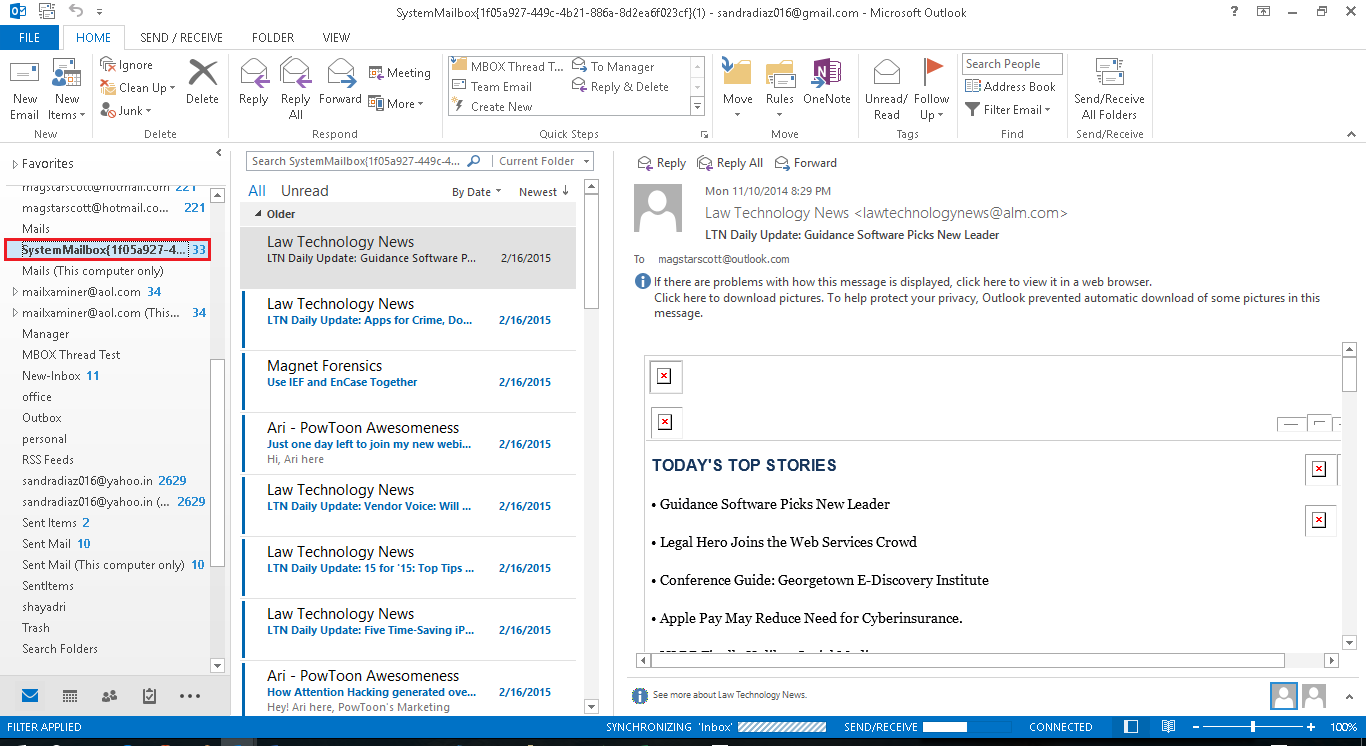 Additional Feature Offered by Exchange Exporter
Maintain Folder Hierarchy: Since Mailboxes Folder includes various folders and all the heir achy maintain while exporting the data into a PST File format, so that while opening the Resulted PST File in Outlook, so that all the data remain in the same folder as Exchange Mailboxes.
Split PST File Option: If the number of Data stored in Exchange Mailboxes, the size of resulted PST File also increases. Hence, Tool offers option to split the resulted PST files in small size, so the user can manage the Exported Data.
Selective Data Items: Software not only export Calendar Details to PST Format but also it allows user to export Selective Data items. As Software display different section such as "Emails, Contacts, Calendar, Tasks, Journal and Notes.
Advance Date Filter: To move only the specific Date range calendar details to Outlook format, user needs to open filter option to select "From" and "To" section of Date. Tool Export only the details selected between the Date Ranges.
Conclusion
In Exchange 2013, to export calendar to PST Outlook 2010, 2013, 2016 or any other versions, PowerShell commands and use of EAC (Exchange Admin Center) are not the last choice. User can Download Exchange Exporter from above link and move not only calendar details to PST format but, also other Folder section stored in Exchange mailbox.