I bought a yoga DVD in French during my seven-European-tour. When I returned to America I want to insert it to my DVD player, I found that I couldn't eject the DVD drive on my pc. Then I tried to open it from my computer by pressing eject, but it still didn't work. How can I solve the problem? Anybody can help me? And is this a hardware or software problem?
Note: My laptop is HP Chrome book 14-C050 and As the DVD from European; I had already let my brother remove region code from DVD with DVD ripping software.
The Solution
As there exists several possible reasons that casing our DVD drive can't open or eject, it may be a small problem and easy to be solve. Sometimes it is hard to solve, so what we should do it to troubleshoot the problem. Well, I let us don't talk nonsense any more and if you have encountered the same problem I listed above; follow the following methods to solve your problem.
Method 1: The eject button on the case is bad
Due to the frequent use, the eject button is easy to bad. So bypass your eject button, go to the desktop click "Computer" and "the disc drive icon" in turn to eject your DVD tray. If it works and your CD-ROM drive tray was been pop up, It is proved that the eject button is bad.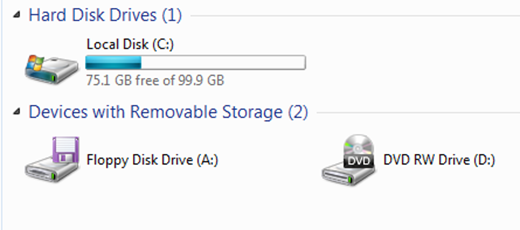 Method 2: No power to computer or disc drive
As Long time use, many parts of your DVD Drive are already aging. So Due to the aging line the power to your DVD Drive may have been disconnected, just check the power cable and ensure it is a good connection.
Method 3: Do a system restore
Sometime due to the virus, your DVD floppy drive is paralysis. So what should you do is to do a system restore. A system restore will take several files off and changes your computer. Or it can be OK for you to uninstall the driver for your CD/DVD drive, and reinstalling it. Then restart your computer.

Method 4: Use the DVD emergency-discharging hole
As we all know, there exists an emergency-discharging hole on the DVD drive panel. Once you can't eject the DVD Disc in the DVD warehouse, find a paper clip or toothpicks and insert it into the emergency-discharging hole to get the DVD out of the warehouse. At this time the computer will pop a small part of the DVD tray up, then directly pull it out.