In today's digital age where a large number of documents and information are shared amongst businesses, PDF editing is becoming an increasingly powerful and necessary tool. Although the concept and software sound simple, you have to shell out can a whopping $299 for Adobe's PDF Editor tool. That's just for the standard software, if you wanted an upgrade to a "Pro" version, you're looking at $449.
FormSwift understands the value and necessity of PDF tools and what users are looking for in editing their PDF files, so they created the FormSwift Free PDF Editor (formswift.com/edit-pdf): a quick, reliable, and user-friendly tool to edit and sign any PDF document. The Free PDF Editor is a web application that is accessible through your favorite browser, meaning that there is no lengthy installation process and users can access and use the tool anywhere, anytime, and with any operating system when connected to the internet.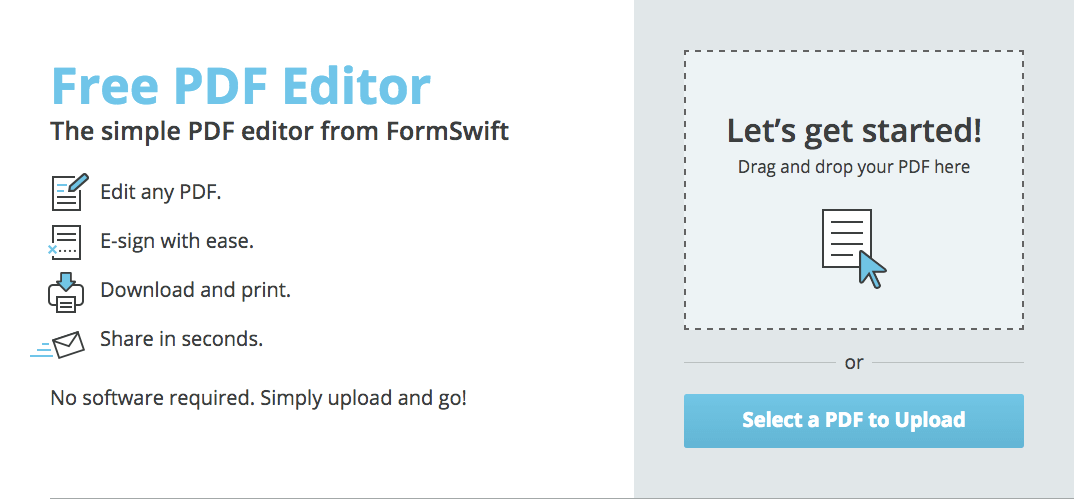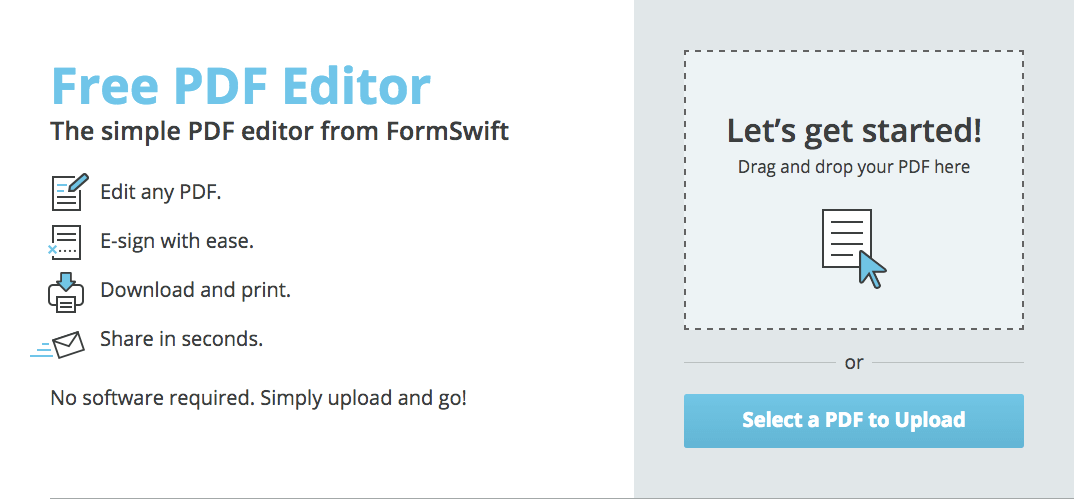 To get started, you can either drag-and-drop a file into dotted box, or click on the "Select a PDF to Upload" button to upload directly from your files. Once you have uploaded your PDF, you can literally click anywhere on the document to edit the text. If you made any mistakes, you can discard your edits by clicking on the trashcan button, or you can use the eraser tool to delete any portion of the entire document. There is also an option to upload images to the document, which users can then resize and insert to anywhere on the file.
Users can also use our built-in signature tool to electronically sign any document. This is an extremely useful function as it eliminates the need for users to print off their documents in order to sign them, and then having to fax or scan and email the paper to others (we've all been there before!). Additionally, the sidebar on the left of the screen provides a quick overview of every page of the document so that you can quickly go from one page to the next and make your edits. You can also save your progress as you make your edits, and once you are satisfied with your changes, you can download and print your new document.
Key Features of FormSwift Free PDF Editor
Edit any PDF
E-sign with ease
Download and print
Share in seconds
No software required. Simply upload and go!
To date, more than 16 million documents have been created and edited through FormSwift's Free PDF Editor. FormSwift's vision is to help businesses go completely paperless, and our free PDF editing tool does just that. There is no longer a need to empty your wallet to edit your PDF files, and no need to download complicated and cluttering software to sign your forms, all thanks to FormSwift.