G Data MobileSecurity For Android (Free)
G Data MobileSecurity – The new security solution for smartphones using the Android operating system version 2.0 or higher. For protection and security while mobile surfing and using the telephone. Protect your identity and personal, confidential content such as messages or emails against viruses, malware and other spy programs. With authorization checking: which apps are allowed to initiate calls, send SMS or access the Internet?
G Data MobileSecurity helps you take care of your smartphone, before somebody else does.
Anti-virus, anti-Trojan, anti-spyware
On-demand scan
Real-time protection: new apps are automatically scanned after download and installation
Periodic virus scanner
Checks all apps against blacklist
Checks authorizations for all installed apps
Updating via Android software updates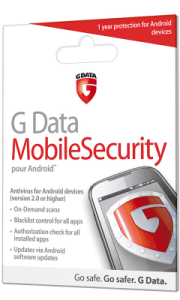 For more information and download, visit HERE. You need to sign up/sign in for download the app. This MobileSecurity is available for these devices presently: Galaxy S Advance (I9070), Galaxy R (I9103),  Galaxy S2 (I9100), Galaxy S scLCD (I9003) and Galaxy S (I9000).