Hey friends, hope you're doing fine and here TechnoGiants comes up again with another great review + giveaway, this is TechnoGiants 5th Giveaway and TechnoGiants would like to give our valuable readers the genuine license of uRex DVD Ripper Platinum 4.0 worth $34.95, this is an unlimited giveaway, so please go a head read the review, give your comment and enjoy the giveaway.
A handy DVD ripper is the best solution for whenever you need to backup the content of DVDs to local files. This kind of tool is also of great help when you need to extract video files from DVDs and convert them to formats which are compatible for being played on various types of portable devices.
uRex DVD Ripper Platinum is a handy and reliable DVD ripper that will help you solve these kinds of situations.
uRex DVD Ripper Platinum is very simple and easy-to-use. Handling it requires no experience from the users, as its interface is very intuitive and straightforward. Though it cannot be customized or resized, the neat interface represents an important advantage of this application.
Another positive trait of using this tool is the fact that it allows you to choose the exact type, size and quality for the output file. It supports a large variety of video file formats, including the popular ones like AVI, MP4, 3GP, FLV or MKV, and it enables you to customize individual file parameters such as the bit rate or the frame rate for any of the supported formats. It can even rip DVDs to audio files.
Last but not least, it offers some handy video editing features that let you apply various effects such as blur, mosaic or sharpen to the video files. The ripping speed is also satisfactorily high.
In conclusion, uRex DVD Ripper Platinum is one of the most powerful DVD ripping tools that one can find.
Publisher's Description
uRex DVD Ripper Platinum is a powerful and stable DVD ripping software that is compatible with Windows XP, VISTA and Windows 7. It provides users an ideal DVD ripping process to AVI (DivX, Xvid), MP4, MPEG, WMV, 3GP, MOV, FLV etc. With this DVD ripping solution, you can make your own DVDs compatible with all the popular media players and portable device such as iPhone (iPhone 3GS, iPhone 4), iPod, iPad/iPad2, PSP, mobile phones etc. with one click access to all CSS, Sony ArccOS, Disney and other protected DVDs and rip them to plain videos with only one click.
Lets discuss about its specifications which is going to be mentioned below.
Installation is really very easy, clean and fast. While installing the software, installer creates desktop icon and after installation opens product homepage. It has a clean GUI but not re-sizable.
1.) Screen 1
It can grab DVD Movies from DVD  Device, DVD Folder or ISO Image file. It shows all movie files in the DVD.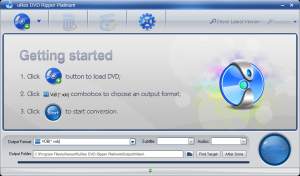 2.) Screen 2
You will be able to preview DVD movie and take screenshots. It supports different output formats and also you can set custom formats according to your desire.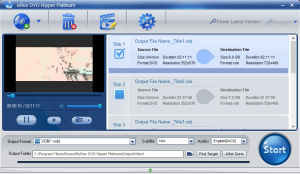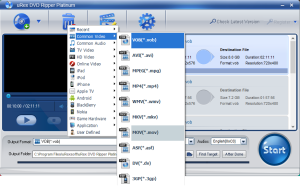 3.) Screen 3
In the Video Settings part,  the Resolution, Video Quality, VBR Encoder and Frame Rate can be adjusted as your desired. In Audio settings,  you can set Channels, Encoder, Audio Quality, Sample Rate and Volume as per your choice. In Advance Settings, you can choose Aspect Ratio as per your need and uRex DVD Ripper Platinum can Deinterlace video and Merge videos into one file.

4.) Screen 4
According to your need, you are able to crop the video with your choice of Width and Height etc. You are also be able to provide some effects (i.e. Brightness, Contrast, Saturation, Mosaic, Blur, Sharpen, Emboss, Noise, Old Film etc)on your new cropped or non-cropped video.
5.) Screen 5
You can set the CPU priority of uRexsoft DVD Ripper Platinum which is set to Normal by default. The software can check for updates automatically.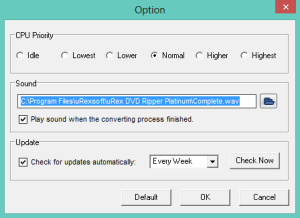 My Verdict
The software is enough to fulfill the needs of basic DVD ripping. The software can rip fast and depending on the CPU priority being used, the speed can change. I would recommend trying the software at least once.
Below is the way to download uRex DVD Ripper Platinum Free Version. You can try the software for 30 days and buy a key after that and if you will get in time to join this Giveaway then you will enjoy the license version all FREE.

I would like to say a BIG thanks to Asion (uRex Marketing Specialist) for giving me a chance to publish a Great and Exclusive Giveaway for TechnoGiants reader.
Giveaway Details
Giveaway Product: uRex DVD Ripper Platinum 5.6 License worth $34.95USD
No.of Licenses: Unlimited
Last Date: August 12th, 2013 (Updated)
Limitation: Giveaway is open Worldwide and its for Two week.
Giveaway Link: http://www.urexsoft.com/giveaway/free-giveaway-for-technogiants.html [URL Removed]
Please read out the Limitation of Giveaway below:
Please download and install and activate it before the giveaway offer ends.
As the license code is very long full with letters and numbers, we highly recommend you to copy and paste the code while registering.
Every suggestion/idea is welcome by uRexsoft. Please feel free to contact uRexsoft at

[email protected]

if there is any suggestion or problem.
Please note that the software you download and install during the Giveaway period comes with the following important limitations:
No free upgrades to future versions
Strictly non-commercial usage
Thank you and Cheers for the Giveaway.
Disclaimer: I received a copy of the uRex DVD Ripper Platinum in order to facilitate my review. Opinions expressed are 100% my own and have not been influenced in any way.