Hello, all! It's time for another review and giveaway. This time it is for the Total Uninstall Pro and this is TechnoGiants 7th giveaway and TechnoGiants would like to give our valuable readers the genuine license of Total Uninstall Pro 6.3.1 worth $39.95, 5 lucky winners will get 1 license key each, so read the review, give your comment and participate in giveaway.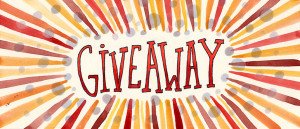 Program uninstallers are notorious for leaving behind traces of programs you are trying to uninstall. Over time this can lead to a huge amount of wasted hard drive space as well as raft of unnecessary entries clogging up the registry.  Total Uninstall is an uninstallation utility that ensures that all traces of unwanted programs are removed.
Lets discuss about some of the Main Features of the Total Uninstall which are given below:
Accurate analyze existing installations and create a log with installation changes.
Monitor changes from registry and file system for new installations.
Uninstall completely and thoroughly analyzed or monitored programs.
Create a backup for a program and restore the program from backup.
Organize in groups installed or monitored programs.
Find the program to uninstall by keyword quickly and easily.
Summary and detailed information for each installed or monitored program.
User configurable views of the detected changes.
It shows a detailed uninstall log.
Powerful search in detected changes.
Standalone program agent for notification of running installation programs.
Export registry changes for install or uninstall.
Export installed or monitored programs list to file.
Export to file or print detected changes.
[Read More: Exclusive Giveaway of uRex DVD Ripper Platinum]
Totally Uninstaller has a basically 3 modules such as Installed Programs, Monitored Programs, and Cleaner. Total Uninstall provides three analysis profiles i.e. Safe, Normal, and Advanced to scan left over items. You can choose any profile while Scanning for leftovers. Safe profile produces less False positives and Advanced Profile scan extensively for leftovers and may produce False positives. You can even edit these profiles or create a new one with your own parameters.
So, lets go through the application with a little description given below:
1.) Screen 1
Installed Programs module analyze existing installations and create a log with installation changes. It can uninstall programs even without the help of the supplied Add Remove program. Select the Bundle check box if you are going to uninstalling more than one program at a time.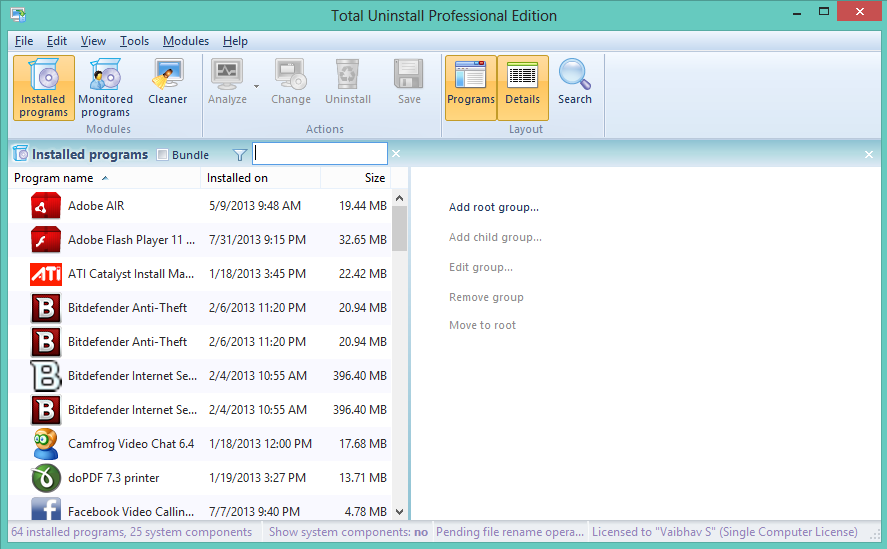 2.) Screen 2
You can review the details and remove some of the detected items. Select the program from the list which you want to uninstall and in a few seconds Total Uninstall will analyze it and will show in a tree view detected Files, Folders, Registry Keys, and Values of that program.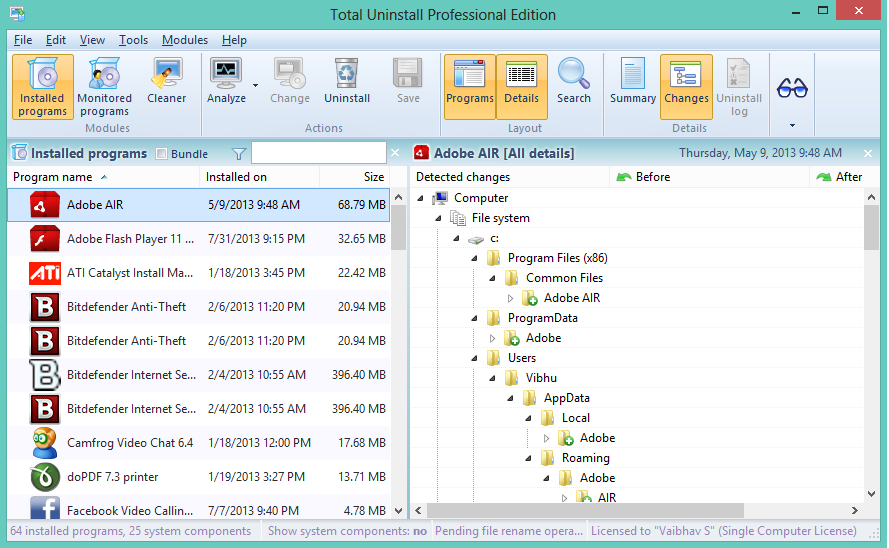 3.) Screen 3
Total Uninstall has a Search facility that can be used instead of having to manually search through a large number of programs installed. Different analysis levels can be tried to get the best results.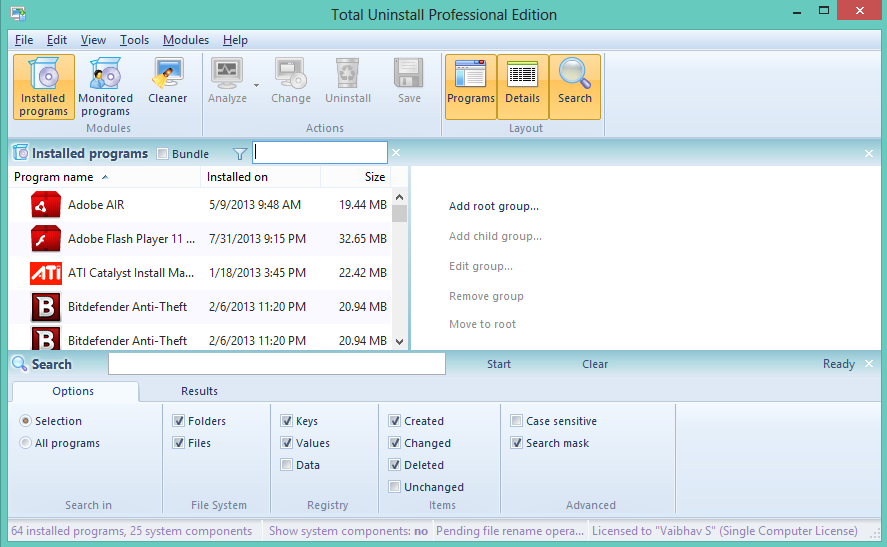 4.) Screen 4
Monitored Programs module helps to monitor any changes made to your system during the installation of a new program. It allows you to perform a complete uninstall without having to rely on the supplied Add Remove program, which can leave files or changes behind.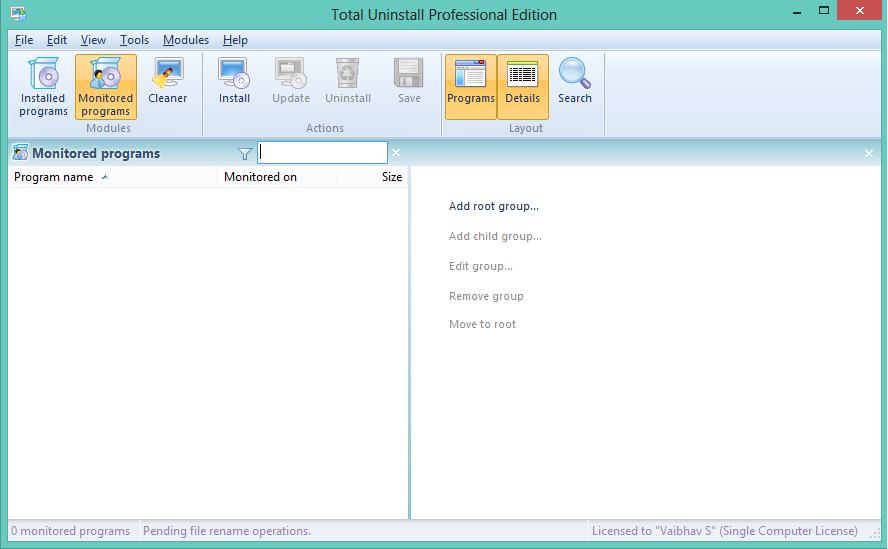 5.) Screen 5
Cleaner module can scan the system and find the traces left behind by uninstalled programs.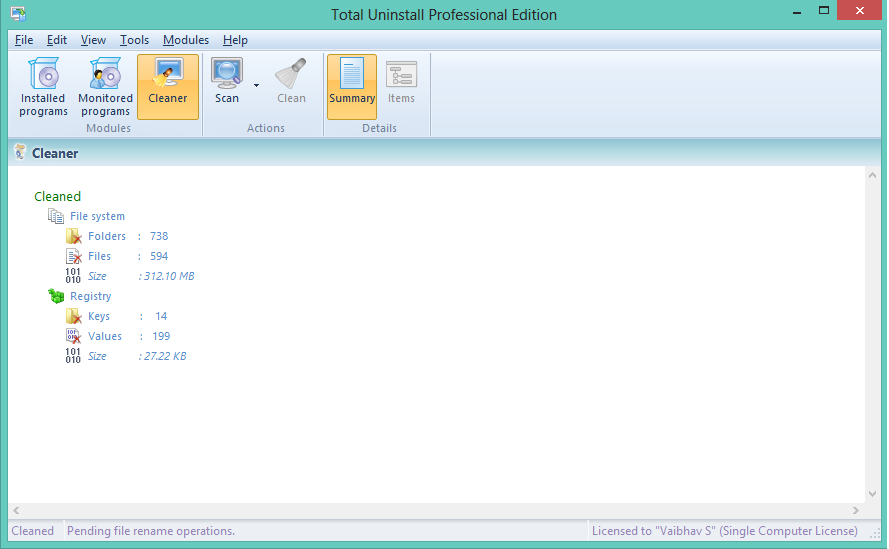 6.) Screen 6
Inside the Option interface, you can select any of the profile for Analysis as well as Uninstall.  You can tweak Monitored Programs options, dig with Cleaner, change the view, and change update mode. You can also be able to change the language and if you check the check boxes then you can make Total uninstall to minimize to tray and you can restore system in a single click.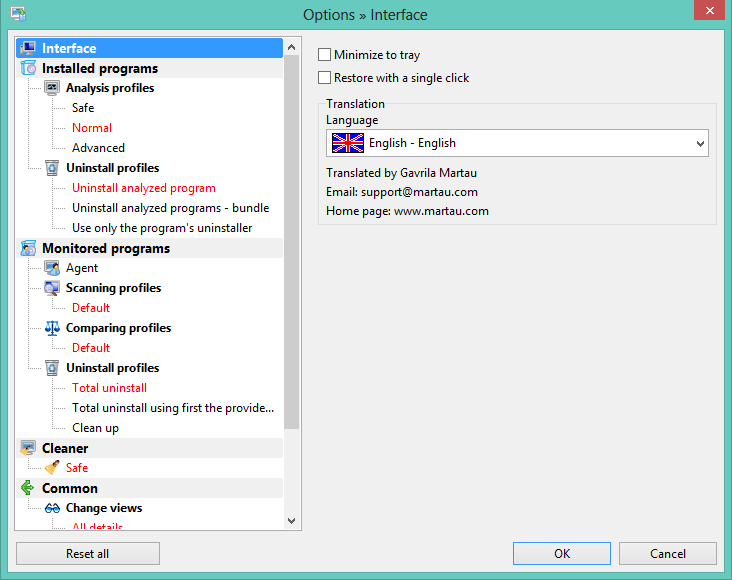 My Verdict
Total Uninstall off course is a better alternative to windows Add or Remove Program and it does the job accurately. It uninstalls the software completely from the system leaving your system clean from leftover junks.
Below is the way to download Total Uninstall Professional Edition. You can try the software for 30 days and buy a key after that and if you will win a key from us then you can use that key to activate your version.

I would like to say Thanks to Gavrila Martau for giving me a chance to offer a Giveaway to TechnoGiants readers.
[Read More: Wondershare DVD Creator 2.6.5 Window Version License Keys]
Giveaway Details
Giveaway Product: Total Uninstall Professional edition, Single Computer worth $39.95 USD
No.of Licenses: 5
Last Date: August 25th, 2013 12:00 PM IST
Limitation: Giveaway is open Worldwide.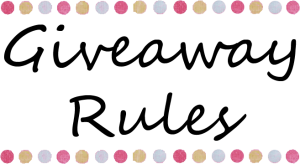 You can win 1-year subscription of Total Uninstall Professional by entering the giveaway and you need to follow the below rules to participate in this giveaway.
Rule #1: Subscribe to our mailing list [Subscription box given below under the post]. (Mandatory)
( remember to click the activation link or the subscription will not be valid)
Rule #2: Put your comment in a proper manner, don't spam please. (Mandatory)
( remember to put your comment is essential otherwise your entry will not be valid)
Rule #3: Use the PunchTab Widget to complete the entries. (Mandatory)
[Widget Removed]
Thank you and Cheers for the Giveaway.
Disclaimer: I received a copy of the Total Uninstall Professional in order to facilitate my review. Opinions expressed are 100% my own and have not been influenced in any way.