Giveaway: 10 Free Super Premium HideIP VPN Accounts
HideIPVPN application offer a simple way to connect to the VPN service. HideIPVPN provides an encrypted tunnel between your computer and our servers across the United States, Canada and Europe. As you probably know by now, "Your IP is Your ID". With our Premium VPN your IP address is hidden and your data is safe. The only IP addresses seen by the outside world while browsing with HideIPVPN are those of our servers. This also allows you to view websites you otherwise can't, such as Facebook, Youtube, Pandora, Skype, Hulu, and the BBC Player.
With HideIPVPN your ISP is not able to monitor and control your online communications and browsing activity. All traffic is encrypted and no website URLs, videos, e-mails or downloads are seen by your ISP. To sum up, a Premium VPN (HideIPVPN) is capable of protecting you while browsing the Internet and also allows you to unblock geo-restricted websites.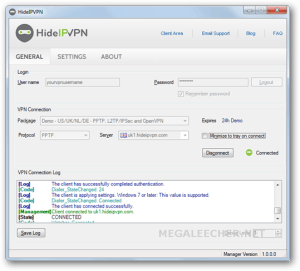 Following are the features:
No technical knowledge required
Quick VPN selection
Multi-protocol support
Secure and encrypted connection
Account info at hand
Easy debugging
Megaleecher is sponsoring a total of 10 Free VPN accounts for their blog readers. For more information and rules, visit this PAGE.