Hey friends, hope you're doing fine and here TechnoGiants comes up again with another great review + giveaway, this is TechnoGiants 3rd giveaway and TechnoGiants would like to give our valuable readers the genuine license of (SAS) SUPERAntiSpyware Pro 5.6 worth $29.95, 10 lucky winners will get 1 license key each, so read the review, give your comment and participate in giveaway.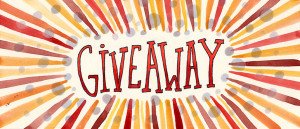 Today's software market available on the web, SuperAntiSpyware is probably one of the best Spyware Removal Tools. In addition to Real-time Protection, the Advanced Detection & Removal allows SuperAntiSpyware to look after our system secure and safe. It can be easily detect and take out different spywares such as Adwares, Malwares, Keyloggers, Rootkits, Dialers, Trojans, Worms, HiJackers, Parasites which are almost certainly the harmful and malicious programs. When installed, it gets started with the majority of the very critical options located on the first screen itself. When clicked "Scan Your Computer" button the entire scan begins but simply before that it is important for you to make a choice in the type of scan required. Naturally, Quick Scan is enabled however you can check different types of Scans like Critical Point Scan, Complete Scan and Custom Scan.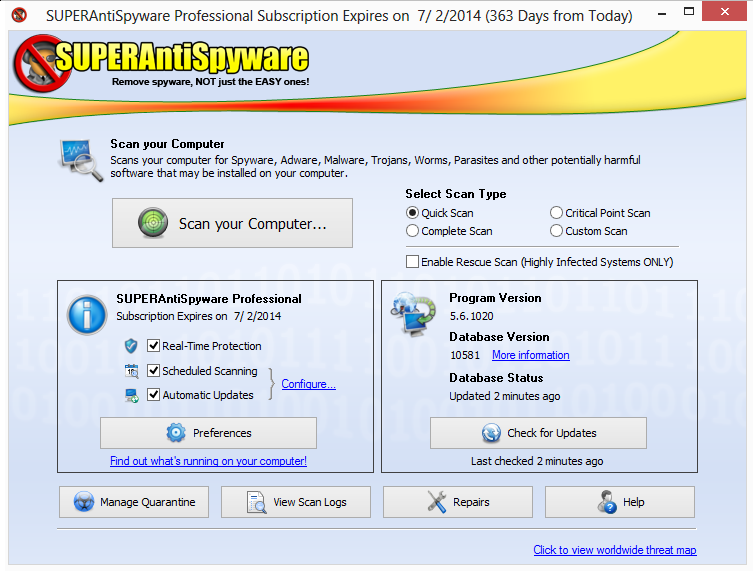 In situations when you're already not sure that the system is heavily infected then "Enable Rescue Scan" option.
The below is the snapshot of scan where it had listed the adwares present on our system.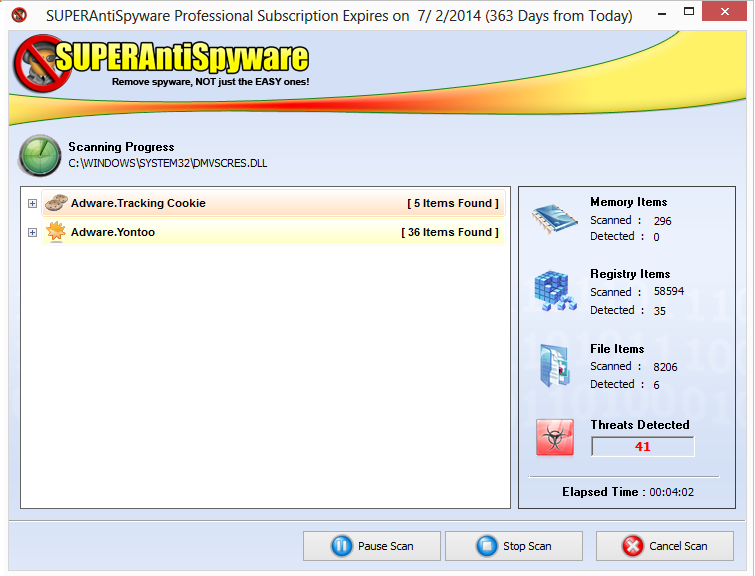 The Preferences option provides several tabs like "General and Startup" , "Scanning Control", "Real-Time Protection" , "Hi-Jack Protection", "Updates" and "Help" for various activities regarding settings. Listed below are the screenshots which details everything very clearly.
The "General and Startup" provides all the necessary settings related starting the software alongside the OS plus having choices to select Start Scanning or Do not Scan. Please see the snap shot given below: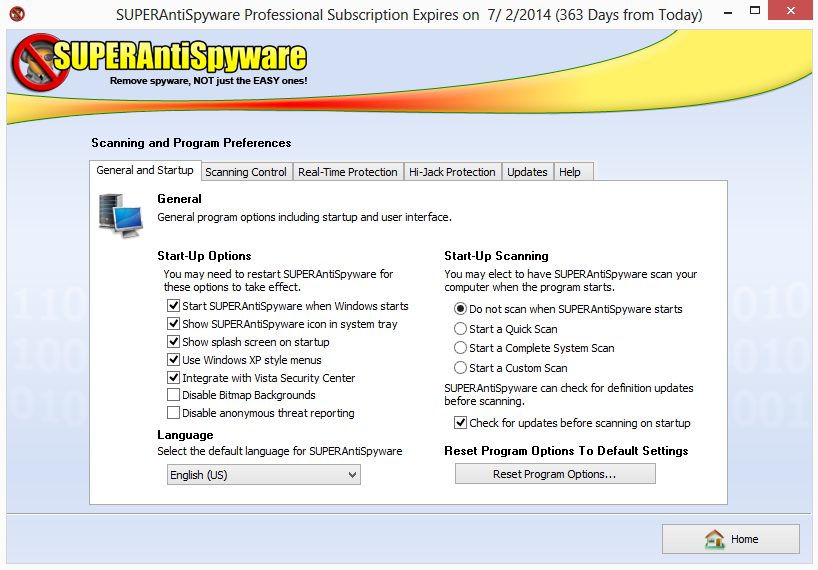 The "Scanning Control" tab provides various options like "Ignore files larger than 4MB", "Ignore non-executable files", "Use Direct Disk Access" and lot more.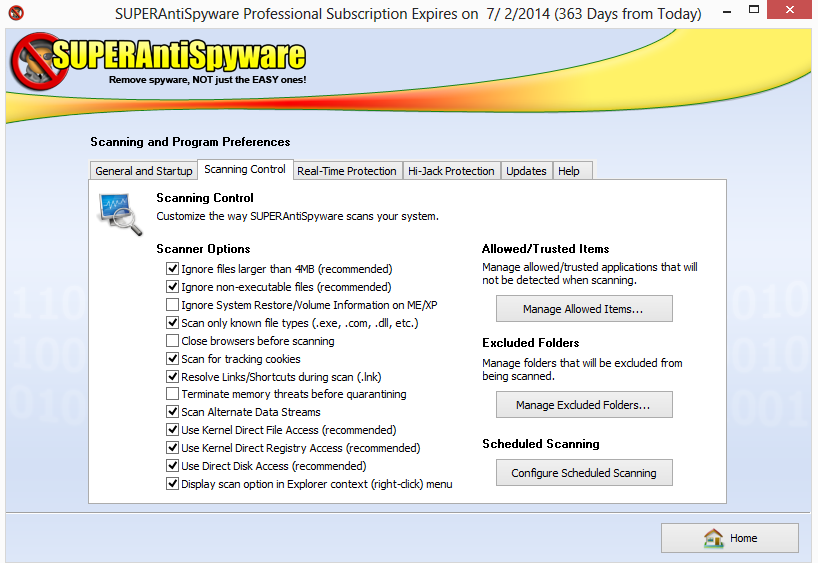 The "Real Time Protection" tab provides different settings such as "Enable Real-Time Protection", "Real-Time Notification" plus some more, snap shot is given below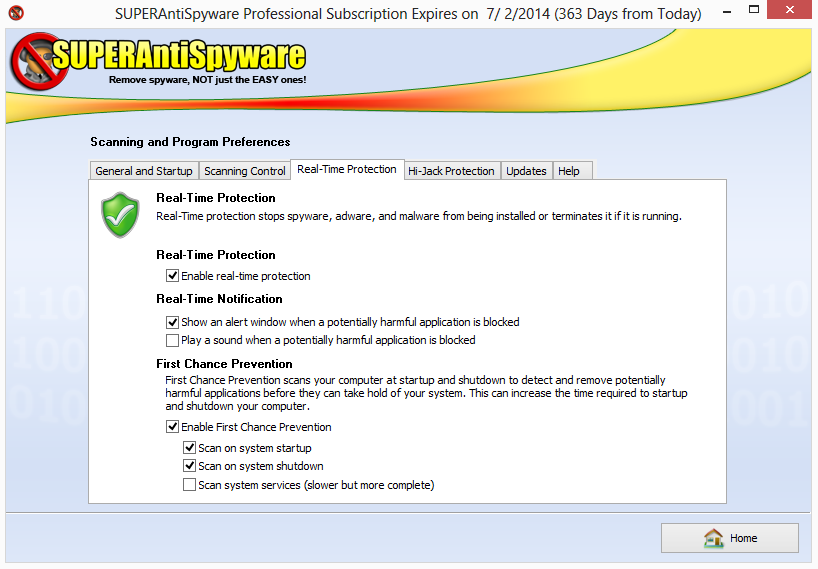 The "Hi-Jack Protection" tab provides "Home Page Protection" and "Application Protection", listed in the snapshots below. I really like the Home Page Protection option to save the home page.
"Updates" and "Help" snapshots are listed below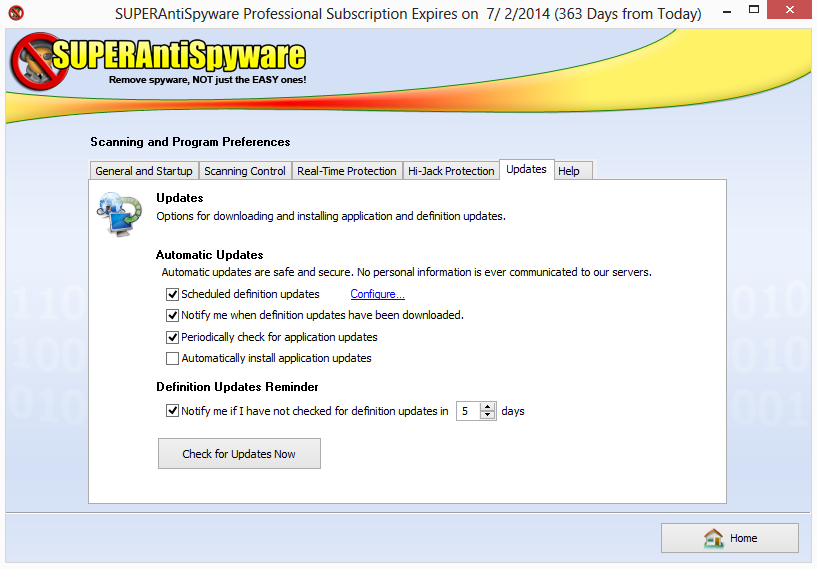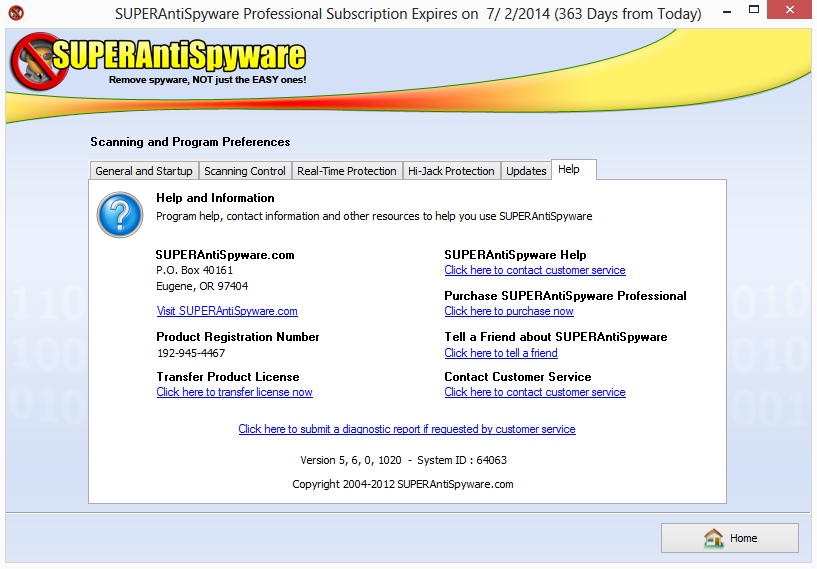 Below is the way to download SUPERAntiSpyware Free Version. You can try the software for 30 days and buy a key after that and if you will win a key from us then you can use that key to activate your version.

Giveaway Details
Giveaway Product: SUPERAntiSpyware Pro 5.6 License worth $29.95USD
No.of Licenses: 10
Last Date: July 25th, 2013 12:00 PM IST
Limitation: Giveaway is open Worldwide.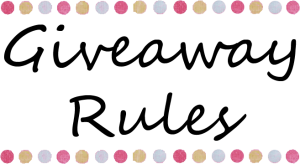 You can win SUPERAntiSpyware Pro Free License keys by entering the giveaway and you need to follow the below rules to participate in this giveaway.
Rule #1: Subscribe to our mailing list [Subscription box given below under the post]. (Mandatory)
( remember to click the activation link or the subscription will not be valid)
Rule #2: Put your comment in a proper manner, don't spam please. (Mandatory)
( remember to put your comment is essential otherwise your entry will not be valid)
Rule #3: Use the PunchTab Widget to complete the entries. (Mandatory)
Giveaway Widget
Widget Removed.
Thank you and Cheers for the Giveaway.