Giveaway: Amigabit Powerbooster Free License Key
Is your computer slowing down? Do you want your computer to run as fast as the day you bought it? Amigabit PowerBooster offers computer users all of the tools they need to optimize the PC system performance. This sophisticated PC optimizer software can scan, analyze and optimize computer, find out and remove unnecessary, invalid or broken files cluttering your hard drive, defrag and clean your registry to fix and prevent system errors, reduce Windows startup time, and much more. Slow Computer Fix easily now!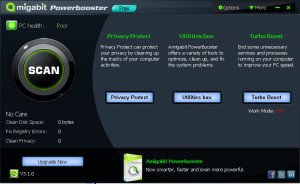 Amigabit PowerBooster offers a complete solution to speed up, clean up, fix and power up your Windows computer. With over 25 useful PC utilities included, it has never been easier to speed up your slow computer safely and quickly!
More features than free version: registry cleaner, driver backup, registry defrag, cloned file finder, context menu fixer, etc.
*Make A Quick or Full System Scan: Do a quick scan of your main files. The easiest and fastest way to check and fix the potiental issues that to make your PC run as new. Run a full scan of all your drive. The PC scanner dives deep into every aspect of the computer's system searching for potential issues quickly and accurately.
*Ultimate Speeding Up Widnows PC & Internet in Minutes: Provides an all-in-one solution to speed up your computer.
*Enjoy the New PC Feeling With Ease: Make your PC start and run faster by shutting down unnecessary background processes, cleaning up junk files, finding and removing duplicate files, removing unwanted startup programs, etc.
*Keeps Your PC Running at Peak Performance: Increase the overall system performance by defraging fragmented hard drives, cleaning and repairing Windows registry, uninstalling unwanted software or programs correctly, cleaning up and managing right-click context menu easily, and much more.
*Fix Multiple System Errors: Finds and fixes a whopping number of system issues to keep your PC stable and running at peak efficiency. It's a bit like having a doctor and cleaner permanently on hand.It effectively turns back the clock on worn machines by repairing the problematic Windows registry, defragmenting hard drive fragmentation, and deleting useless and duplicate files that stymie snappy performance.
*Protect Your Privacy on the Internet: Completely clean internet privacy files, clean your junk files which removes duplicate documents, temporary files, Internet brower cache and history, as well as browser add-ons.
On the occasion of Easter Day (March 27th, 2013 – April 2nd, 2013), Amigabit is throwing a Giveaway for their users. For more information and giveaway, please look up on this PAGE.