Anvi Ultimate Defrag v1.0 is one of the best defrag tools available in the market to optimize the files present on your hard drive to increase the system performance which speeds up the system activities.
Anvi Ultimate Defrag v1.0 repairs the disk errors and the bad sectors and cleans up all the junk files present on the hard disk and makes the disk defragment much smoother. Once the defragmentation is completed, all the files get properly aligned up making it easy for your system to access them. It consolidates all the files and the folders which are stored in your hard disk to make it run more efficiently.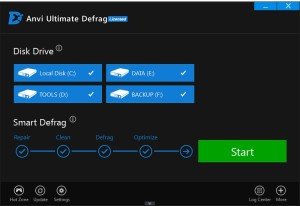 Features & Benefits
Repair Disk Errors: Repair disk errors and bad disk sectors to maintain disk performance and facilitate following disk defrag
Clean Up Junk Files: Search for and remove junk files on the hard disk to enable a smoother disk defrag
Defrag Hard Disk Volumes: Consolidate fragmented files and folders stored on the hard disk to make it run more efficiently
Optimize Disk Performance: Optimize the disk to gain a better files reading speed and ultimately complete the defrag for a better disk performance
Custom Disk Defrag: Hot Zone provides four defrag modes (Normal Mode, Home Mode, Business Mode and Entertainment Mode) for custom system optimization
System Requirements
Microsoft Windows XP (32-bit and 64-bit) with SP2/SP3 or Home/Professional/Media Center
Microsoft Windows Vista (32-bit and 64-bit) Starter/Home Basic/Home Premium/Business /Ultimate
Microsoft Windows 7 (32-bit and 64-bit) Starter/ Home Basic/Home Premium/Professional/Ultimate
Microsoft Windows 8
Hardware Requirements
300 MHz processor or faster processor
128 MB of RAM
50 MB of free hard disk space
SparkInDark is giving away 100 License Key of Anvi Ultimate Defrag v1.0 Pro. The giveaway is available till June 15th, 2013. So join the Giveaway and try your luck on this PAGE.