Giveaway: Hitman Pro 2 License Keys
Hitman Pro is a cloud based effective on demand antimalware scanner which is designed to work alongside with your existing security programs without any conflicts. As it is a cloud based antimalware you don't need to download the heavy virus/malware definitions to your computer. Hitman Pro use the cloud technology to submit the suspicious file. The suspicious files are uploaded to its cloud server where the files gets scanned by 4 different antimalware scanners: Dr.Web, IKARUS, G Data and Emsisoft.
Hitman Pro allows 3 scan options:
Default Scan which is recommended by the surf-right scan all the critical area and files of system which can be infected by the malware's.
Quick Scan is faster then the default scan which only scan the windows files ie. windows folder, programs files and the user files.
Early Warning Scoring (EWS) is for the the advanced/expert users and by default it is disabled if you want to enable go to the setting -advanced and enable the Early warning scoring.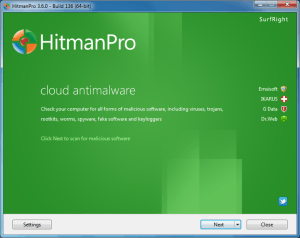 Pros: Effective Scan engine , Lightweight, trial available
Cons: requires internet connection to scan
CgTechGuide is sponsoring a total of 2 Free Hitman Pro license key for the blog readers. For more information and rules, visit this PAGE.