Giveaway #01: Windows 8 Manager 1 License Key
Windows 8 Manager is naturally a system utility which helps you optimize, tweak, repair and fix Windows 8. It certainly will boost your system speed, eliminate system fault, improve system security, and meet almost any expectations.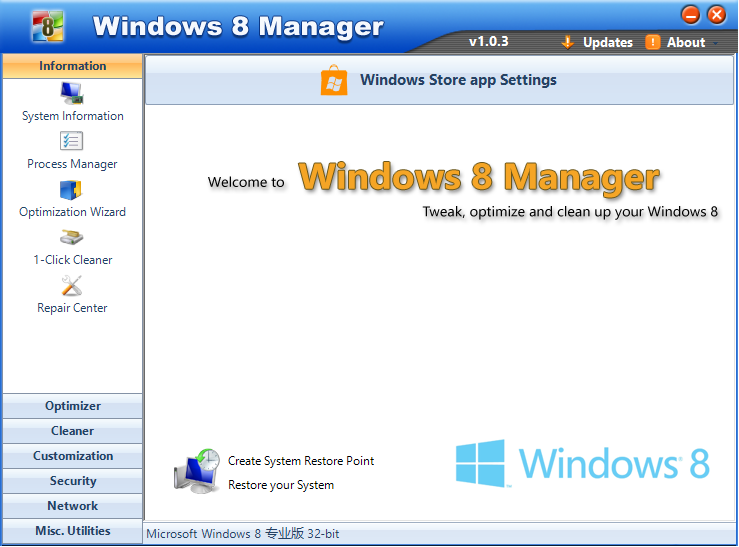 Important features and Benefits of Windows 8 Manager
Information
Get comprehensive system as well as hardware info on your system; aid you in finding down the installation key of Windows, Office products; show all detailed information of running processes and threads pertaining to your machine; Windows 8 Manager offers 1-clicking Cleaner cleans your personal computer automatically; Repair Center allows you to fix various system problems.
Optimizer
Tweak your personal computer to strengthen windows startup and shutdown speed, tweak your hardware to increment system speed and performance; Control what exactly is started on Windows startup, check and rectify the advanced startup items to restore the malicious change by viruses; Tune up and optimize system services and Task Schedule, shut down smartly some unnecessary system services and tasks to further improve system performance.
Cleaner
Get to know which files or folders engross your disk space and shown with chart; Smart Uninstaller can fully delete programs from your own system without residual files and Registry entries; Find and clean junk files to improve System hard drive space; Duplicate Files Finder can scan your laptop or computer for files with precisely the same size, name and modification time; Registry Cleaner checks and rectify incorrectly linked Registry entries; Registry Defrag rebuilds and re-indexes your Registry and this reduces registry access timing and therefore improve application responsiveness; Desktop Cleaner can clean useless icons and files on Desktop easily.
Customization
Customize the appearance of your own system by tweaking system Explorer, Desktop, Start Menu, Taskbar and notification area; Build the quick startup items on Taskbar when using the Jump List launcher; Tune up Windows 7 boot menu; Edit context menus of mouse Right-Clicking; Edit easily the Win X menu that shown when right-click on Desktop bottom-left corner or Win X keyboard shortcut; Create the shortcut that executed quick on run dialog box. Visual Customizer can change system and file type icons, refresh the lock screen image automatically.
Security
Increase system security by tweaking system components, UAC and login settings; Tune up System Restore options; Hide and restrict to gain access to drives and programs; Encrypt/decrypt files, move system folders to safe locations; Undelete the files that accidentally deleted or formatted on disk; Privacy Protector can take care of your personal privacy by eliminating the tracks that you may leave behind; Hide, add or delete the Control Panel Console entries.
Network
Enhance your Online connection speed, manage all shares items; Tweak your Internet Explorer easily; IP Switcher can switch your IP (Internet Protocol) address easily on various networks; Edits the Hosts file to effectively improve surfing internet and permit merely to access the required Hosts.
Misc. Utilities
Show the variety of Windows utilities and pin system items to Start Screen and Taskbar; split and merge any files; automatically keep a copy of files regularly using Super Copy. Registry Tools give you the option to operate Registry easily.
How to win a Windows 8 Manager License Key
Please use the PunchTab Widget below to join in and earn entries. The more entries you earn, the higher chance you'll have in winning a license.
Giveaway starts on the May 11th, 2013 04 AM ISD and ends on May 26th, 2013 12 PM ISD. This giveaway is open for everyone and the winner will be announce only in this weblog.
In order to be advertised your contest/sweepstakes for FREE then submit it on ContestHeat.com!!