Apple has had big influence on boosting current society's technology development. What is certain is that there is always a heated debate on what new functions the latest iDevice version adds. One of the hottest topics with high concern is HEIC, which makes extraordinary breakthrough of today's digital life.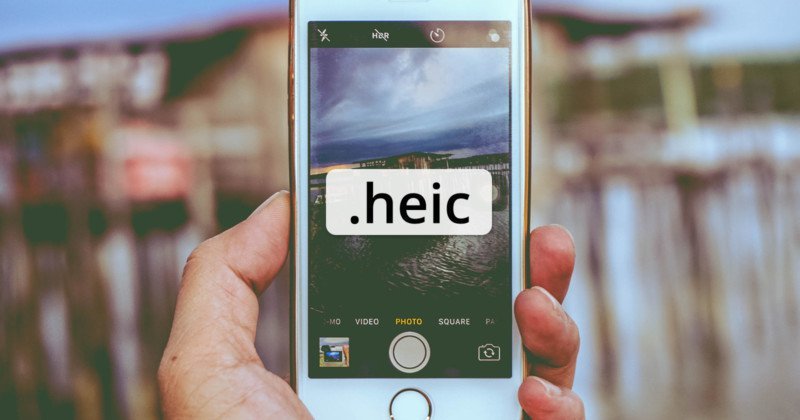 However, on the other hand, it also causes some annoying problems. Users are focusing on how to convert HEIC images to other format that with great compatibility, such as JPG in particular. Fortunately, there is a professional converting tool, Joyoshare HEIC Converter, comes to rescue. If you are looking for an excellent HEIC to JPG converter, you can follow me to see what this tool can do for you.
What is Joyoshare HEIC Converter
Operating Interface:
The first time I saw Joyoshare HEIC Converter, I was fond of this simple and elegant interface deeply. With light blue color design, giving a visual enjoyment, it reminds me of the blue sky so that I have a sense of comfortability. What impress me at the same time is that it shows me a clean interface by providing a definite instruction and easy-to-understand icons. Even if you are a new starter, you can finish the whole operating process by yourself without referring to in-depth guides.
System requirements:
You can install and launch Joyoshare HEIC Converter for Windows on Windows XP, Vista, Win 7, Win 8 and Windows 10, which are supported operating systems. Of course, nearly almost systems can meet the technological requirement, which need to be equipped with 1G+ CPU, 200MB+ free hard disk space and 256MB+ RMA. If you want to take well advantage of this HEIC to JPG converter, 1028MB RAM is recommended kindly.
Key features of Joyoshare HEIC Converter
As a top-leading converting software, Joyoshare HEIC Converter is convenient for you to convert HEIC images to JPG with preserving the original quality. Most importantly, supposed you pursue more widely used formats, it also supports PNG, GIF, BMP, WEBP and so on. With two available converting methods, it is practical to convert HEIC images individually or in batch. The most pleasing one is that it can offer you an ideal platform to adjust related parameters of output format, including resolution, quality, aspect ratio, etc.
Convert HEIC images to JPG with lossless quality
Provide more output formats, including PNG, GIF, BMP, TIFF, WEBP
Support individual conversion and batch conversion
Customize output format and quality
Keep all HEIC images, such as live photos, animations……
How it performs in converting HEIC images to JPG and other formats
Step 1: Sync iOS 11 HEIC images to computer
Use a USB cable to help you to sync and save all iOS 11 HEIC images to computer from your iDevice first in order to prepare for next step in advance.
Step 2: Import HEIC images to Joyoshare HEIC Converter
Having loaded HEIC images to computer, you can directly run Joyoshare HEIC Converter. Clicking "+" button at the bottom left corner or simply dragging and dropping HEIC files from local folder, you are allowed to convert single HEIC image at a time or multiple HEIC images in bulk. No matter which adding file method you choose, it is easy enough to use without any complicated operation.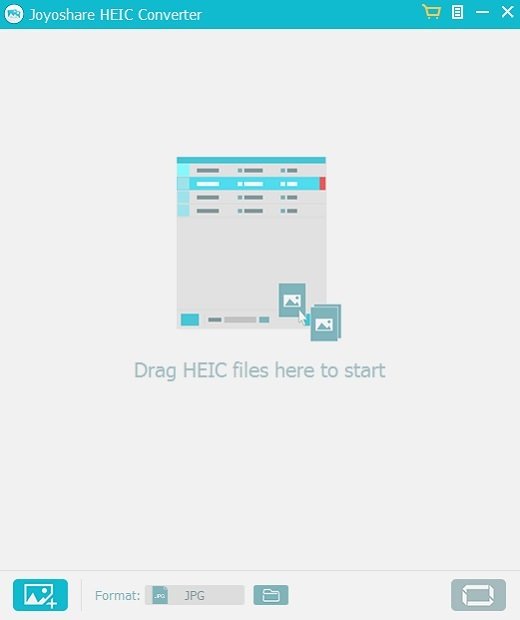 Step 3: Adjust output format setting and quality
You will see the following interface after HEIC images are added to be converted.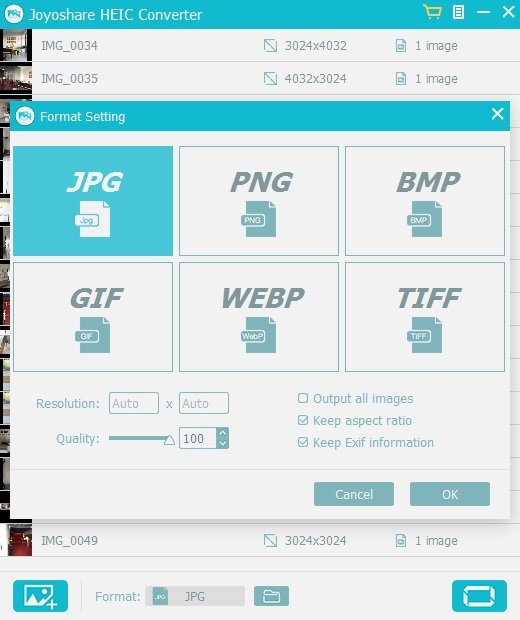 Click the format panel and then a pop-up window will be shown. You have right to customize your output format. There are different formats provided to choose, like PNG, GIF, BMP, WEBP, TIFF, which also available to adjust converted photos' quality by sliding the button from the left end to the right end.
What's more, you can fill in the exact number in the frame to decide the resolution. Other options, such as "Output all images", "Keep aspect ratio" and "Keep EXIF information", are listed in setting interface so that you can tick any one or all of them according to your needs.
Step 4: Start to convert HEIC images to JPG, PNG and other formats
Only with a click of the conversion button at the bottom right, all HEIC images added can be converted at once. When the whole process is finished, a window containing converted files can be presented or you can locate the destination files by clicking the "history folder" icon.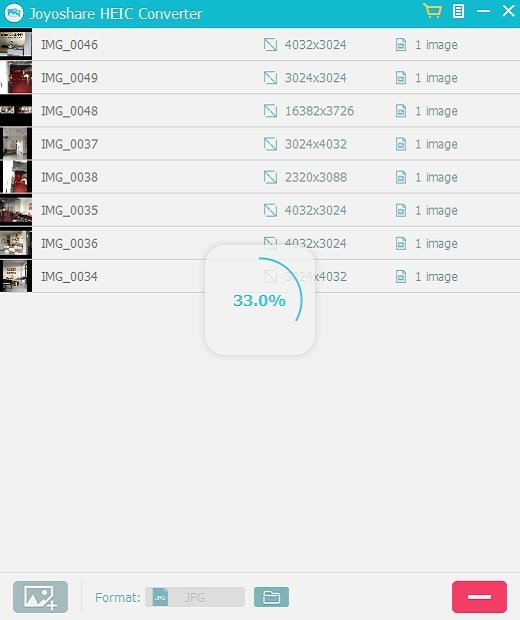 Conclusion
To sum up, Joyoshare HEIC Converter is an all-in-one HEIC photo conversion solution that can satisfy the demand of all users. No matter whom you are, a new beginner or a senior user, you will find its attractive points and get a big surprise owing to its comprehensive designs.
If you are looking for an HEIC converter that supports various popular formats, it's obviously a good choice. If you would like to convert HEIC images to JPG, PGN, etc. in batch, it can realize it. If you desire to customize output image format, you certainly cannot miss it. Compared with other online and offline HEIC to JPG converters, it is outstanding one with fast converting speed and perfect performance.
Getting unanimous favorable comments from present users, it is highly recommended to you. Now, download it and have a free trial version. No matter you want Mac or Windows version, Joyoshare HEIC Converter can achieve it. Possess it, you are permitted to enjoy all HEIC images on any other devices as well as share precious photos with valuable memory to your friends.
Believe in me: you deserve the best!