Blogging has long passed that stage of being simply a "trend."  Nowadays, an idea, passion, or objective is sufficient to stir your writing towards blogging.  A bonus plus: every other blogger is willing to help; hence, blogging tips are aplenty.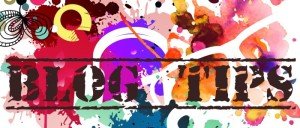 The huge number of advice available in the net, and in the blogging community is astounding.  The thing itself could form an evolving literature of blog-education.  The main point is to, of course, stay true to yourself.  Try to imitate or duplicate techniques.  But do make it a point to own it as if it's yours – and before you know it, your becoming good at these blogging particulars.
Now is, evidently, an opportune time to share some of our very own tips for blogging it right and grand.  Take your fill from the items below:
Title: Unique and Spot On
Oftentimes, what strikes as unique effectively stokes curiosity.  This task would be easy if you're writing about something innately unique.  Realistically, this is seldom the case.  For such topics (ie, common topics), you cannot afford to write titles that resemble the rest of the flock.  Oh no…
To formulate a unique title, give it a refreshing twist.  For instance, you were blogging about this new tech gadget.  Chances are every other blogger will consider using its model name as part of the title.  How are you supposed to make it unique?  Use the gadget's 'alias.'  If it doesn't have an alias, then make one.
Next step is to complement that alias with a spot-on line.  This line may come as a question or objective.  The point in adding a spot-on touch in your blog piece's title is to be able to suggest the gist of the whole piece.  Yes, yes, that's actually the original purpose of all titles – to tell the reader what this piece is about.
Content: Useful and relatable
Your blog content may amuse.  It could tickle the senses, inspire reflection.  However, the ultimate cause has to be towards driving value, making the content useful.  Ironically, simply putting up a body of information won't do.
As a blogger, you got to take your blog readers towards the scene of applying your suggestions.  Do this by building on mental pictures, recreating a scenario and showing what people usually do and what they ought to do.
In short, to be fully useful, you make your blog piece relatable.  You assist your readers' imagery.  And help them realise your visions or avoid undesirable consequences.                               
Format: Uniform but Fun
Choosing text layouts and the like is essential.  Oftentimes, the selection reflects the blogger's style – which has to be consistent with the blog's overall look and principles.  But that's it.  The manner of presenting a new concept, or rehashing an old one could be done in the light of different approaches.
In fact, the more methods you show, the more diverse your blog archives get.  You can try digging in to make your own infographic, settle for statistics, or avail any other new visuals.  Ensure that you have fun processing your blog piece's format; fun is infectious, readers are guaranteed to see it (and hopefully, experience it).
Image: Mysterious and Catchy
Picking images for your blog entry is probably, one of the most interesting parts in the game.  There aren't clear rules as to how this is supposed to be conducted.  Some bloggers opt for the most obvious match.  If they write about travelling to Bahamas, they are likely to choose a map with the broken lines connecting your reference point towards the destination, Bahamas.
Others choose the least obvious choice, the type that makes you wonder, "What do swimming pigs have something to do with Bahamas?"  The former choice pronounces a clear suggestion about the blog post; the latter is more likely a mystery (until its read).
The best fit for images is a combination of both: suggestive but doesn't give it all away.
Update: Daily, Weekly, Monthly?
Blog updates largely depend in two aspects: (a) how much new content you can bring in and (b) how much your blog followers expect from you.  Take keen note that the former usually sets the latter; hence, if you bring out at least two blog entries a week, they'll be checking on for your usual update day (assuming you appoint a particular day), or they'll ensure to check within a week or two.
The key component here is for you to set it out consistently.  Plan your entries and try to draft as early as you can.
Links: Goodies
For links, you got to stick with the good ones, those that suit a need or want.  These are either product or service oriented.  A good example of service-oriented link is EssayWriter.  It provides students with writing assistance services and is good for student or education-blogs.