Online gurus are going to tell you that you cannot promote a business site for free. They are going to tell you that because it is in their interest if you pay for business site promotion. When online marketing companies or gurus hear the word business, they do not hear the world efficient, struggle or cause. They hear the word "budget" and everything they write is in some way related to relieving you of your budget.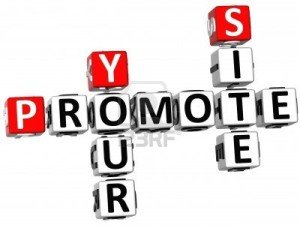 Even this website holds a lever that would rid you of your budget, so you should ask yourself if anything you read online can be trusted? Obviously the answer is no, but even people who want to relieve you of your money may offer snippets of advice that you should take under advisement. After all, even a bum in the street can have the right answer every now and again. Plus, you yourself relieve your customers of their money, and you do not always give false advice…do you?
Start with a Facebook Fan page
You will need a regular user profile in order to set up a Fan page on Facebook. Once you have your user profile set up, you are able to open up your Fan Page. This is a page that you can post things about your business site onto. You can be as promotional as you like on your Fan Page. You can do the same on your personal page, but you will be looked down upon by the Facebook community and administrators.
The Fan page can, and should, revolve around your business website. The images, videos and posts on it should all revolve around your business website. Your Fan page description should be written in keeping with your brand principles.
Link from other websites to your own
You can do this for a search engine optimization benefit if you like, but your primary goal is to get direct traffic. The fact is that links from other websites can be free. There is no need to pay for them, and you will find that the ones that cannot be indexed by Google are free anyway.
The links that cannot be indexed by Google will have no effect on your search engine ranking. But, they may pull you in a bit of direct traffic, and this is what you want. Direct traffic is free traffic, just as much as viewers from a search engine are free traffic.
Learn to love YouTube
This is not a big traffic getter, but it is a free way of promoting your business website. There are a lot of competitors out there who would like to take your web traffic, and they are probably able to pay more advertising money than you. However, on YouTube, you can have your videos seen, even if you do not spend a penny on the site.
You can create videos that appeal to your target audience and you can put them on YouTube. But, this is not where the YouTube benefits stop. You can embed the YouTube video into your own website, other websites and some of your social media profiles too. This makes it easier to spread your video around, and all safe in the knowledge that you are not paying for its dissemination.
Reciprocally link to other relevant websites
You should do this for the search engine optimization benefit, and so that you get more direct traffic. You will also find that the link is less likely to be broken any time soon. The other linker has an incentive for keeping your link on their site, as you will keep their link on your site. This mutual benefit is a good way of linking, but do not do it too often as Google does not like a website to have a high concentration of reciprocal links.
Embed a note at the bottom of every email you send
Your emails are free, so you should not miss out on any opportunity to advertise your website. Just embed a small message at the bottom of each email, along with a link to your website. You can often do this as a template so that the message and link are added automatically (that way you do not have to manually add it every time you send an email).