Import PST Mailbox to Exchange 2013 is slightly a different process as compared with Exchange 2010, as the interface for both Exchange Server versions is different. The users who are unaware about this process can start with knowing PST file and its usage?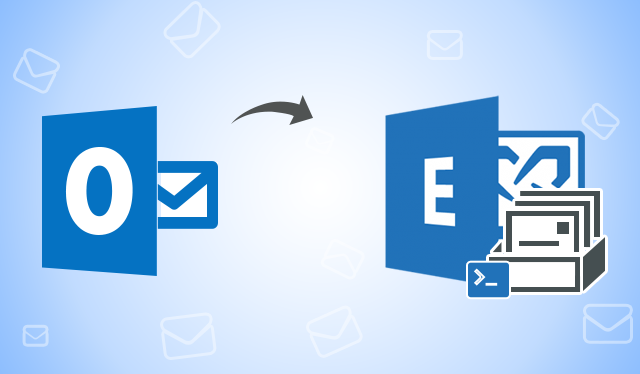 A PST file contains the mailbox items from Exchange account which could be moved to same or another Exchange account. This file is used especially, when an employee moves from one organization to another, the archived exchange mailboxes (PST files) can be utilized to fetch the crucial emails or contacts. There are several users who want to know the approaches to import PST mailboxes to Exchange environment.
Both PowerShell Command and Exchange Admin Center (EAC) methods could be used to Import PST Mailbox to Exchange 2013. But in some situations (cases), both these methods leaves the user helpless in migrating PST files into Exchange 2016 environment.
Here is a query provided for you addressing one among the common user queries, which describe an easy approach to import Outlook PST mailboxes to Exchange environment in a precise and comprehensive manner.
Query
Hello everyone! I am facing a strange issue when I try to import PST Mailbox to Exchange 2013. Anyhow I have moved some items of the Outlook data file in Exchange but, it is getting very much difficult for me to import Mailbox. The PowerShell command I am using for the same is 'New-MailboxImportRequest -Mailbox linkedmail3 -FilePath \\Server01\Scripts\LinkedMail3.pst'This command executes and gets added in a queue & after waiting for a day when I check the progress status, it results as if Exchange Mailbox is not populated.  Is there anyone present who can help me out with solution to this?
Alike the above query, many MS Exchange Administrator around the world has posted many queries related to Import PST Mailbox to Exchange 2013 environment. However, running PowerShell command for the same requires hands-on experience with expertise knowledge and intelligence of dealing with technical errors.  Therefore, here we came with a foolproof and simple solution to move mailbox from PST file to the Exchange server.
Easy Approach to Migrate PST Mailbox to Exchange 2013
The solution involves usage of an additional program, which is dedicated towards migrating of PST Mailbox to Exchange 2016 server. This workaround is suggested by number of Exchange experts and then only delivered here as the solution. So let's begin!
1. Launch Exchange Import Software and provide PST files through any of the following manner
Add File(s): Adds Single PST file
Add Folder: Adds Folder consisting of PST files
Here, Add File(s) option is chosen.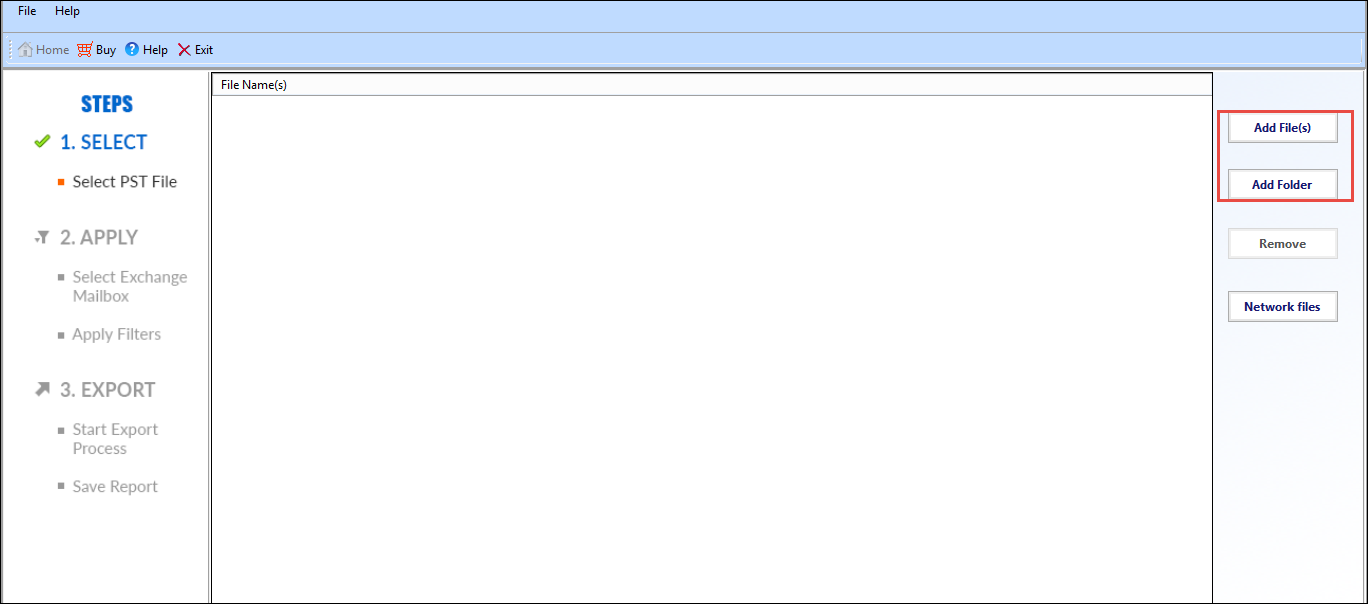 2. Locate path to source PST file / folder, select PST file.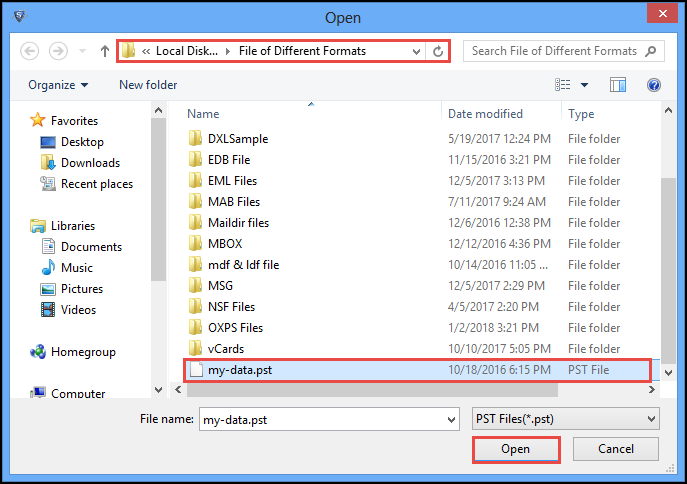 3. The PST files are displayed in 'File Name(s)' section. Click Next to proceed process to import PST Mailbox to Exchange 2013 Server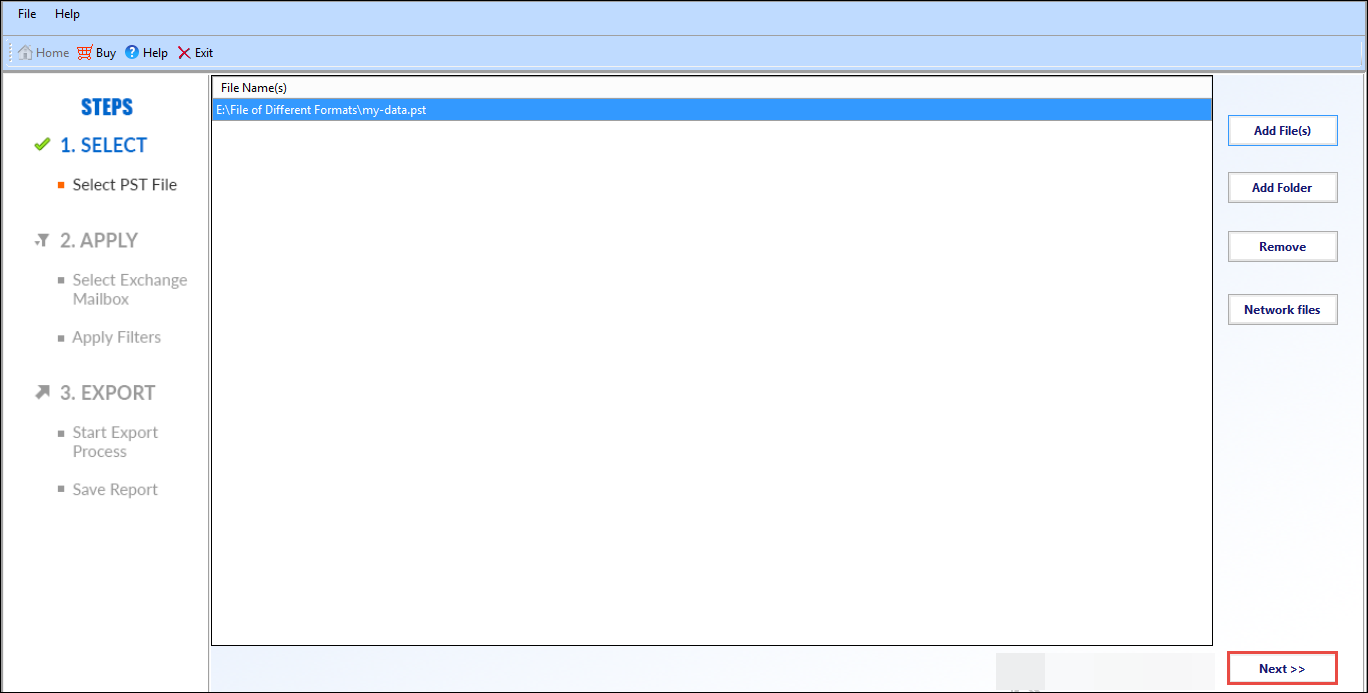 4. Provide Administrator credentials with Exchange Server version.

5. Add Server IP and Active Directory IP in next field individually, if different, or else check the checkbox of 'Same as above'.
6. Press Submit button to enable the program to authenticate the server credentials.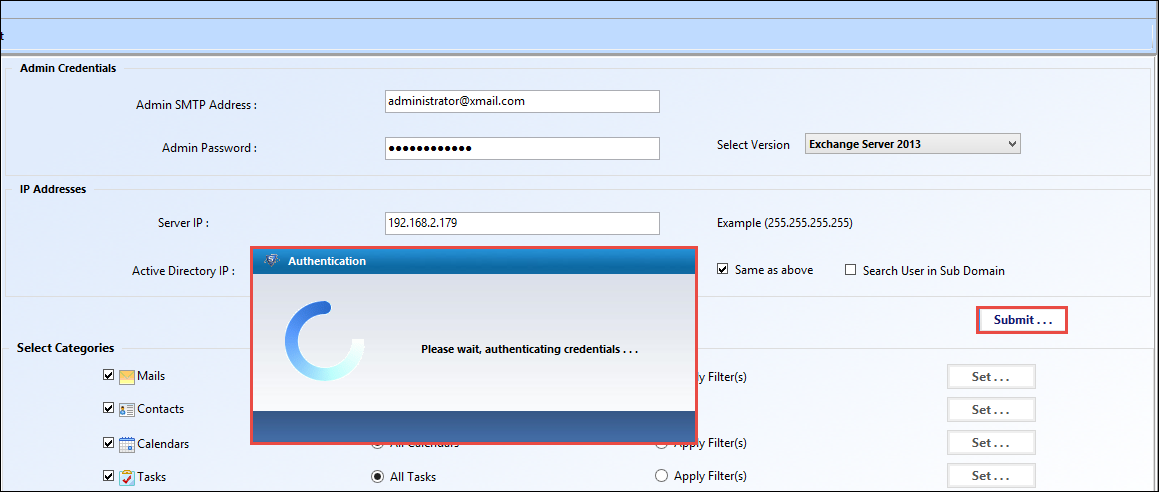 7. In the column of 'Exchange Mailbox', you need to enter user mailbox in which PST Mailbox file is to be imported.

8. Apply Date Range Filtering, if required. For this go to Apply Filters >> Set >> Include Date. Mention the customize time duration that you have decided and click on Apply to proceed.

9. Advance Settings facility is also provided for this workaround. To enable, go to 'Apply Advance Options' and click on Settings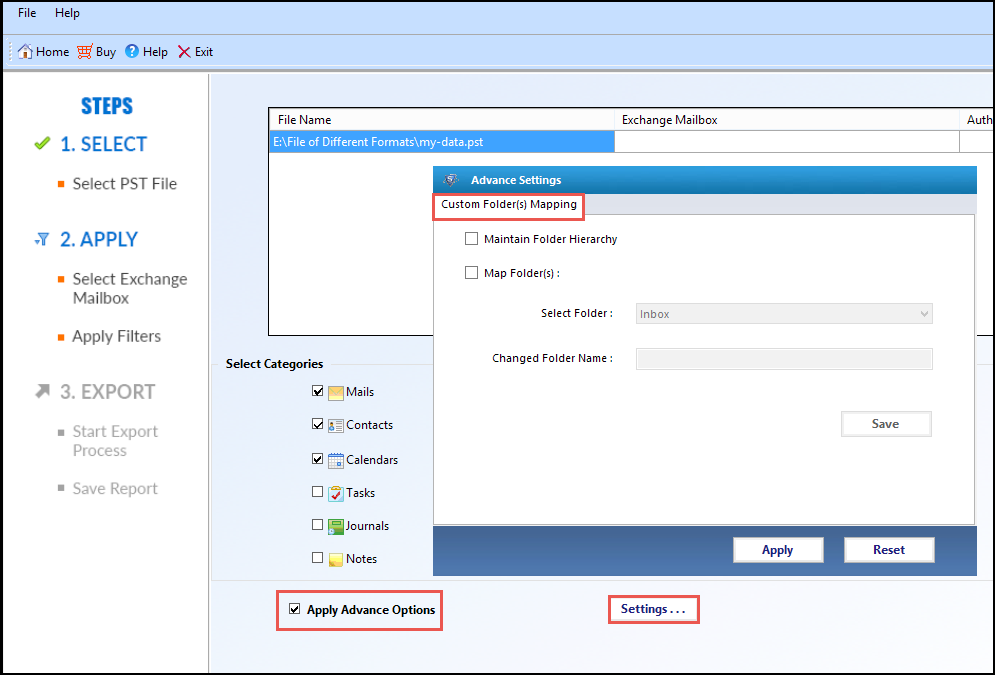 10. In Advance Settings, you are provided the following settings:
Maintain Folder Hierarchy: This will keep folder structure intact throughout
Map Folder(s): You can map the folders for PST and Exchange in the way you desire data importing
Check the checkboxes and provide the folder with new folder name as shown below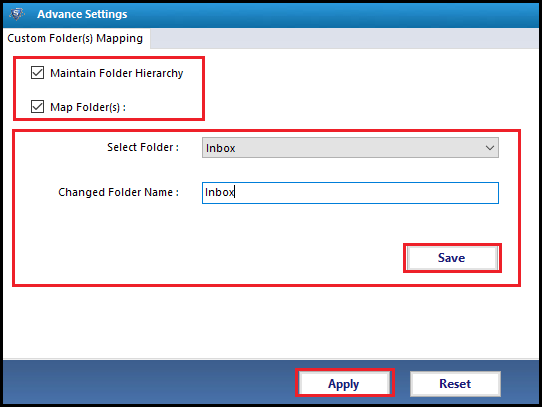 11. Click on Import button to begin the process to migrate PST file to Exchange 2016 environment.

12. A completion notification pops-up, when the process gets completed.

13. For more PST file migration, Repeat the same procedure. In this case, Press Yes to the pop-up notification and Restart the Import process.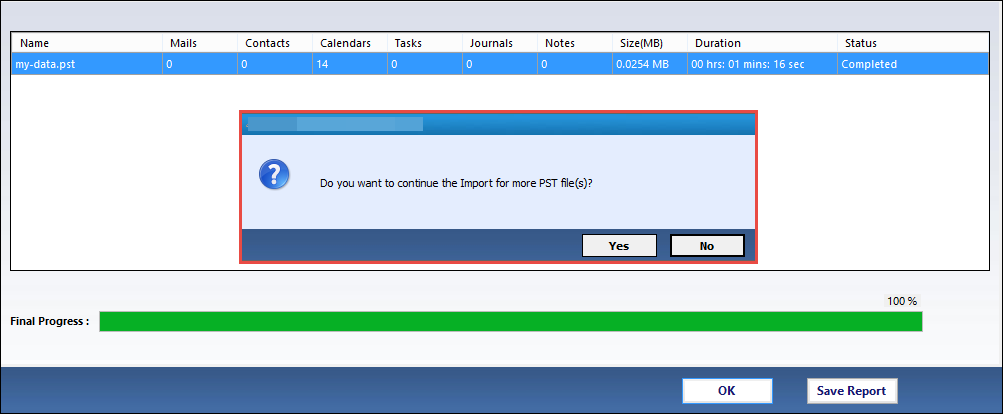 Finally, Open the Exchange account and view the contents of the mailbox imported.
Concluding Words
The blog completely focuses on an easy approach to import PST Mailbox to Exchange 2013 / 2016 environment. Every query asked by an Exchange user on migrating PST files to Exchange environment could be resolved through the provided solution. Also, no technical guidance required for working with the Software.