Designing a landing page is one of the most challenging, responsible and daunting tasks. Landing pages are directly connected with leads and sales which are the lifeblood of any web-based business. Every day we land at dozens of these pages, but not all of them are capable of grabbing our attention and converting us into loyal customers. Which camp does your landing page fall into? Read this post to see how the power of words and smart design can help you skyrocket your sales. Because I mainly deal with online website builders, I will illustrate my thoughts with screenshots of their landing pages.
1. Call to Action and Directional Cues
Call to action button is an indispensable element of any landing page. It should be noticeable, elegant and make your visitors want to click on it. You may also help your first-time visitors find 'that button' with the help of arrows, pathways and other directional cues. They shouldn't look salesy, but they should say 'here's something worth your attention, ignore everything else'. Below is a screenshot of the uCoz's call-to-action button 'Get Started'.
2. Blank Space
Blank space is very important. One of the common mistakes many marketers make is getting the most out of every pixel and stuffing the page with as many info blocks as possible. This can be quite overwhelming and distract your potential clients from the most important piece of your page – the converting button/form. Blank space is useful – it surrounds and highlights your call-to-action elements. Just check out how Wix uses white space on its landing page.
3. Contrast
Contrast and colors along with blank space and the right use of arrows can do magic. Contrast is a very simple and incredibly effective technique. Though it works best in monochrome, it can be applied across the color spectrum. When mixing colors ensure their combination is eye-pleasing. Below is an excellent example of smart color combination and contrast: white, black and blue. This landing page belongs to Webydo website builder.

4. Testimonials and Social Proof
Social proof (the number of followers, customer testimonials etc.) is an excellent way to enhance the 'me too' factor. MotoCMS website builder for instance displays video testimonials on their landing page. This is a powerful factor in creating a sense of trust. Important note: never use fake testimonials. They look unnatural and undermine trust.
5. Interactive Factor
Because we have so little time to impress our first time visitors and make them stay at our pages longer, it makes sense to offer unusual, exciting user experiences to them. Your customers will gladly invite others to enjoy them, too. This technique does work, as I often get links from my friends inviting me to check out interactive landing pages. Let's take Zoho Sites site builder to illustrate this technique. On their landing page you can edit the Company Logo using three parameters in the WYSIWYG mode (color, size and font).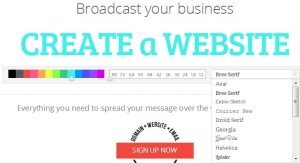 Besides these, there are many other techniques aimed at making highly effective landing pages. These include 'try it free' buttons, urgency and scarcity (only 5 coupons left!) and alike.