Data loss is a real problem. It's made even worse when you really have to recover the lost data. There are hundreds of different programs out there that promise you will be able to recover your data no matter the reason it becomes lost; whether it happens due to deletion or a corrupt partition. Unfortunately not every one of those software solutions can deliver on their promises. One program that can deliver on the promises is Disk Drill for Windows and Mac. It works just how it says it will and is a great piece of recovery software to recover lost or deleted data.
Disk Drill for Windows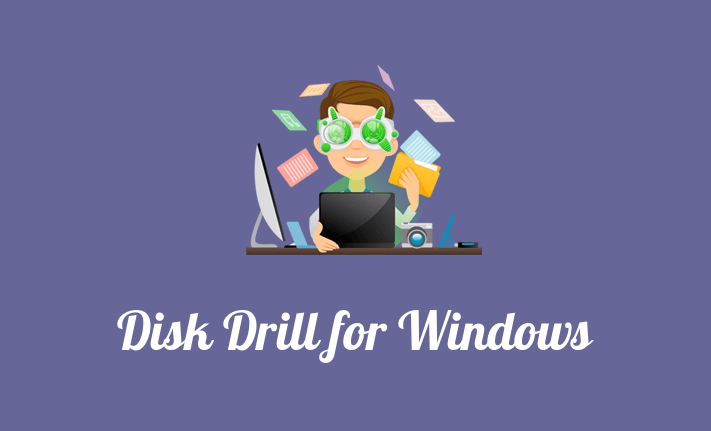 One of the main features of Disk Drill for Windows is the Recovery Vault. When you enable the Recovery Vault it tracks all the deleted files so that you can find and restore them easily. Recovery Vault is turned off by default but it's easy to turn on. Click on the "Protect" link next to a drive and then click the "On" button to turn it on. If you don't want to enable the Recovery Vault for an entire drive you're also able to just put certain files and folders in there for protection.
There is also the option to back up your partitions as DMG images. You can burn these images on a disk to recover your files in the event of a hard drive failing, or just switching to a new hard drive/computer.
How does Disk Drill Work?
As soon as you install and run Disk Drill it displays all the partitions and documents in the information panel
Click on the partition you wish to recover and click the "Recover" button
The software offers you a few choices for recovery

Run all recovery methods and see what works
Run a quick scan
Run a deep scan

After you click on the "Recover" button you are shown all the documents that are part of that partition
Select which files you wish to back up, filtering by All Files, Pictures, Video, Documents, Archives, Audio, etc, and then choose a location to store the recovery data
Disk Drill is fully compatible with Windows 7, Windows 8, Windows 8.1 and the newest Windows 10.
Disk Drill for Mac OS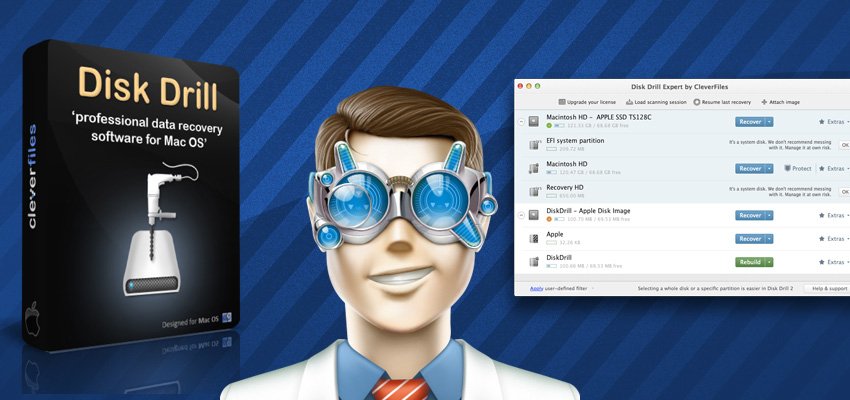 Cleverfiles make Disk Drill for Mac available in four different versions, including a free edition that you can download and use at any time to find lost files and back-up hard drive partitions that are beginning to fail, but haven't completely failed just yet, to a DMG image. This is more of a "try before you buy" style offering that most companies use. Everyone wants to be sure that the software works. The free version will help you find, but unfortunately not recover, any lost files. If you want to recover your fails then you'll need to upgrade to the Disk Drill Pro edition. You can purchase a license for $89.
Lets look on the mainly 3 types of data recovery options available on Disk Drill for their users are:
Disk Drill Undelete
This is one of the best undelete utilities for Mac computers. You can recover any lost file or folder to the state it was in before it was deleted on disks and partitions protected using the Recovery Vault. It supports all types of files and brings them back with all their original properties. This is a very precise method of recovery and is the default method Disk Drill uses.
Disk Drill Pro Quick Scan
This is a feature found in the Pro version. It scans file systems for deleted items and can recover the lost or deleted data. It also only works on disks and partitions that are still functioning normally. This isn't as precise as the Undelete method but it's still a great way to recover last data on file systems such as HFS+, FAT, and NTFS.
Disk Drill Pro Deep Scan
Another feature only found in the Pro version. The deep scan goes down into the depths of your hard drive to find and recover lost data. No matter what happened to the hard drive or the file system it used, the deep scan will try to find and recover every last bit of data that is still on the drive. This is a great choice for formatted hard drives, lost partitions, and similar circumstances. This is a slow method but can recover data based on the file signatures it already knows. You should consider the Disk Drill Pro deep scan your last resort if every other method failed.
Some of the Major Features of Disk Drill for Mac
Recover deleted files from Mac internal drive and external storage drives such as USB flash disk
Allows to scan and recover a number of file systems including FAT, HFS+, EXT3, EXT4, FAT32, exFAT, HFS, NTFS, etc.
Recover music files, videos, photos, graphic files as well as documents and backup data to DMG image
Recover erased images from memory card and allows recovering deleted video clips from the camcorder
Recover data and remount volume to read-only format to protect data overwrite attempts by other tools while recovery
'Data mapping mode' tracks disk usage and the programs and files that occupy excessive space can be deleted right from the Disk Drill panel.
'Recovery Vault' feature enables to keep track of deleted data and allows quick recovery of the files.
The Final Say
Disk Drill is a great piece of data recovery software, made even better by it being available on both Mac and Windows. One of the benefits of the Windows version is that the Free version has all the features included. You can still use a free trial with Disk Drill for Mac but to unlock unlimited access to every feature you will need to purchase the Pro edition.