In general practice, a watermark is added to a document in order to prevent counterfeiting. It can be text or an image across the document or at a defined location. Opacity of watermark can be adjusted in accordance to the fact as how a watermark can affect visual appearance of document or if you want the other person to know the fact that file has a confidential marking done to it.
Adobe Acrobat PDF documents can be watermarked too. Text and image watermarks can be added to PDF files in order to add a secret code to the file which can define its purpose or warn the other person against its illegal usage. Watermarks are an interesting and cheaper way of protecting intellect or crucial information from being used in a deceptive way.
However, there are situations when you need to remove watermark from the PDF. For example: You added image text to an online exhibition of your photography but it distracts user from it. For that reason, you decided to remove existing watermark from PDF files and add transparent mark to the image so that its quality do not gets degraded.
[Read More: Tutorial to Compress/ Reduce Adobe Acrobat PDF File Size]
Adding watermark is relatively an easy task than removing it. Yes, there are number of tools available that can help to easily watermark PDF files with variety of options but there are rare options for removing it. In this segment, we will have a look at some of the techniques that are available for removing watermark from Adobe PDF documents.
#1: Using Adobe Acrobat
If you have Adobe Acrobat available, then it is the simplest way of eliminating watermark from PDF file. All you need to do is upload the watermarked PDF file into Acrobat.
Click on "Document" and navigate down to "Watermark". Three additional options in this category will be enlisted in the right-side; choose "Remove".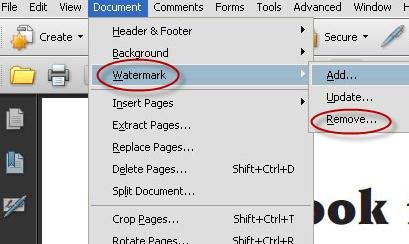 Pros:
This is the simplest method for removing watermarks.
Watermark from multiple PDF pages can be removed.
No changes in integrity of PDF will be done.
Remove both text and image watermark from PDF.
Cons:
Adobe Acrobat is a paid application and is costly too.
#2: PDFWARE PDF Watermark Remover
PDFWARE PDF Watermark Remover is a third party solution that works superbly to eliminate text and image watermark from Adobe PDF file. PDF files created using Adobe Acrobat can be processed with the tool. Here is a procedure of how watermark can be removed from PDF using this tool:
The tool is meant for Windows Operating Systems. Install it and on the home page, click on "Open PDF" link to file for watermark removal.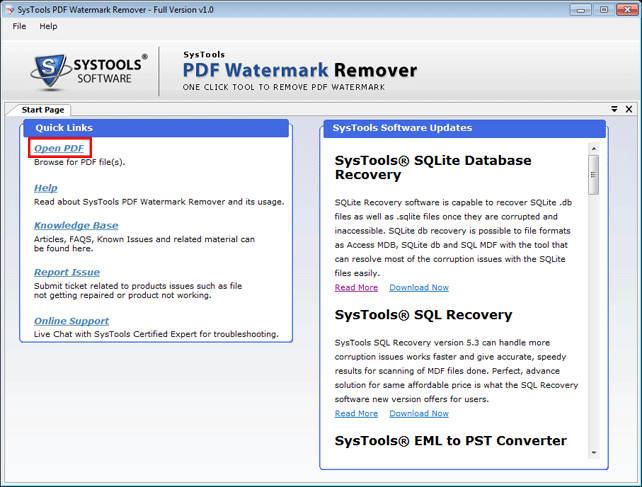 This tool gives facility to add multiple PDF files at once to remove watermark from it. Multiple files can be added individually to the tool or a folder containing all the files can be added. Click on "Add File (s)" and "Add Folder" button to add PDF file to the software.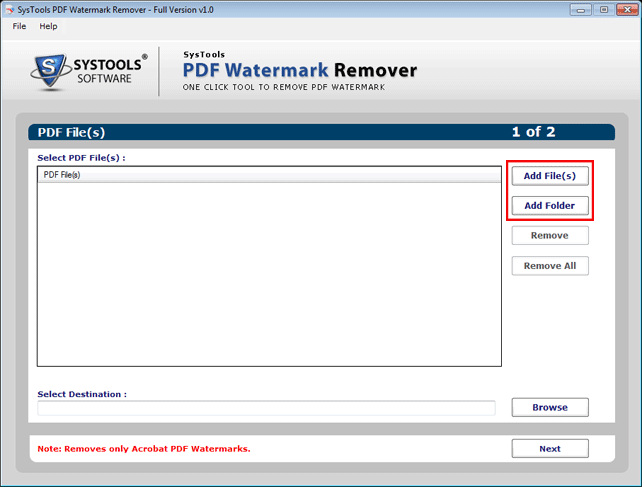 Once the files are added to tool, it is important to define a destination location where resultant PDF file free from image/text watermark will be saved. Click "Next" to continue.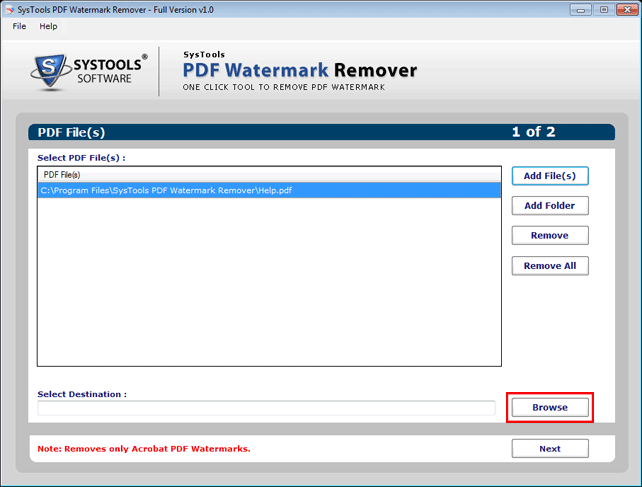 The software will show details of added file (s) for processing. Click on "Start" button to initiate watermark removal process.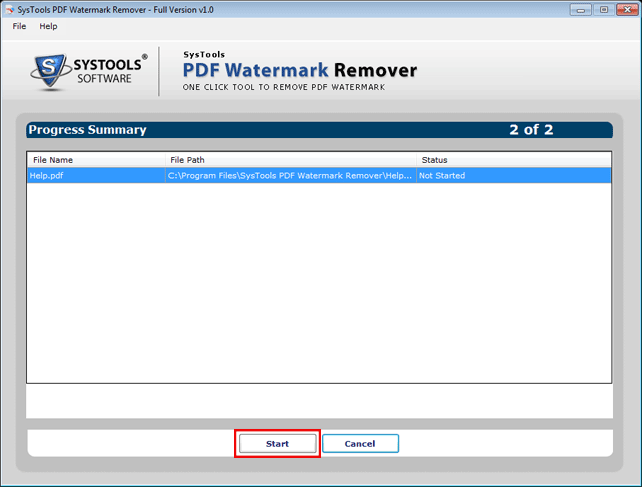 Pros:
Multiple PDF files can be added to software for watermark removal.
Simple steps to install the product and remove watermark from it
Available at a reasonable price of 49 USD for single user
No changes made to quality of contents in PDF file.
Cons:
The software removes watermark only from those PDF files that are created using Adobe Acrobat.
Conclusion:
Removing watermark from a PDF file is not an easy task. Both the tools shared above give simple and secure platform for eliminating watermarks from PDF file. Any of them can be selected according to requirement. For Example: Investment in Adobe Acrobat would be worth only when other PDF management tasks have to be processed. Investing a large amount just for removing watermark would not be an intelligent idea. Instead, go for third party PDF Watermark Remover application that is available at such a fair price.