FotoJet is a customer-friendly collage maker that can help users customize unique and splendid collages at ease for free. What makes people much more excited is that it newly adds DESIGN mode where users can make professional graphic designs from 200+ revamped and 70+ newly designed templates. They can also apply 80+ shapes & lines, and search 580,000+ images and 93,000+ clipart from Internet. All these features ensure users more convenient to design fabulous and amazing creations.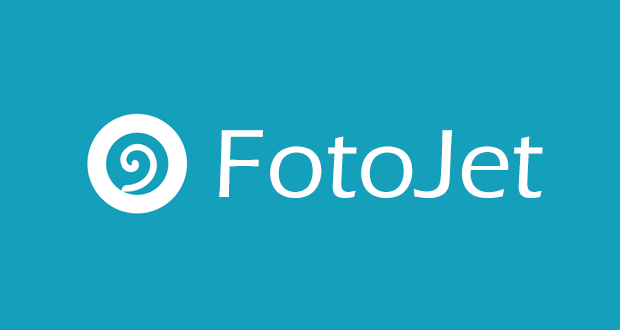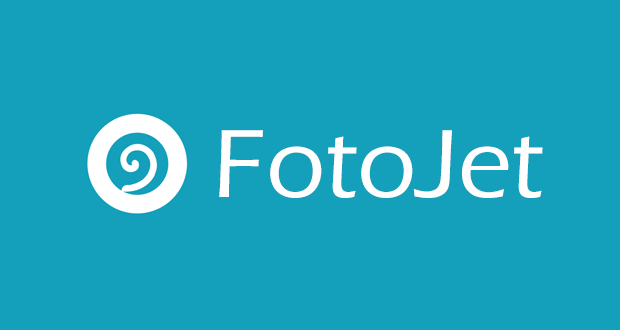 Now I will introduce you how to use it effectively.
The newly-updated FotoJet can be divided into two parts: the collage mode and the design mode.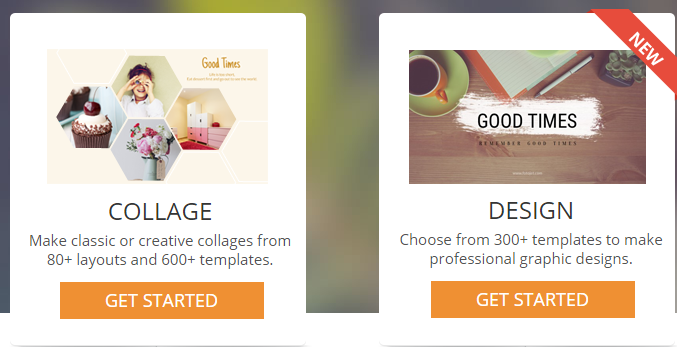 Part One: First, the steps how to use Design Mode will be showed to you.
In DESIGN mode, FotoJet provides 300+ social media graphics including Facebook Cover, Facebook Post, Instagram Post, Twitter Header and YouTube Channel Art. What's different from collages is that all these templates are embedded with beautiful pictures. Users can get their own designs in seconds with some slight adjustments and then save, print them out or share to popular social platforms.
Step one
Choose one of template you interested in from a large number of them.
If you like those embedded picture, you can now print it out or share it to popular platforms after some slight adjustments.
Step two
If you do not like the picture embedded in it, you can change it as your will. Add your own photo from Facebook or computer. What's more, you are allowed to search 580,000+ images from Pixabay to use and modify your creation.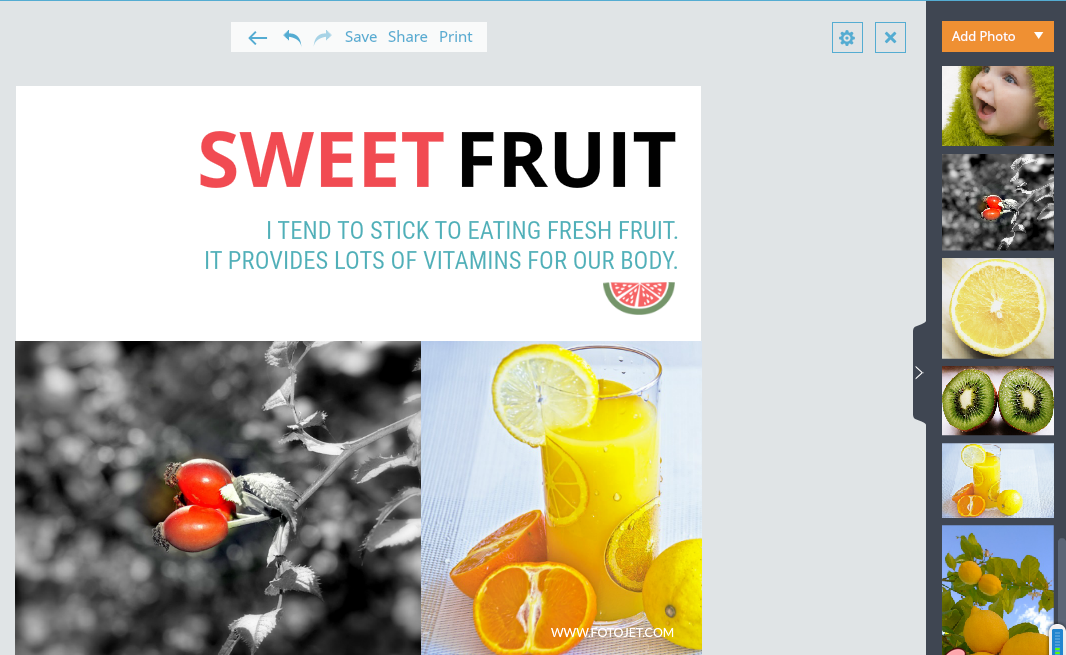 Step three
Add some unique text to outstanding your creation. There are many kinds of sample provide for you to use. What you need to do is click the one you like, and edit it. then, arrange its location, color, size as you prefer.
Step four
There are 93,000+ clipart you can search from internet to use. What make you more excited is that you can change the ClipArt's color into your favorite one.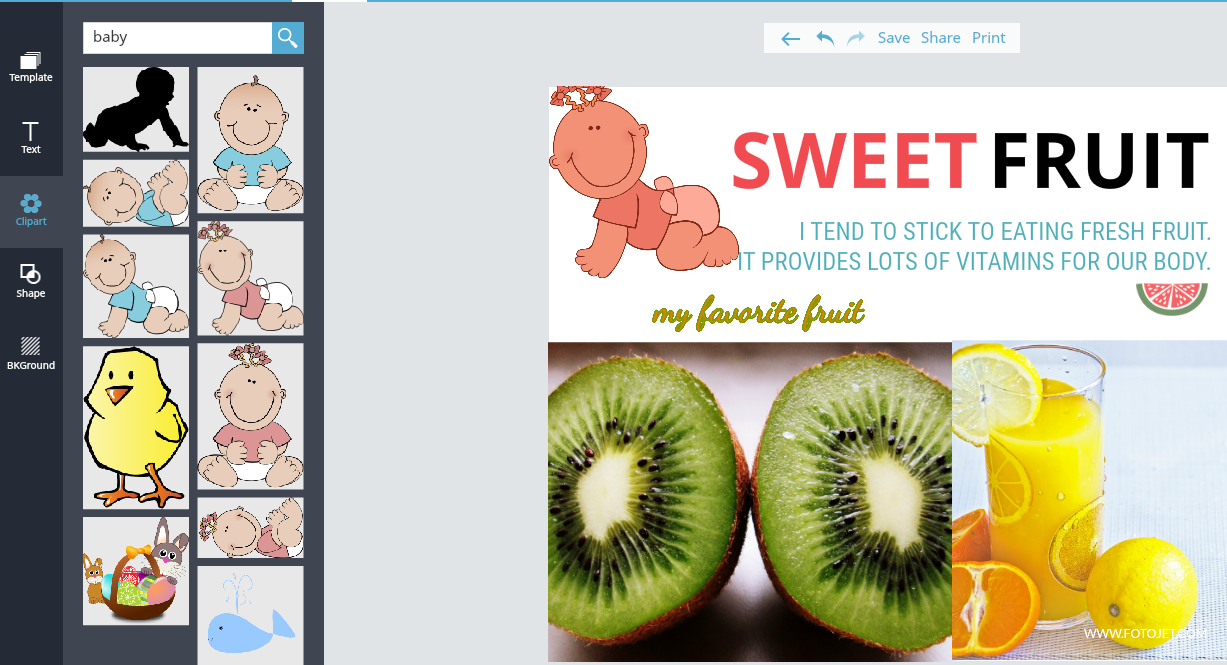 Step five
If you need some shape or line to beautify it, you can go shape part, and there are 80+ shapes & lines you can use. They are divided into three kinds, and then you can make a judgment by the following picture.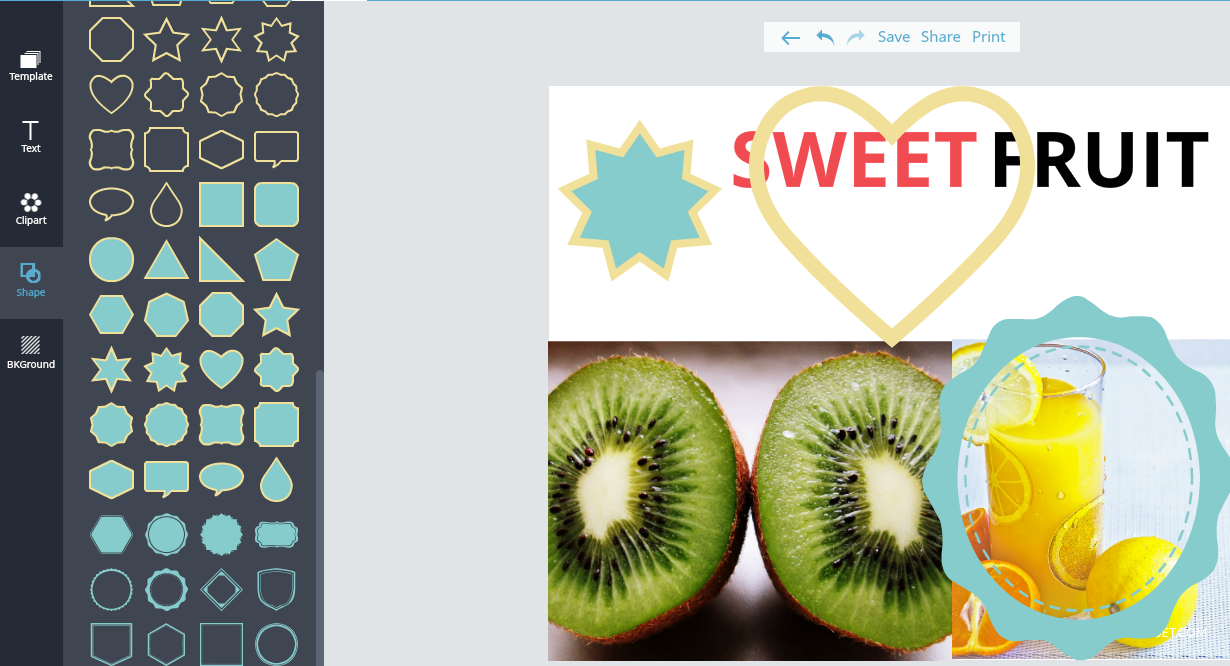 Step six
Do you want to change the background of the template? Ok, design provides you an opportunity for that. Here just click the background you like and the one in sample are displaced by it. What's more you are allowed to choose an image from your computer as the background of your creation.
Now, all the functions of design are displaced on here for you. If you want to have a try, just click here: https://www.fotojet.com/
Part two: Collage Mode
You may see a lot of photo collages every day, however, what you find them-all in the same key or each one has its own characteristics? I believe most of them are much the same, do you eager to create an outstanding one to distinguishing from others. Just try collage mode out, it ensures you to have a unique one. There are numbers of photo collages waiting for you.
Step one
Use templates to start your photo collage. There are plenty of templates you can add to use, just click the one you prefer, you're already out of the first step of your collage.
If you like this one, just follow FotoJet to do it.
Step two
Add your photo to it. You may have a large number of memorable photos, now it is time to make them into splendid photo collage. You can add your photo both from Facebook and computer.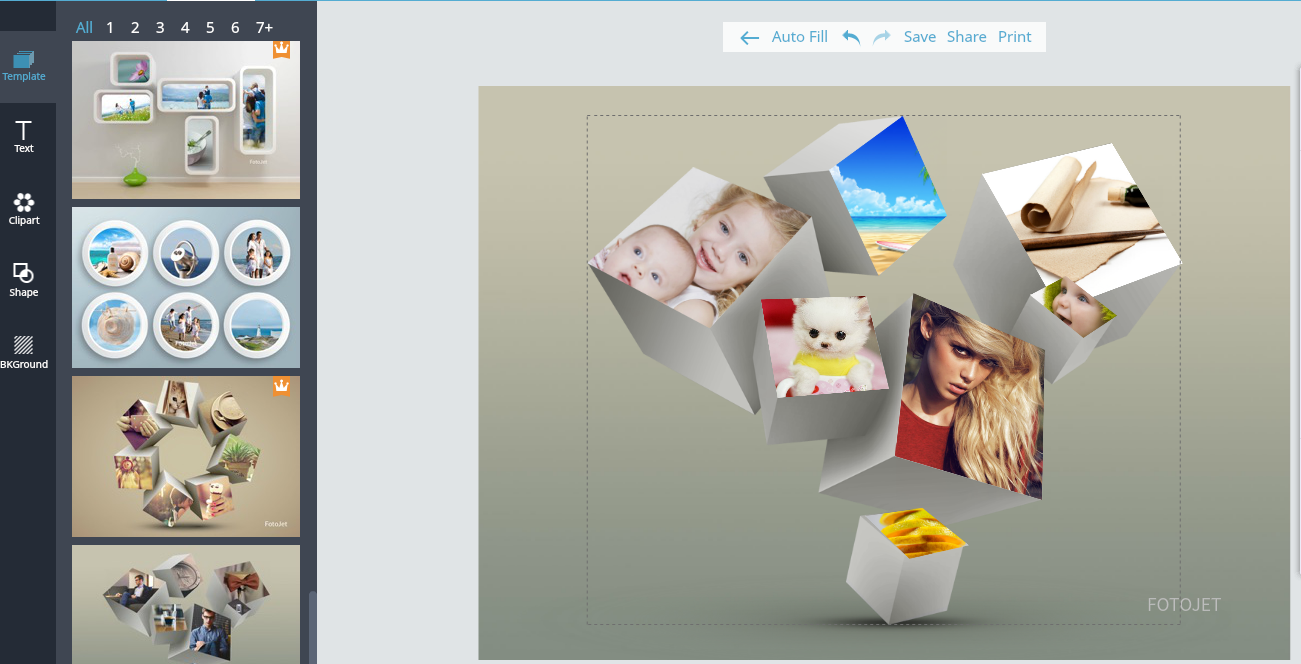 Step three
Use text to modify your design. Put some amazing words in your collage, and tell the people what you want to speak out most. Such as "you are my best love". Just put whatever words you want.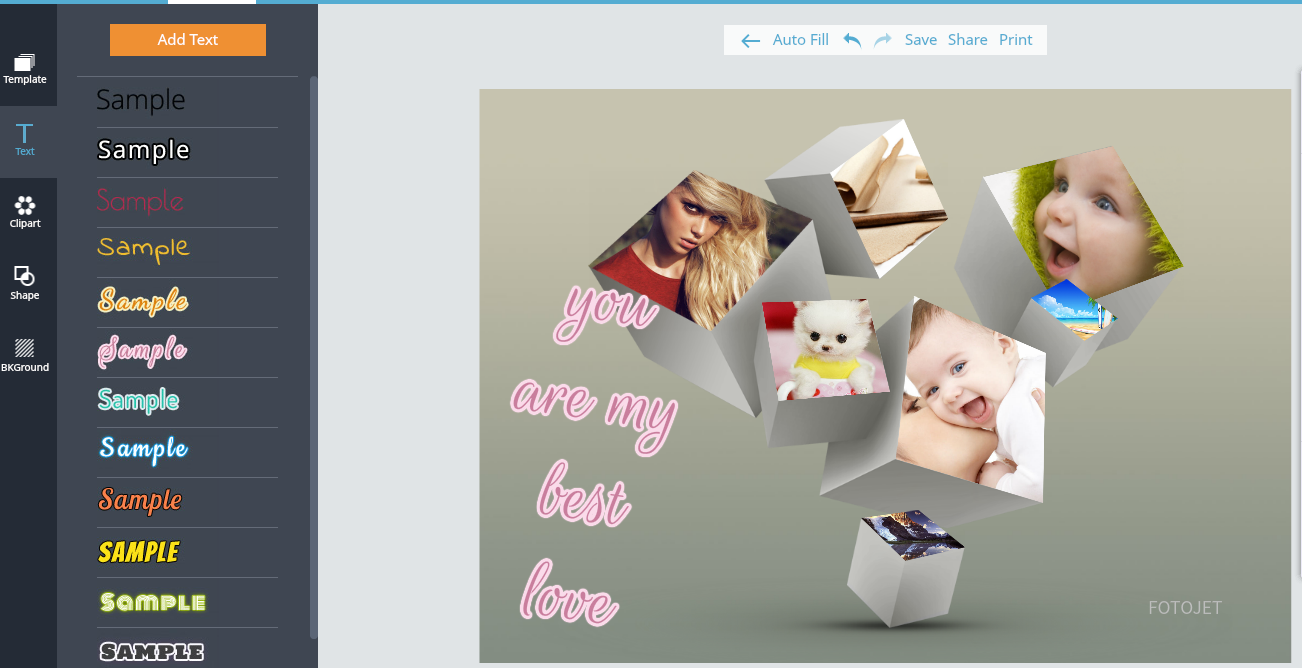 Step four
Add clipart you need. Design mode provides you 300+ clipart, so do not hesitate to use these cute and wonderful ones to make your collage more attractive. It can ensure your collage much more different from others'.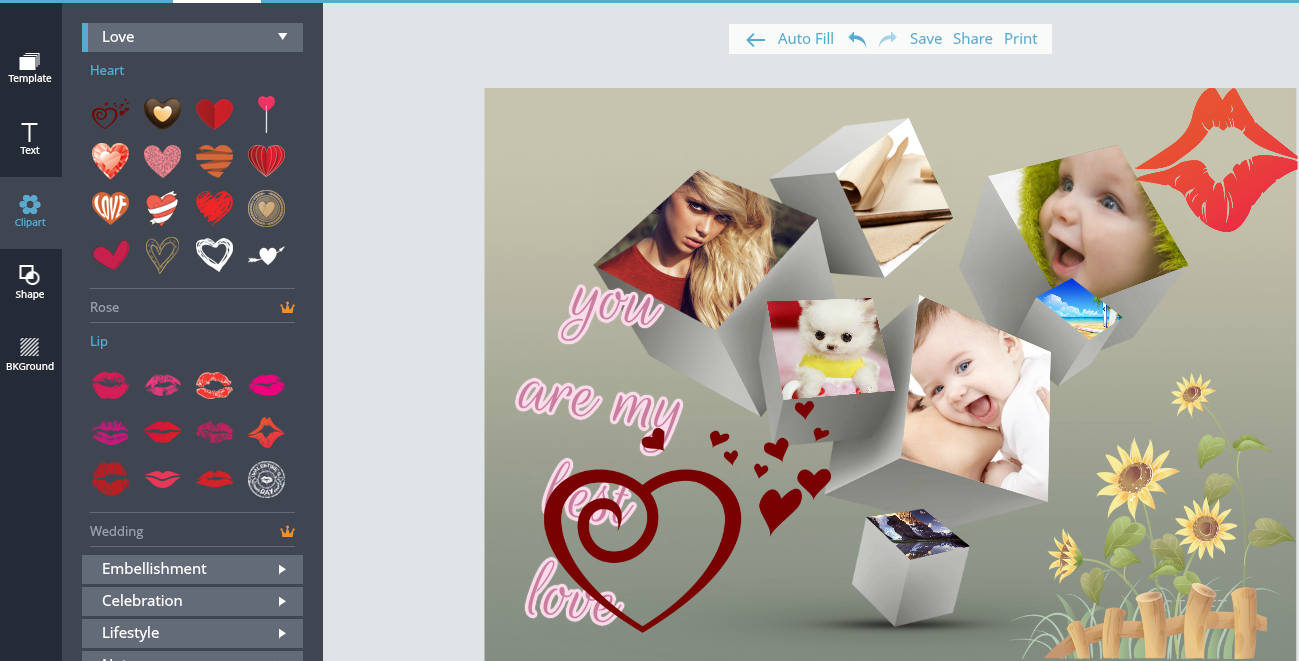 Have you found it is a great photo collage design inspiration? Enjoy it.
If you found there are still something you want to do, just add some shape you need and Change its background as you like. The two is most the same as what I mentioned above, you can refer to the above text if you need.
In FotoJet, there are much more you can do, you can make all kinds of photo cards to send to or share with your families or friends. You can design you distinctive social platforms' pictures. If you love it, do not hesitate to share FotoJet with your beloved.