You create new, interesting blog posts almost daily, share the posts on social networks, guest blog, and comment on other blogs – everything to make your site visible to search engines just to get traffic. But, there could be one vital thing you haven't yet though about but which could exponentially increase traffic to your WordPress blog; social sharing. It is important that you make it easy for users to share your content across social networks so that their friends, followers and fans can also discover your content.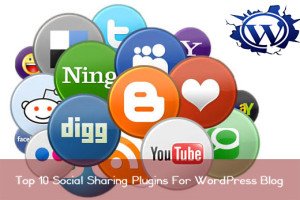 Social sharing plugins on WordPress offer the easiest, most hassle free way of sharing your content front and center and make it incredibly easy to visitors to link your posts to their favorite social media platforms like twitter, Facebook, Google Plus, Pinterest etc.
Not only with these social sharing buttons generate referral traffic to your site, but can also get viral traffic to your blog. Below is a list 8 handy social sharing plugins you should consider using on your WordPress blog. You do not have to worry about cost; most of them are free and can be used to share content across multiple social media platforms.
1. AddToAny
AddToAny is one of the most used WordPress social sharing plugins and it is still in active development. The plugin offers standalone share buttons of over 100 social media networking platforms the AddToAny share buttons was designed simply. To display the share icons, you only have to hover your mouse over the button.
2. AddThis
Share your blogs content with up to 330 popular services using the AddThis WordPress social sharing button. The plugin combines versatile sharing tools with robust analytic so that you can always know where and how your content is being shared. It is also bundled with dynamic personalization options so that your visitors always see the right options at the right time. The plugin also offer automatic translation to over 70 languages.
3. Digg
This is one of the oldest and most famous social share button plugins. Digg adds a floating bar filled with share button to your WordPress blog. It displays virtually all the known social sharing buttons – Buffer, Twitter, Facebook like, Facebook share, Google +1, Pinterest, Digg and many more. You can easily customize it to suit your needs.
4. Sharebar
One of the most popular styles on WordPress blogs today are rail style sharing icons. Sharebar is perhaps the most attractive plugin on this list and to many, the most practical. Unlike other social sharing plugins where the buttons are located at the bottom of each post, the Sharebar icons are located to the side which improves their visibility and accessibility to your readers, especial since the button moves with the view-port as the page is scrolled. The plugin supports services such as Buzz, Facebook, twitter, Digg and email.
5. Social Widgets
This is a simple plugin that lets you add horizontal share buttons below your content. Social widgets however, only display the most popular buttons – Google Plus, Twitter, and Facebook. There is nothing complicated about the plugin, you only need to install them and they will come alive on every blog post you make on your WordPress blog.
6. WordPress Socializer
This social share button plugin offers a floating social share bar filled with buttons from multiple services in both vertical and horizontal directions. It installs widgets or adding you Google Plus profile and a Facebook fan box in your blogs sidebar.
7. Smart Social WordPress Plugin
This plugin lest you add jQuery social share buttons to your WordPress blog in either a toolbar, a stylish floating panel or display inline. It is fully customizable and allows users to choose which social or bookmarking network buttons should appear on the blog.
8. Get Social
This is yet another free WordPress plugin that displays floating share buttons in the side bar of your WordPress blog. Supports drag and drop functionality which allows you to reorder buttons.
9. Socialize
This is a simple social share button plugin that also provides you with sharing counts. It works with most popular services including Facebook, Twitter, Reddit, StumbleUpon, Digg and many more. The plugins highlight is that you can either place it in the footer, within the post or anywhere you think offers the biggest advantage for sharing.
10. SexyBookmarks
This is an extremely stylized sharing button that includes options for adding share buttons for lots of social network. The plugin also provides analytic information, has official support for the Google URL shortener and uses the share API. The plugin can also be localized for over 15 languages.
About Author: Cally Greene is a blogger and works with Sparksduiattorney.com as Online Consultant. She likes blogging about Social Media Strategies, Online Marketing and Legal Issues. You can follow her on Google+.