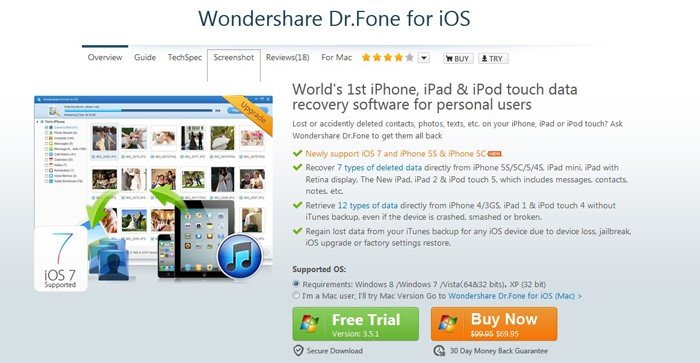 Top 3 iPhone Data Recovery Software
No matter how properly we categorize and save stuff in our iPhones we are always at a risk of losing important data like videos, messages, contacts etc due to various reasons. We could try our hands at backing up every bit of our important data on iCloud or some other manner but we all know at some point of time we need some way to recover our data in case of any disk disaster which is bound to happen. In this article we will discuss about the top 3 iPhone data recovery software and their various functions.
iSkysoft Free iPhone Data Recovery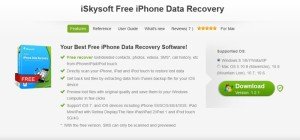 One of the best software recovery systems you can find, and surprisingly it's free to use (paid version is also available with a couple of extra features). iSkysoft is well known for delivering some really great utility software and freeware and the best data recovery system by iSkysoft doesn't come for a price. The best part about this software is it not only recovers most if not all of the lost data but also preserves the quality of each file. You can also backup the newly recovered files in your PC in just a few clicks. The iSkysoft data recovery system can restore upto 12 types of different file formats which include photos, messages and message attachments, call history etc. Upon purchasing the paid version you can also recover lost SMS. The software supports nearly all types and versions of iOS devices including all the versions of the iPhone and iPad. The interface is user-friendly and easy to operate and allows fast recovery. The iSkysoft free iPhone data recovery software with its fast and reliable recovery has proved that 'the best things come for free'.
Wondershare Dr. Fone for iOS
Considered to be the 1st data recovery software for the iPhone and other iOS devices Dr. Fone is great and easy to use software that you can use to recover your accidentally deleted files. The program comes for both Windows and Mac. Dr. Fone can recover 7 types of deleted data files from iPhone 5S, iPhone 5C, iPhone 5, iPad with Retina display, iPhone 4S, iPad mini, The new iPad, iPad 2, iPod touch 5 like contacts, call history, notes and reminders etc. And 12 types of data from the iPhone 4, iPhone 3gs, iPad 1 and iPod touch 4. Thus, making it an effective tool for data recovery, you can also extract the iTunes backup for most iOS devices and recover the lost music and video files. One of the best functions that Dr. Fone offers is the preview before recovery option. Once your device/phone has been scanned the details are laid out in an organized manner thus you can actually choose what data you need to recover and discard all the unnecessary files. You can also save your SMS contents as an HTML file on your computer. All these functions make Dr. Fone a wonderful and brilliant data recovery software for your iPhone.
Tenorshare iPhone Data Recovery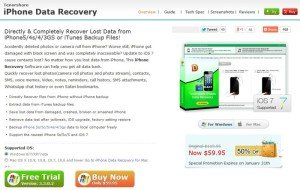 Although the software offers functions similar to the aforementioned software, with 2 modes of recovery i.e. Direct recovery from iOS device and recovery from iPhone backup, recovers 12 types of phone file types including music, videos, call history, contacts, messages and message attachments etc. But where this software excels in its functioning is its amazing flexibility, it can recover data from even a damaged device, now export and save your lost contents in a variety of file formats like .txt, .xls, .xms and many more and it can also recover and backup chat messages from any kind of chatting app installed on your iPhone/iOS device. You can also preview the lost files in an organized format before actually recovering them. The best part of this software lies in its incredibly fast functioning, with the revolutionary new GPU technology the software works 10 times faster than the others thus making it an obvious choice.
With a variety of exclusive functions and user friendly interface you no longer need to worry about backing up your files on iCloud before any sort of OS updates or repair (although it's always advisable to backup your data) and are the best data recovery software for iPhone/iOS devices we have come across.
Resource Box: Rohit is a tech enthusiast and a gadget freak with a knack of trying out various types of software and system utilities available in the market. He likes to keep complete knowledge and information of all the gadgets he has at his disposal. After losing all of his data from his iPhone, he tried out various data recovery software. The best of which was the iSkysoft free data recovery software (download link: http://www.iskysoft.com/iphone-data-recovery/), which solved his problem.