It is well said that an iPhone is an iPhone. Adding to its arsenal of high end phones, Apple introduced iPhone 5S sometime ago which went on and became one of the biggest hits of the smartphone industry in the year. 5S is an improved version of iPhone 5 and boasts of many new internal and external features. However, the design of the device remains almost the same.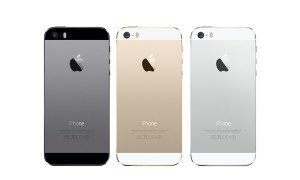 Following are the top 5 features of iPhone 5S that will catch the attention of the smartphone lovers.
Advanced A7 Chip
This is the first device in the world that is backed by a chip with 64 bit architecture. The advanced A7 chip installed in the device deliver superb graphics and high CPU speed. The iOS 7 installed on the phone takes the advantage of the powerful chip and delivers brilliant results. The native apps installed in the device perform well as they are too backed by the same powerful chip.
Touch ID
After a lot of anticipation, Apple has come with a Touch ID features which is basically a fingerprint identity sensor that is integrated in the Home button of the device. It can be used not only for unlocking the phone but also to make purchases from iTune and for other things as well. Another added advantage of this feature is that it has got 360 degree readability and can support multiple fingerprints, thereby making it a really advanced system.
Colour Options
Over the years, the design of Apple iPhone has remained the same but for the very first time, Apple has introduced colour options. Apple has scraped the black variant from iPhone 5S and has replaced it with new Space Gray colour and in addition to the much awaited Gold colour variant.
FaceTime HD front-facing camera
This new device comes with a new 1.2 MP front facing Face Time Camera which comes with a BSI sensor and is ideal for capturing the low light images. This powerful camera supports a 720p HD video recording.
New iSight camera
iPhone 5S comes with a new 8MP camera which has got an aperture of f/2.2, which implies that more light can come in. The camera is backed by some really good features including Continuous burst mode which allows the user to click 10 pictures per second. The True Tone flash which has got white and amber LED helps to adjust and maintain a perfect flash and colour temperature.
Resource Box: Anzer Khan is a professional article writer and mobile and technology are his favorite topics. He rates Apple iPhone 5S as a great product and supports the device. Watch out for the most happening iPhone 5S Gold online.