Google Plus is one of the most popular social networks, which has gained a lot of attention since its launch in 2011. Google plus is directly competing with the social networking giant, Facebook ever since it was launched and many people believe that Google Inc. has launched Google plus only to compete with Facebook in the social media war. Although Google plus is just two years old, many internet marketing experts and analysts claim that one day Google plus will ultimately become the No.1 social network by beating Facebook. Well, we have to wait and see that!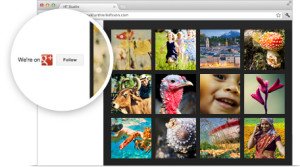 As Google plus is gaining popularity and Google is slowly using plus ones, shares, authorship, etc., for delivering search results, it is essential for you to have a good presence on the Google's social network either by having more friends or followers. In this article, I am going to discuss about the top six ways to increase the number of Google plus followers, which will ultimately increase your Google plus presence.
1) Create Circles
Circles is one of the best features of Google plus and using it you can group your friends, family, business contacts, relatives, VIP or team members. When you share something based on the interests of your individual circles, your message will spread easily which in turn can help to increase the number of your Google plus followers.
2) Circle Back
The circle back principle on Google plus is similar to Follow back principle on Twitter. Google plus will send notifications whenever someone adds you to their circles. It is utmost important that you return the favor and circle them back to your circles. Doing this, will increase the chance of you bring in their circles a long time which will certainly help to increase your presence on Google plus.
3) Invite Your Friends
Google plus is certainly in its early stages. So by sending out an invitation to all your friends asking them to join Google plus will help you in a long way to establish your presence on Google plus. Once all your friends are on Google plus, you can ask them to add you on their Google plus circles. This is one of the easiest ways to increase your followers on Google plus.
4) Go Public
To increase your Google plus presence and the number of followers, it is very important for you to make your presence as public. Also, try developing a habit of sharing useful and interesting updates which will catch the attention of other people. By following this habit, your updates will reach a wider audience and your chances of getting more Google plus followers increases exponentially.
5) Create Google Plus Page
Just like Facebook fan page, Google allows to create business or personal branded page which you can use to promote your personal or business brand and boost your followers. If you share useful and interesting content on your Google plus page, more and more interested people will live your page and will start following you.
6) Use Google+ Community
Google plus community is much similar to Facebook group, where you can share your thoughts, interests or posts with its member. Join Google+ communities which are in your niche, and start engaging with people in there. Share insightful contents and grab the community member's attention. Following these steps will eventually increase the number of your followers.
By following these ways, you can enhance your Google plus presence and the number of followers. For a blogger, or an online marketer, or a business owner, it is important to have a huge following on Google plus since it provide great value. So, use these tips and don't miss your followers.
About Author: Sathishkumar Varatharajan, who is the author of this article, is a Social Media Marketer from India. He owns the Media Mister social media marketing company, which is helping business, musicians, and artists to enhance their social media presence.