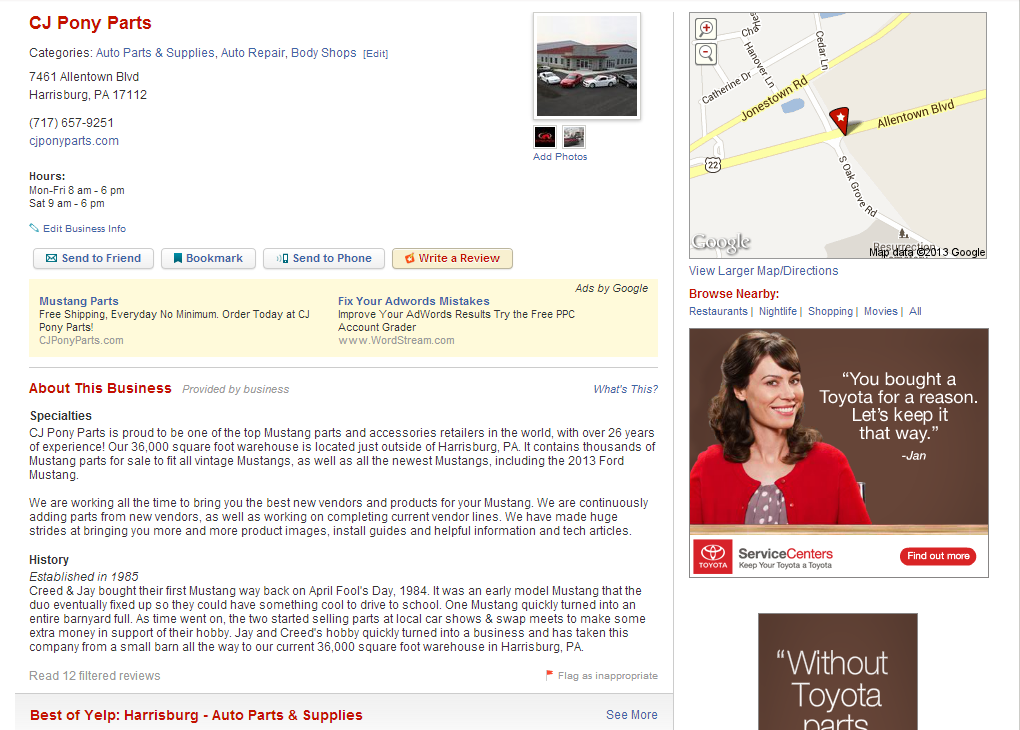 How to Use Yelp to Better Your Business
It seems like more than ever, local businesses are thriving and new ones are popping up each day. With initiatives like "small business Saturday" to get locals spending money in their own community, there's never been a better time to put your business out there. But now the question is, where to start? Well firstly, look towards the Internet. To find new businesses, people don't use phone-books any more; they use their smartphones or tablets. One of the main business search providers today is Yelp! With over 60 million registered users, it's a surefire way to reach your target audience and a cost effective way to promote your business during the process.
How to get started with Yelp!
Find your business
Just because you haven't set up a page for your business on Yelp doesn't mean someone else hasn't. If you do find your business, make sure to click the "work here" button to unlock your business' page.
Search your local area
See what else is happening near your zip code on Yelp. Do you have local competitors? Well then check out how they're using Yelp to attract a customer base. There may be aspects that you like or don't like, the main idea is to familiarize yourself with the website and the tone of voice you'd like to convey to your consumers.
Fill in the blanks
On Yelp, it's all about details. Make sure your company's profile is filled out to completeness. The worst thing you can do on your Yelp page is have missing information. Also, make sure all of your contact information, store hours, etc. are up-to-date. You want your page to be a reliable place where your customers can come to get the best information about your business. Your customer's trust is earned here and it's the first step to getting them in the store.
Linking
Use Yelp to your advantage, if you have a website, a Twitter or a Facebook page for your business, make sure you put the addresses on your Yelp site. This will create a connection for your customers and also show them that you're working to make their lives easier and more convenient.
A picture's worth a thousand words
Photos are a very important part of a Yelp site. Consumers can put up photos of your business, but more importantly, so can you! If you have a professional photographer who takes pictures of your products/storefront for marketing purposes, make sure to use those for the Yelp site. You want these photos to look as professional and impressive as possible.
Respect the reviews
A very unique feature about Yelp is the consumer's ability to write reviews about your business. The reviews on Yelp are some of the most read ones on the Internet, so every time you serve a customer in store, remember they could write a review on Yelp. Keep your customers happy and you'll see a plethora of good reviews on your site. And try not to panic if you do receive a few negative reviews, what's the old saying: any publicity is good publicity? The main thing is that you're using Yelp to its full capacity when it comes to improving your business.
Here's an example from CJ Pony Parts of a finished Yelp page. You can see they have a map, link to their website, pictures and history! It's a great way for your customers to feel as though they know you and can trust your services.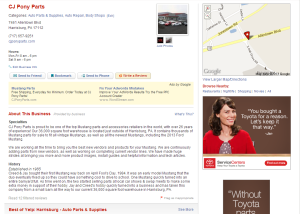 So, don't forget about Yelp in the middle of all of your social media efforts. It's a trusted way to get the word out there about your company and get people talking.
About Author: Courtney Gordner is a blogger with a passion for all things internet, social media and SEO! Read more from her on her own blog, www.talkviral.com