Why Paying Attention To On Page Optimization Is More Important Than Ever
Google is changing rules at a faster pace this year. Well, not exactly changing; for those who listened, the rules have always been the same – Google is just becoming stricter in making sure that the webmasters follow them. But nevertheless, their filters aren't perfect, they never will be – right now many sites that don't deserve to be penalized are nowhere to be found, and still there are many loopholes for the lower quality sites to get through. The links, the anchors, the domain name – you can go wrong or right with any of them. Even with content, the king – you can even get away with bad content.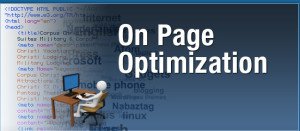 But you can't get away with bad on page settings if you want to do well in Google. So be smart about it – after all, you're in complete control of this part, and you better use it as God and Google intended.
Why it's so important?
Basically, by optimizing the on-site factors, you're telling the search engines all the basics they need to know about your site. You are defining your site for them, they don't have to guess what it's about and you're making sure that everything works smoothly and makes sense for both search engines and visitors.
Now, why it's more important than ever?
With so many changes (and more to come) in the way that Google tells good from bad websites, many webmasters are wondering if SEO, in the sense of link building, is dead. That question is wrong on so many levels and it makes no sense to debate it here, but we'll make just one simple point: SEO will live as long as Google, Bing, Yahoo and other search engines live. And we can do our best to present our website to them in the most appealing way possible.
1.) Anchor text diversification – you know by now that the "new SEO best practices" recommend that you diversify your anchors to insanity. One of the most secure ways to avoid the "over-optimization" in this segment is to use your brand name and your URLs in a large percentage. For years, anchors have been one of the main signals of the relevance of a webpage for a selected term. Now you can't use them anymore, not in the way you used to (exact match). Of course, some portion of them should be exact matches and some portions should be partial matches – but a good portion goes to the brand name, URL and random words.
That dilutes the relevance signal to a significant degree – and relevant page titles, header tags and content are there to help the search engines know exactly what your page is about.
2.) You're in complete control of your website's architecture and your internal links; with enough domain authority, practically any page you link to from your homepage has the potential of ranking high on search result pages, even if there are no links from the outside pointing to it. That's why you should closely examine the structure of your website to find out which pages should get additional attention from your homepage. Sometimes it makes sense to exclude "most popular posts" and to introduce "featured" or "most recent" articles – it depends on a website.
3.) Even if you decide to go the safe way – promoting your site on social media (Facebook, Twitter, Pinterest), without creating links, if you're successful and get a lot of visitors, shares, likes, retweets and re-pins, your site (in some situations and in some niches) may start ranking organically – if it's properly optimized. This of course requires that your competition isn't very strong; it's been proven that social signals can help in ranking a website, but as a sole ranking factor, it's unlikely that they will do in more competitive markets.
Doing things this way may actually be a good move, for at least two reasons: one, you're not depending on Google for traffic, which is always a good thing, and two – if you're successful in engaging your fans and followers, they will probably reward you by linking to you. And again, they wouldn't use the anchor text you would choose yourself – so if you have done good on site optimization, you should begin to raise in SERPs for your desired keywords. Even when you're building a brand website, you should do it with commercial keywords in mind.
Did we get you thinking? If so, please let us know!
Author Bio: Nicole Gore from Innovativepaymentprocessing, is an online marketing consultant since 2007. She often writes about SEO tips for small business owners, helping them to improve their online visibility.