Inmatrix Zoom Player is the most Robust, Powerful, Customizable and Flexible Media Player application for the Windows platform. More media formats play with less hassle, greater performance, and improved stability on based of powerful Smart Play technology.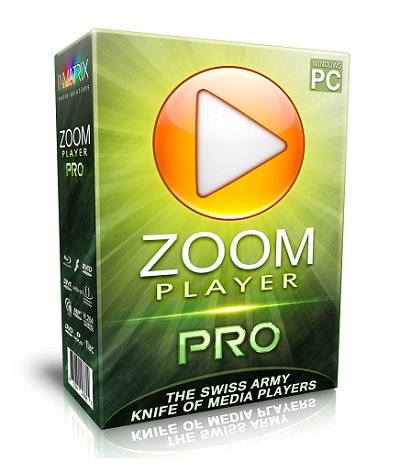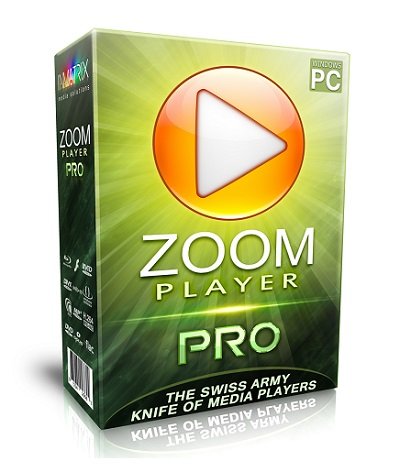 The full-screen navigation interface of Zoom Player is based on a simple 5-Key system (up/down/left/right/select). The 5-key system provides you a very easy access and navigation to interfaces such as Media Library, File Browsing, Playlist, Color Control, Audio Equalizer, Bookmarks, Play History and many more. The system's simplicity makes it ideal for users with no previous computer experience.
With Inmatrix Zoom Player, you can easily Convert any PC into a Home Theater PC or Home Entertainment Center (HTPC) with no requirement for specialized hardware or operating system and it runs on every version (32bit/64bit) of Windows.
Key Features of Zoom Player Pro
Playlist Manager (Providing powerful playlist manipulation).
Safety features (Password protected options dialog, DVD Parental control and Hidden navigation functions that modify files).
Media Definitions (Save and Restore the current Aspect Ratio, Color levels, Volume level, Equalizer state and much more for every file played).
Web Remote (Control Zoom Player from your web browser).
Extended command line interface, exposing many Zoom Player functions directly from the command line.
Playback of DRM protected movies and music (Windows Media DRM).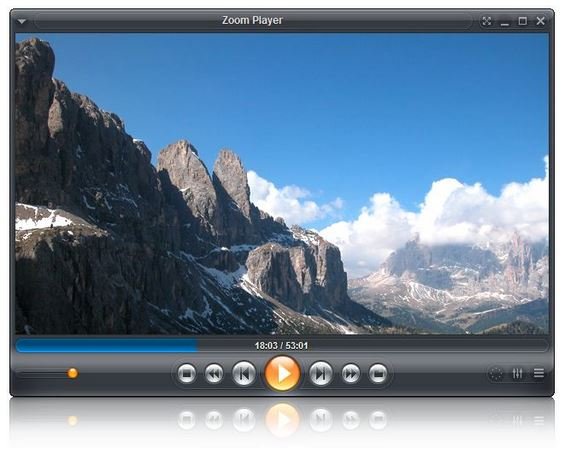 Supported Video Formats
DVD, BluRay (Decrypted Main Movie playback), AVI, QuickTime (MOV/HDMOV), XVID, DIVX, Windows Media (WMV/ASF), Flash Video (FLV), Flash (SWF), Cellphone 3GPP (3GP/3G2), CamCorder (MOD/TOD), Ogg Movie (OGM), Theora (OGV), Real Media (RM/RMVB), VideoCD (VCD), Super VideoCD (SVCD), MPEG (MPG), MPEG2 Program (M2V/VOB/MOD), MPEG2 Transport (TS/TP/TSP/TRP/M2T/M2TS/MTS/PVA/TOD), MPEG4 (SP/ASP), H.264 (MPEG4 AVC), MPEG4 ISO (MP4), Matroska (MKV), Media Center DVR (DVR-MS), VP3, VP6, VP7, Digital Video (DV), Motion JPEG (MJPEG), FLIC (FLI/FLC).
Supported Audio Formats
MP3, Windows Media (WMA), Advanced Audio Coding (AAC), OGG Vorbis (OGG), Free Lossless Audio CODEC (FLAC), CD-Audio (CDA), Dolby Digital (AC3), Cell Phone (AMR), Digital Theatre Surround (DTS), LPCM, Monkey Audio (APE), Real Media (RA), MusePack (MPC), OptimFROG (OFR), Shorten (SHN), True Audio (TTA), WavPack (WV), Apple Lossless Audio Coding (ALAC), MIDI, Matroska (MKA), Wave Audio (WAV), SHOUTcast (Streaming), AIFF, MO3, IT, XM, S3M, MTM, UMX.
Supported Interactive Formats
DVD, Hypertext Markup Language (HTML), Flash (SWF).
Supported Image Formats
JPEG (JPG), PNG, GIF, BMP, ICO, WMF, EMF, JFIF, RLE, WIN, VST, VDA, TGA, ICB, TIFF, FAX, EPS, PCX, PCC, SCR, RPF, RLA, SGI, BW, PSD, PDD, PPM, PGM, PBM, CEL, PIC, PCD, CUT, PSP, PN.
How to get Free Zoom Player Pro
Regular price of Zoom Player Pro is $8.63 per license key. But now everyone can download a full version copy for free from the giveaway of Zoom Player Pro which is organized by the Windowsdeal.com website. Remember this offer expires in 4 days from time of post.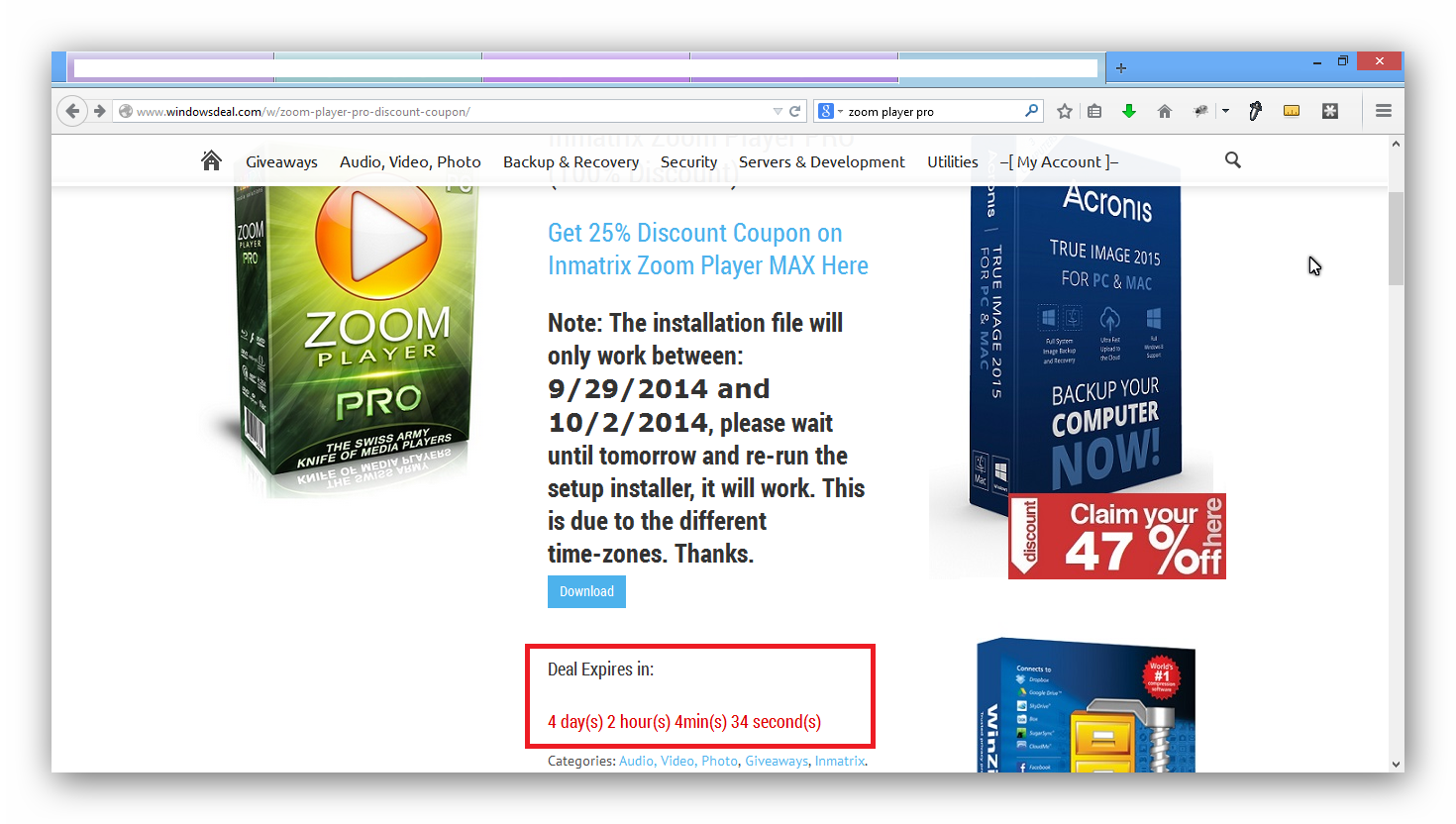 You have to visit this Landing Page for more information and grabbing your free copy of Zoom Player Pro. Remember that there is a different time-zones so you made to grab the copy a little later if you will face the time zone issue.