Although Google is now performing better Flash crawling capabilities, many still reject using Flash elements for building their websites. Although these fears may have grounds, we can't reject the fact that search engines are moving towards better Flash indexing. However, these efforts are only in their infancy, and it can take months before Google and other search engines will be able to reach and analyze Flash seamlessly. Luckily, Flash developers and other enthusiasts have developed different workarounds allowing creating index-able Flash websites.

As a rule these techniques are very sophisticated and require deep knowledge of multiple programming languages, as well as understanding the principles of web crawlers' work. So, the first option is hiring someone to optimize your Flash website or educating yourself in order to accomplish this task independently. Yet the easiest way to get a SEO-friendly Flash website at its finest is to build it using MotoCMS, a site builder offering search engine optimized Flash templates.
How It Works
MotoCMS developers use a simple but smart solution for their Flash templates – they insert HTML copies into every theme to make it visible to Google. This means that in the long run you virtually get two websites: an effects-rich Flash website for your visitors, and a seamlessly index-able website for Google. Everyone's satisfied: you, your customers and the web crawlers!
How to Build a Website with MotoCMS
Apart from the SEO-friendly templates, this website builder can offer many other advanced website building tools allowing you to create an exceptional, wow-effect website. However, it's important to note that MotoCMS differs a lot from other online site constructors in its pricing policy and hosting solutions. I will dwell upon these points below.
Step#1. Explore the system. MotoCMS site maker allows you to test the system free during their 30-day trial. If you're satisfied with the service, remember to purchase the template since your valuable data will be erased after trial expiration. MotoCMS charges only once ($139) – there will be no monthly fees.
Step#2. Pick a template. Their templates collection is quite impressive. There are both HTML and Flash websites. If you still feel uneasy about using the latter, pick an HTML design, these are by no means inferior to Flash themes.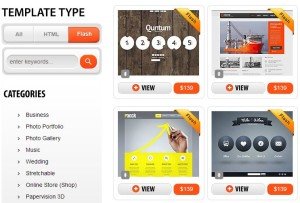 Step#3. Obtain a domain name and choose web hosting. Unlike other popular site creators offering all-in-one turnkey solutions, MotoCMS works only as a website builder. It doesn't host websites, neither does it sell domain names. This is to say that in order to have your MotoCMS-powered website live you need to obtain a web address and hosting elsewhere. Good news is that being a partner with BlueHost company, MotoCMS helps its customers to get a significant discount for hosting.
Step#4. Upload your MotoCMS template to the server and customize it. Editing your website with MotoCMS is simple and fast, since its interface employs convenient editors allowing you to see how your web page will look live when on air direct from your admin panel. If you're satisfied with your work, publish your website. Remember to promote your website and optimize its brand identity.