In recent years, things related to graphic design have no longer been the preserve of a few professional or people with design experience and knowledge. Besides, graphic design has become more accessible for non-designers. The reason is that the large graphics tools were created to help people do these designing jobs rather than professional designers. Thanks to all these useful graphics tools, we can turn our creativity into stunning design works. For all this, in case you are looking for a solution to generate your designs related to the creation of posters or personalized posters, we are going to talk about an excellent alternative. In particular let make an introduction of DesignCap, an online tool specially created for making posters.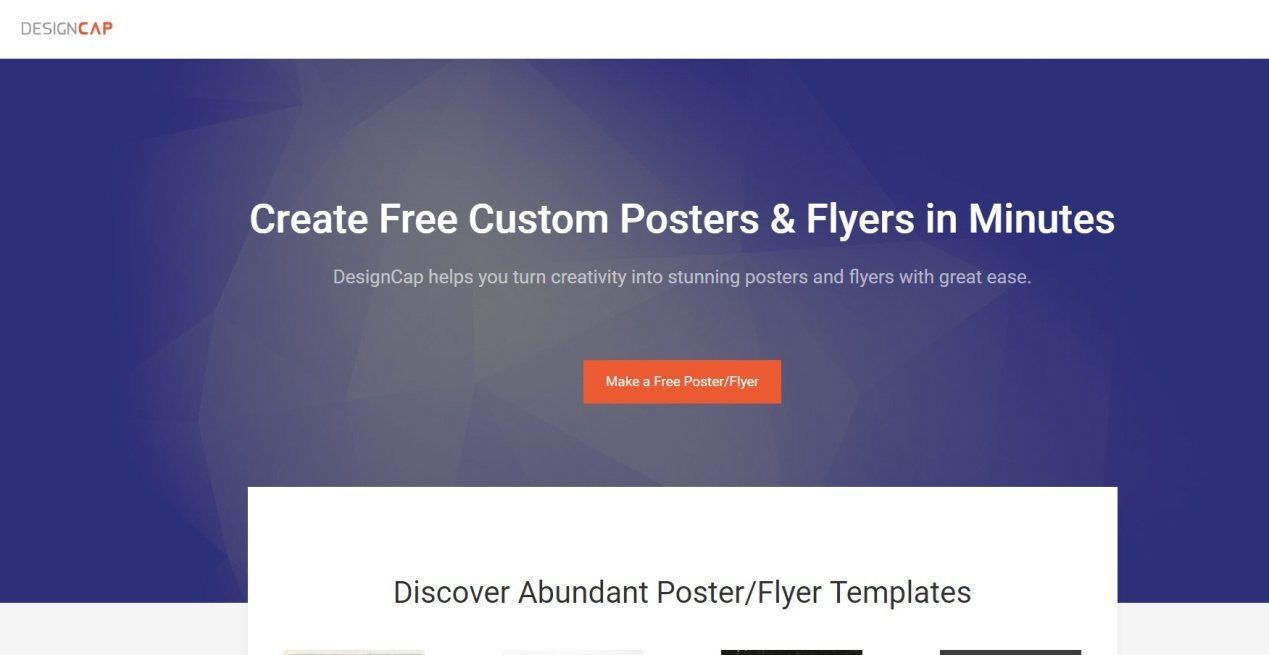 What is DesignCap?
DesignCap is a poster and flyer maker specialist to be your effective assistant to solve your problem creating professional-looking posters. It was developed by PearlMountain, a graphics software company with over 10-years experience, which has made other two well-known tools, FotoJet and DesignEvo. DesignCap is born with the idea of simplifying the design process and providing the best solution to satisfy users.
How to make stunning posters with DesignCap?
First, start from choosing from hundreds of pre-made templates
DesignCap offers a large set of beautiful templates for you that will greatly facilitate these design tasks. Therefore, the main task that you have to carry out in this case is to customize the pre-designs templates to create your projects. Besides these brilliant templates smoothing your designing, they would be quite helpful to give you inspiration where to start your making posters journal. In addition, a designing team behind DesignCap is trying to design various themes to meet your requirement. Click the template menu the check all category including sport posters, music posters, art posters and school posters, etc. finding your suitable one.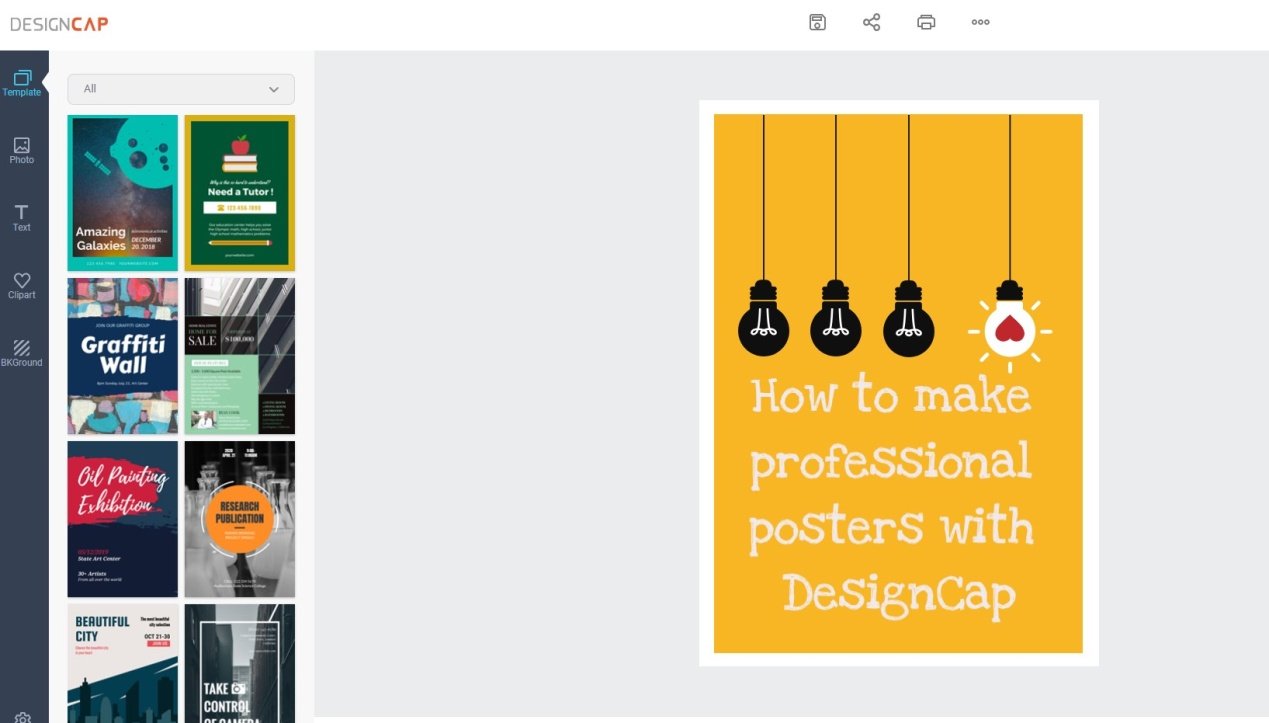 Second, 100% customization with thousands of elements resources
DesignCap offers many professional editing tools with massive elements resources for customizing your posters the way you want. Let get a closer look of these editors.
Add and adjust photo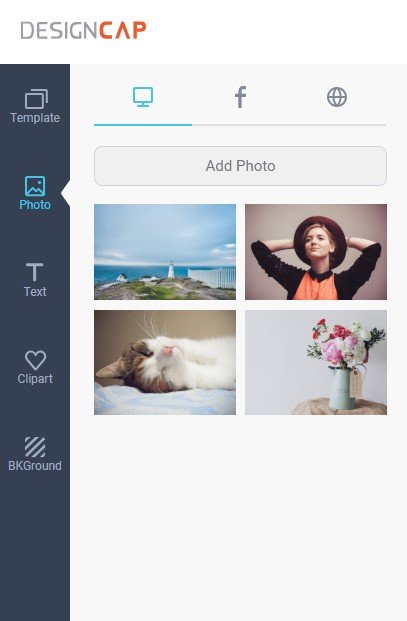 It is awesome that DesignCap allows you to import images from your computer and Facebook that will max your custom posters. Besides, you can search Pixabay's 580,000 free images. After adding images you need, you could redesign them with your creativity. Click the photo you choose and then a little operation panel will present. You can adjust the size, place it, rotate and flip it. Moreover, you can crop the photo. But it may be pitied that you only crop the photo in a rectangle. Once you think this image is not suitable, you can click the litterbin button to delete it.
Add and adjust the text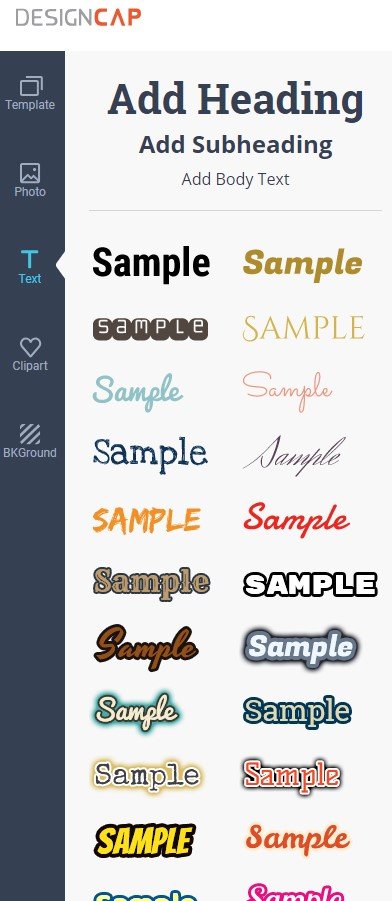 You definitely would ignore the words above text sample, because we are always attracted by colorful stuff. As you noted an amazing poster in the street, it is different Font sizes. So DesignCap makes guidance to you that it says Add Heading, Add Subheading and Add Body Text in text menu. Also, you can change its effects at your will with Text Editor.
Add and custom clipart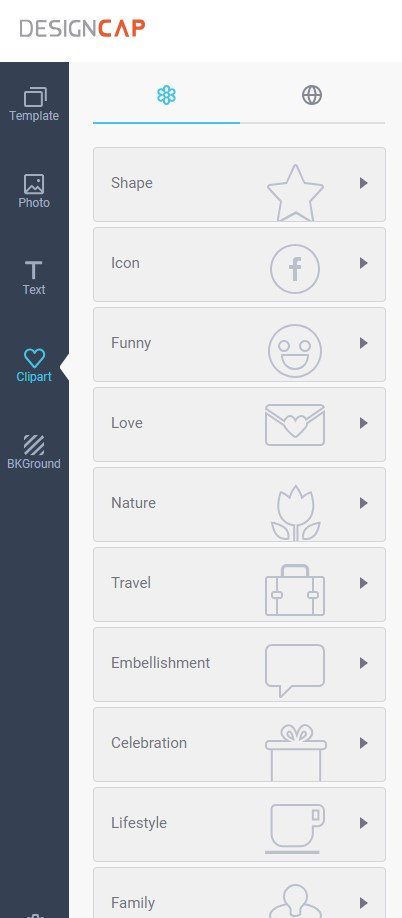 A huge clipart stock is available for you to personalize your striking posters. Besides DesignCap clipart built-in that was arranged into different categories covering shape, icon, holiday, and nature, etc. Also, DesignCap allows you to search 93,000 clipart images from the Internet to decorate your posters. You can custom them with the editing panel, resizing, moving, and rotating, what they will be is up to your creativity.
Set background
Click BKGround and a background menu will present. There are three kinds of background available for you to choose. If you choose a solid color or a gradient color, you can click the + button to see more and pick your favorite one. You can choose a preset pattern as well.
Third, save and download
When finishing with the design, you would like to save and download your works. But how do you get them? What you need to do is to share DesignCap on your social media. That is simple. To eliminate some unnecessary precept, DesignCap requires no any registration so that you straightly access to your design.
Conclusion
As these graphics software and tools give us a gist of designing, we are able to create these wonderful works. Have you ever wonder to create fantastic posters? It is the right time for you to make your custom posters. DesignCap is your useful helper to create your own ones. It is free web-based poster maker tool which means you would install it to take huge storage. Another awesome programming is that is it no registration, that is to say, you would not bother to think your user's name and password before starting your design. Check out DesignCap https://www.designcap.com/ to see more.