Ever wonder to design an eye-catching logo for your blogs, website or social channels to attract attention online? DesignEvo, a very handy online quality logo maker, can help you get it done. It offers an impressive number of ready to use templates, resources and editing tools, making logo design an easy task.
If you are looking for a fast and simple to create your own quality logo, then DesignEvo is a great tool you should bookmark. In this post, I will walk you through its main features.
Easy to Use
DesignEvo aims to make quality logo design accessible for everyone to do. So it has an easy to navigate interface and uses a drag-and-drop editor, which first time users can quickly understand how to use it. Once you entered to its website, you can start designing logo at once. Besides, it is built on HTML5, which works super-fast and is compatible with almost all the modern web browsers.
Ready to Use Logo Templates
Backed by a team of professional designers, DesignEvo comes preloaded with 4, 000+ ready to use logo templates, helping you get off the ground easily. Templates are classified into various business and industrial categories, such as Technology, Lifestyle, Art, Fashion, Food, Environment, etc. One of the great things is that DesignEvo regularly updates with new templates! No matter what kind of logo you need, you can definitely find out a suitable one to work with.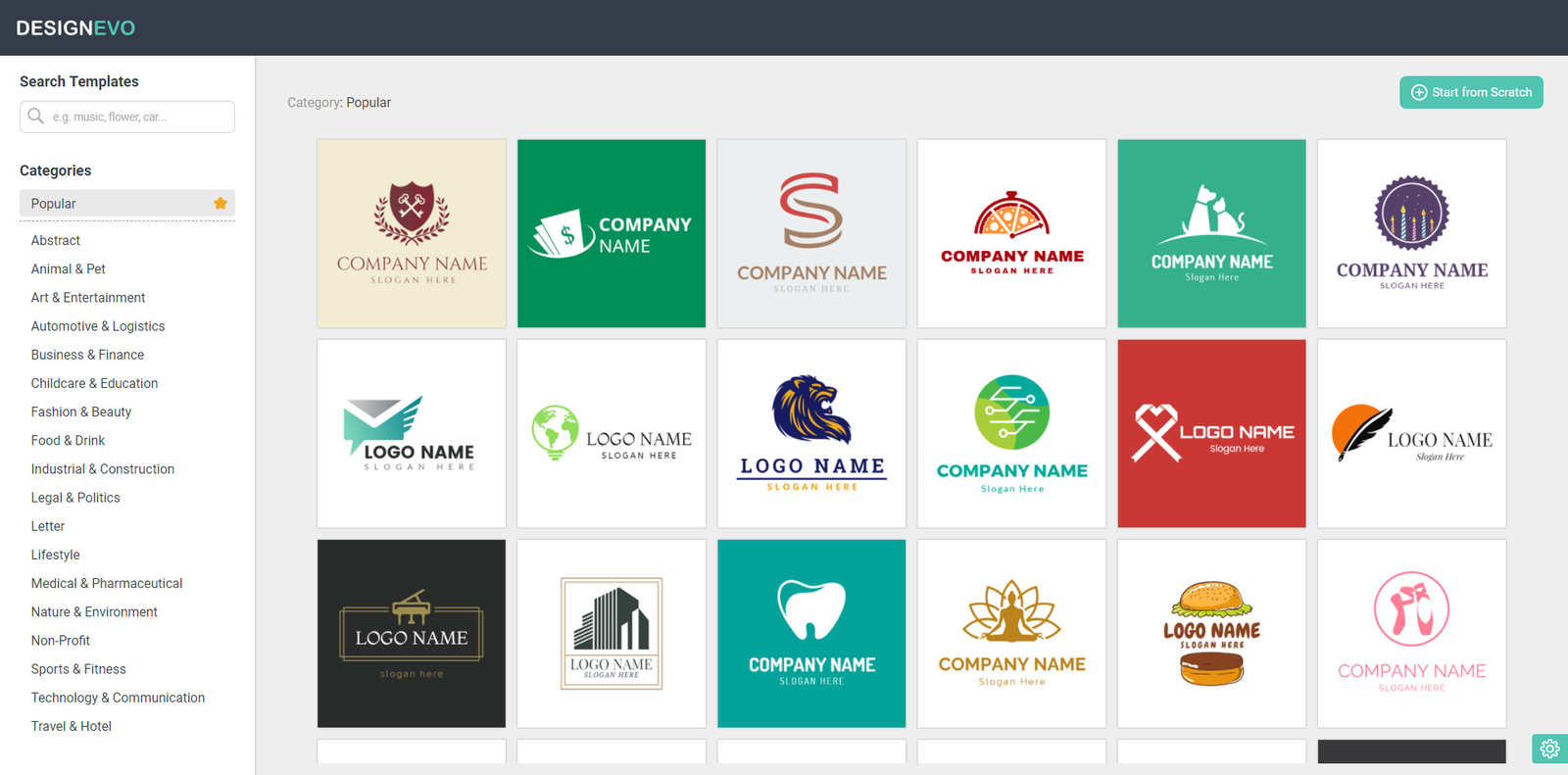 The templates can be fully customized, so you can tailor the contents and tweak it until it becomes what you need it to be. With the help of those templates, you can whip a quality logo in a really short time.
In case, you don't want to use a pre-made template, you can try the second option. DesignEvo offers a "Start from Scratch" button which enables you get a blank canvas and design a quality logo all by yourself.
Endless Design Resources for Quality Logo
DesignEvo has a built-in icon search library, giving you free access to millions of high-res logo icons. Simply use some keywords to search for icons that can represent your brand profile the best. Choose the one you like the most and customize it as you see fit.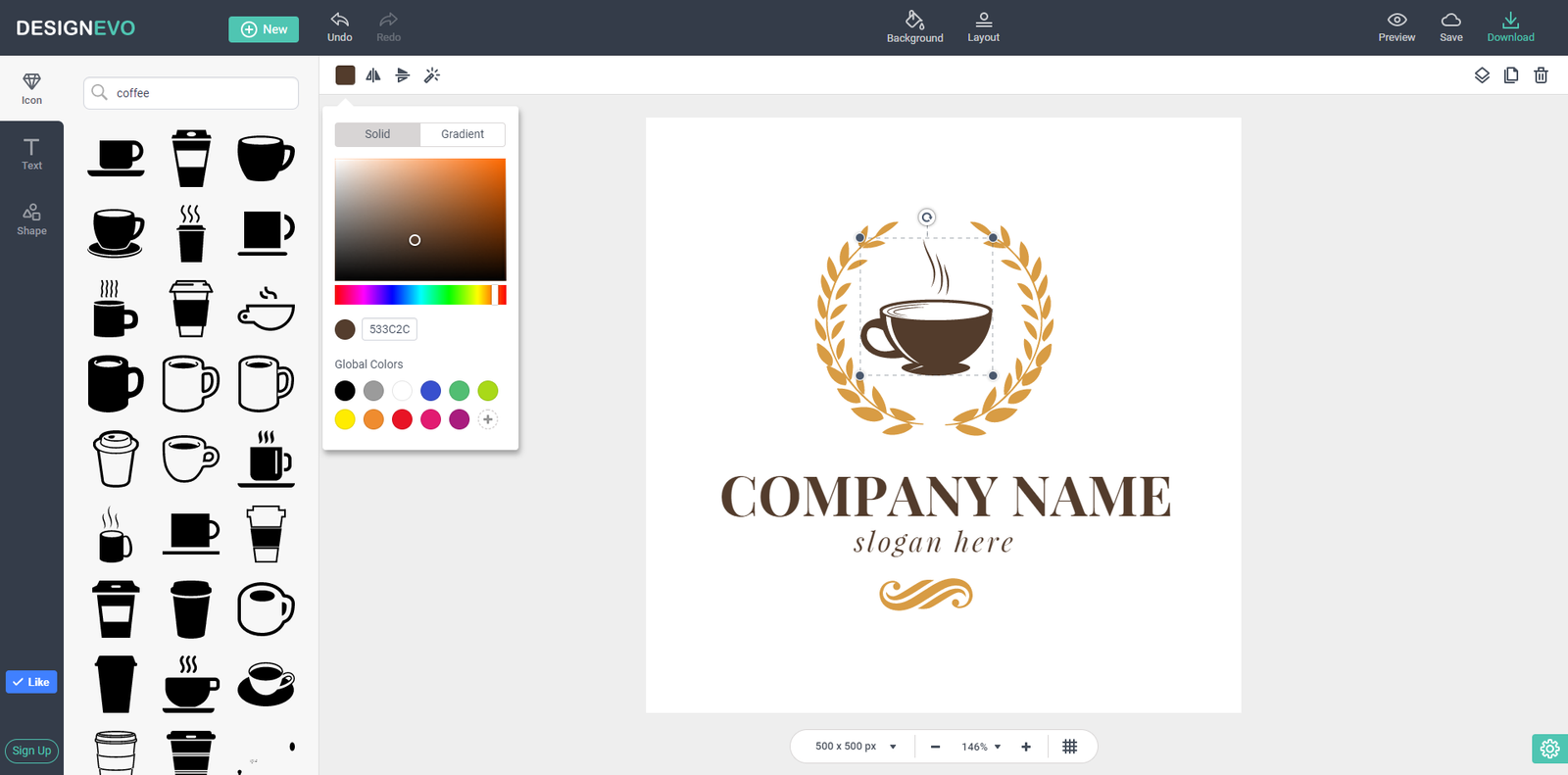 Moreover, there are 100+ fonts and shape resources available to further enhance your logo design. With DesignEvo, you will never run out of options.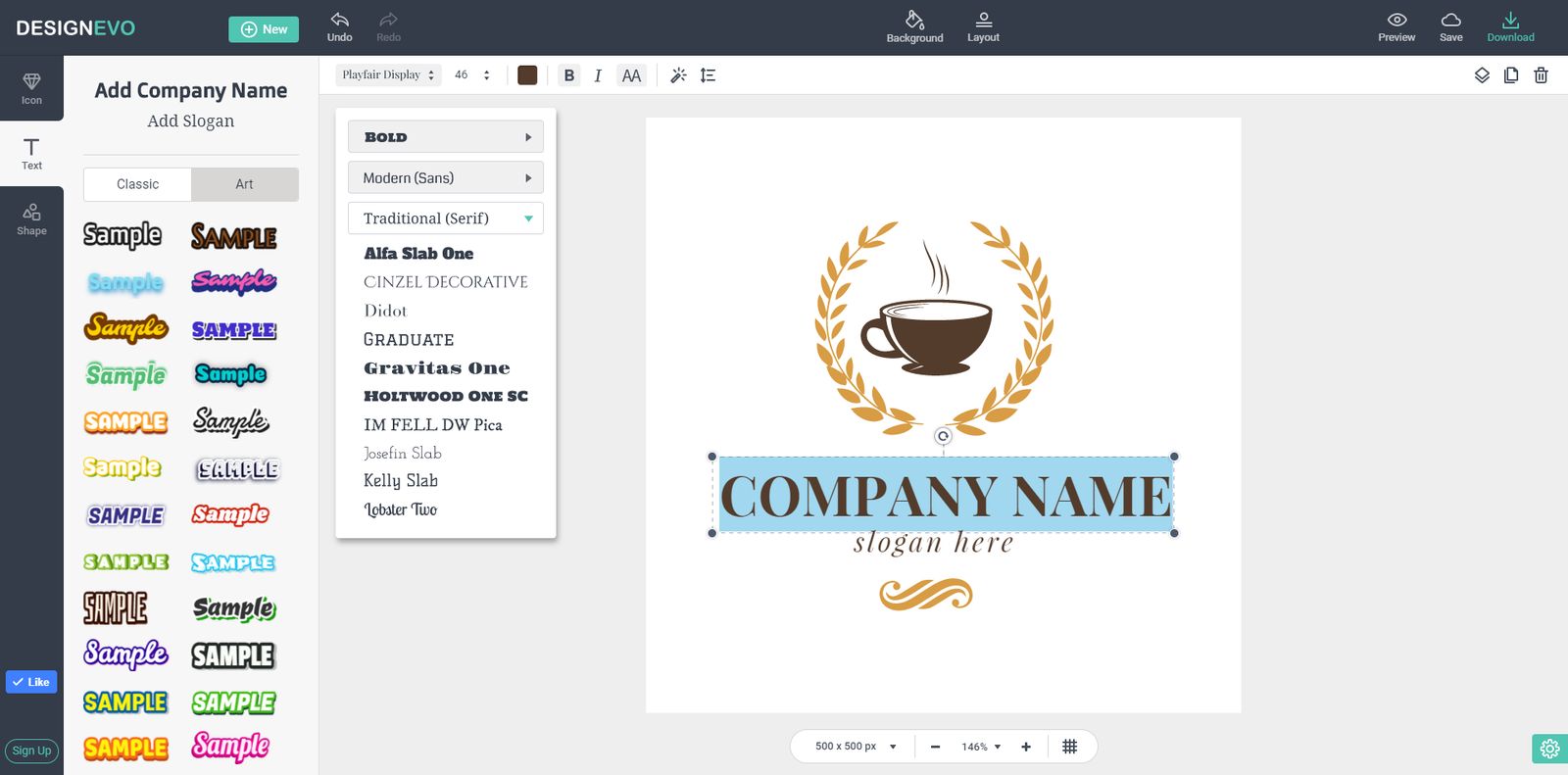 Powerful and Feature Rich Editor
DesignEvo comes with a feature-rich editor that brings all the essential features for you to make a quality logo creation at your fingertips. You can adjust graphics, change fonts, set gradient background, manage layers, generate logo layouts, and so much more to make your logo stand out.
A noteworthy feature of DesignEvo is that you can preview your quality logo in action. With a single click of the preview button, you can see your logo on a T-shirt, business card, webpage, wall, book, etc. If you're unsatisfied with your logo, you can close the preview mode and continue working on it.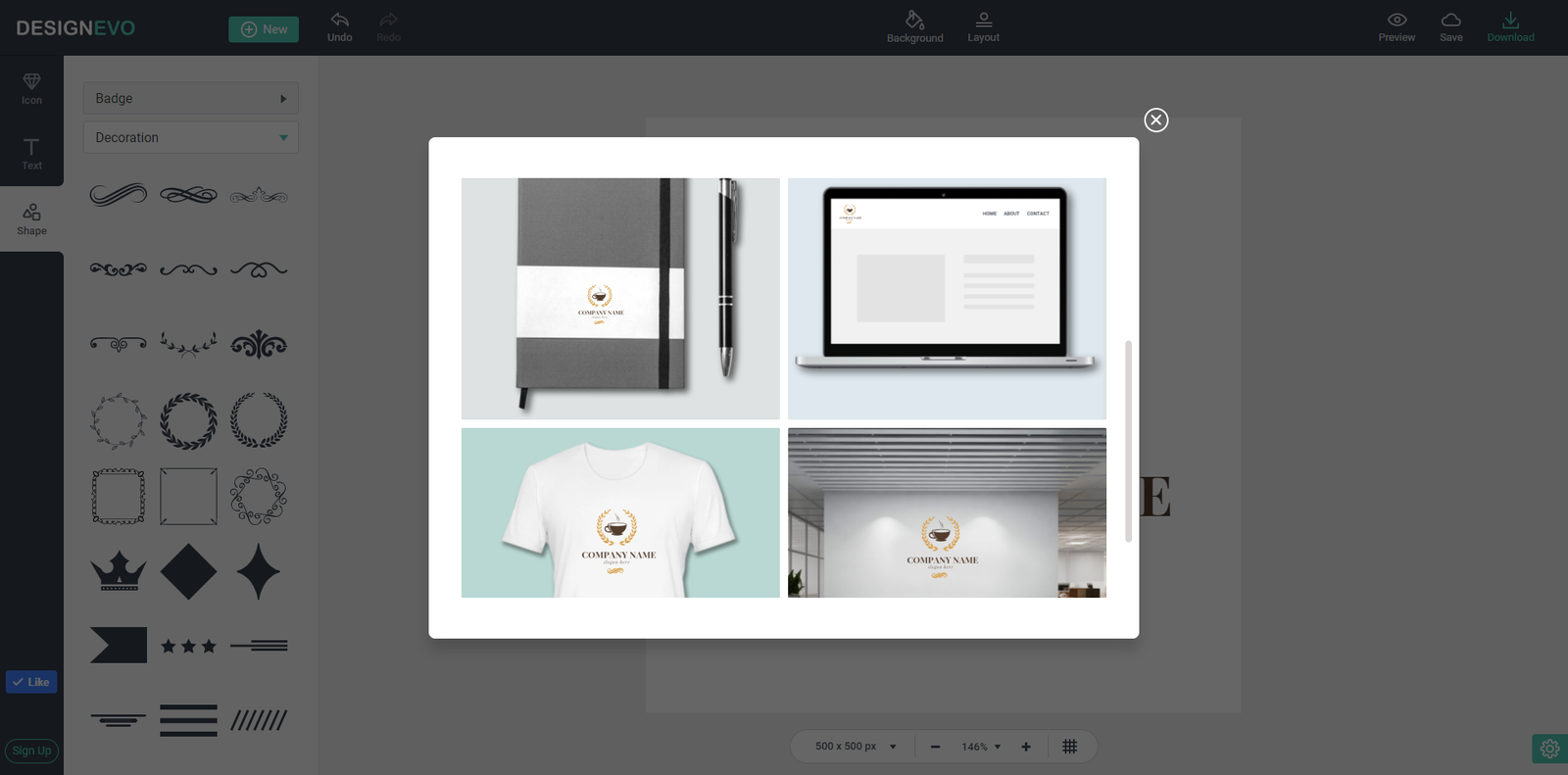 Save & Download your Logo
If you are interrupted by other cases, don't worry, you can save your logo as a project in the cloud, and come back to continue editing at any time you want. It can save you a lot of hours and work.
When it comes logo download, DesignEvo supports 4 types of logo formats, including JPG, PNG, SVG and PDF. What I like best is that, you can export your logo with a transparent background PNG file. So you can barely place your logo anywhere!
Affordable Pricing Plans
In fact, DesignEvo allows you to access all its features and resources for free. That said, you can create as many as logos you want, and download them at zero cost. Logos are in JPG or PNG format with a resolution of 500 x 500 pixels. For most of us, it is just enough for online uses. However, if you need higher resolution logo for print, you need to pay a small amount of one-time fee.
There are two pricing plans, and prices range from only $19.99 for a basic logo to $39.99 for a plus design package that includes high-res logo, transparent background logo and much more. Compared with some other logo design services, they are pretty affordable and budget-friendly. Besides, there is a 7-day money back guarantee. You can see more details below.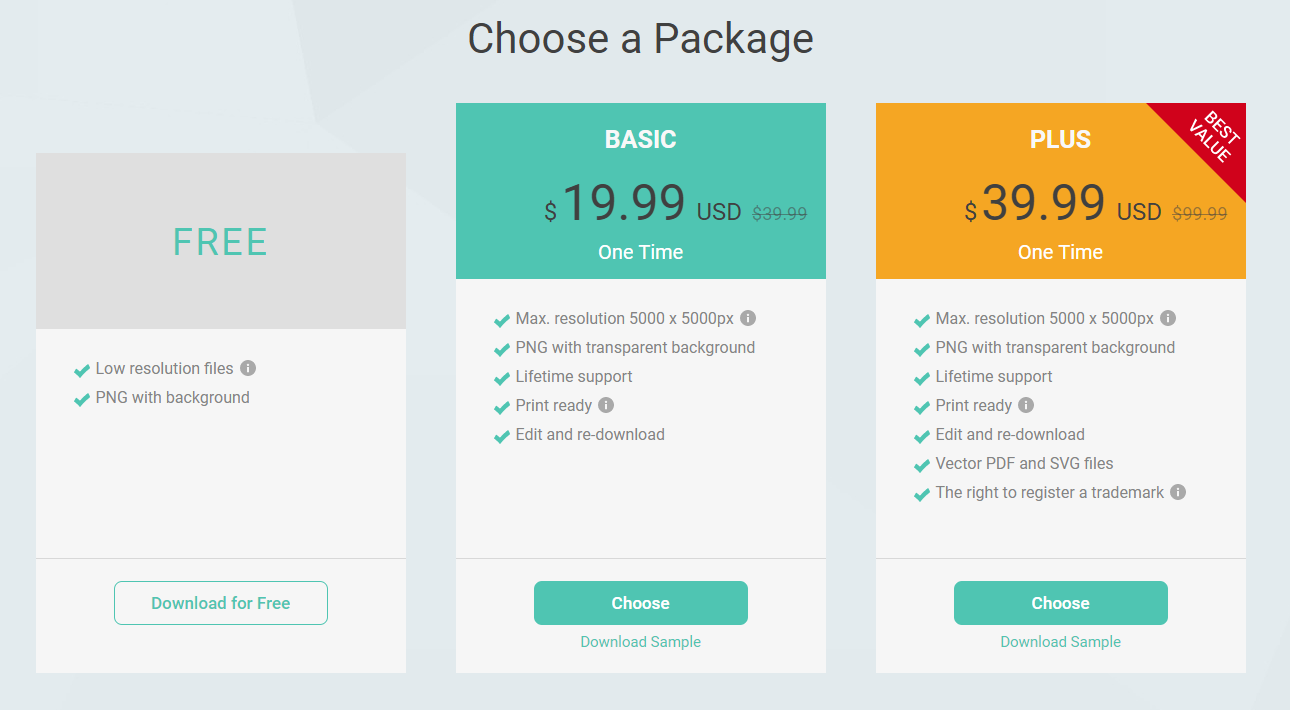 Conclusion
On the whole, I think DesignEvo is a right choice for those who have limited budget to pay for a designer or those who don't have much design experience. It is very easy to use, and offers every tools and resources you need under one single roof. With it, you can really create some beautiful logos that help you capture attention and extend your reach.
I hope you found this review helpful, if so please share it, or leave your comments below.