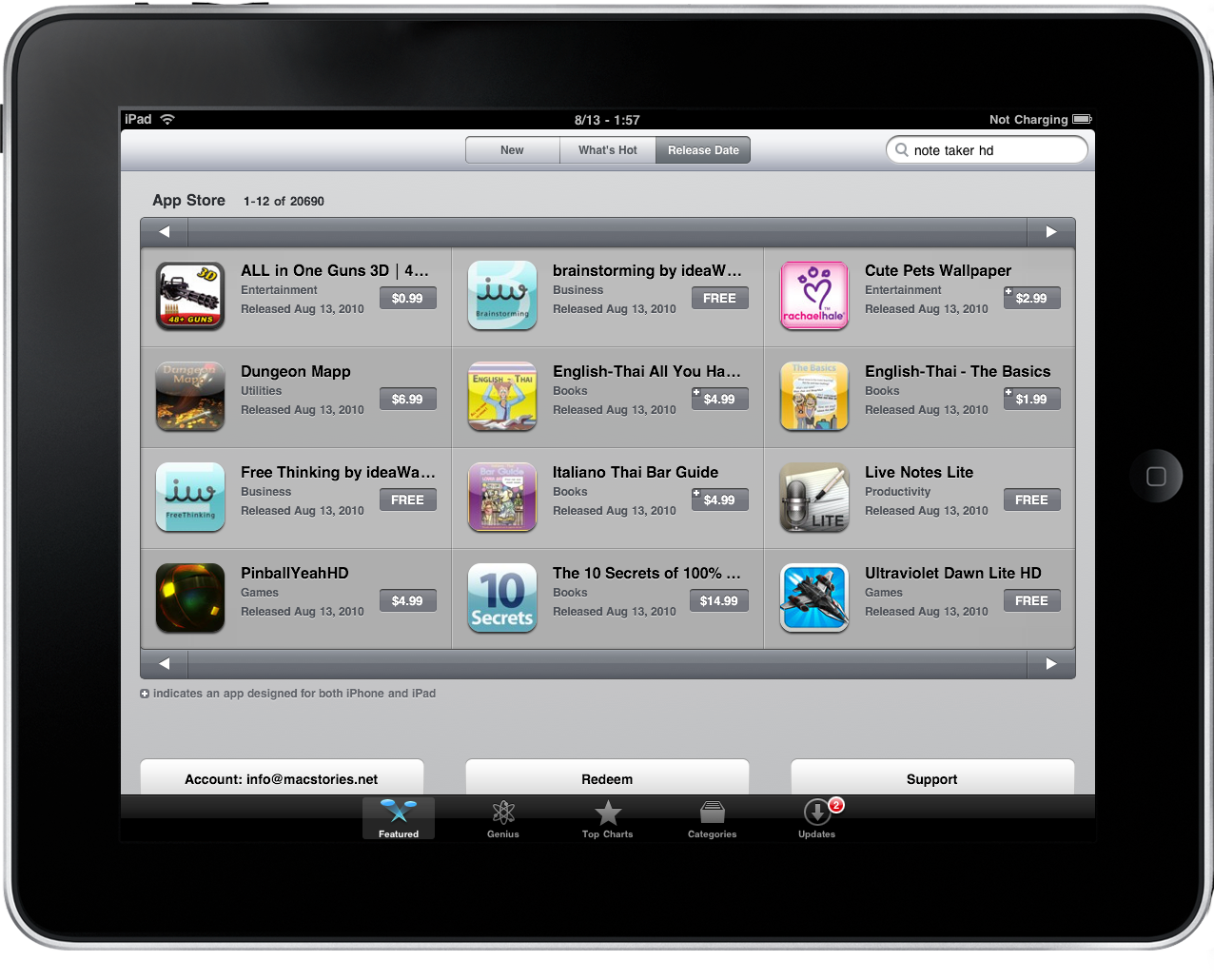 According to Apple news, now there is more than 65,000 iPad software applications in the iTunes App Store. Because of this, to find the best software applications is not so easy for us. So today, I will introduce 10 basic Apps for all the iPad users to refer, hope this will reduce your annoyance in looking for good iPad Apps.
Garageband: produced by Apple Company.
The music creation software released by Apple Company is very popular on Mac notebook, and it has more outstanding performance on the iPad. The iPad touch screen makes Garageband can simulate many instruments, and this is almost impossible to achieve on real instruments. Garageband intelligent instrument feature allows non-professional musicians easily blending all kinds of music and will not create a bad track out.
iMovie: produced by Apple Company
Because of the size of iPad, we had dispute on whether it can exist as a video camera. But to use the iMovie which is specially developed for the iPad2 and the following iPad generations, you can do some complex video editing work. You just need a little practice, that you can complete some complex video editing on the recorded videos which can be uploaded to the social network.
Real Racing 2HD: produced by Firemint
The A5 processor of iPad 2 in the graphics processing power is nine times than the first generation iPad A4 processor. Real Racing 2 HD has been upgraded to make most use of the outstanding characteristics of iPad 2, and left a deep expression on people's mind.
Infinity Blade: produced by Chair
As one of the best games on the iPad and iPhone4S, Infinity Blade has been upgraded specifically for the following generations of iPad to reach better effects. Infinity Blade itself is a well-designed touch system, and its image also has high quality, so it worth the price.
Jenga HD: produced by Natural Motion
The popular building blocks game Jenga HD in iPad well supports the gyroscope features of iPad. To play this game, you need to keep your hands stable. Once you are familiar with it, it is very easy for you to be addictive.
Evernote: produced by Evernote.
This is essential information management software on one iPad. Of course, you also need it on your phone and computer. With it, you can save documents, web clips, audio files, pictures, and text notes, and then you can synchronize access through Evernote from any device. Evernote iPad2 version introduces picture memo function.
Word Lens: Produced by Quest Visual, free.
This is a software application which can show off to your companions. You only need to use iPad built-in camera to align the text or word, then the translated content is displayed on your screen at once. The software itself is free, but to transfer English to Spanish or Spanish to English need to pay some mony.
Twitter: free ware.
This is also a software which has well make use of the camera feature of iPad. In fact, the official version of Twitter may not fit everyone's habit, but it is really designed to be very easy to use. For example, this version can easily take a snap shoot. This is also a convenient and practical function.
Flipboars: free ware.
This is another outstanding work. Flipboard amply exercise the support of Facebook, Twitter, Instagram and other social networks, and it displays as the layout of a magazine. They said they are reshaping the Tablet PC's browser. They should be right!
Articles for iPad: produced by Sophiestication.
Online you can easily access to Wikipedia. Of course, there are also many pockets Wikipedia which can be used in the iPad. Articles for iPad is my favorite pocket Wikipedia.
As iPad is convenient for people to watch videos, so many people like to take it when having a travel. Sometimes they like to watch DVD movies on it because DVD movies have high quality. That's also easy to achieve, you can just read this convert DVD to iPad 4 tutorial to learn how to do it.
About Author: Kim Guo likes to study iPad, iPhone, iPod and other Apple devices. She has a large amount of knowledge about these products. If you need advices to play DVD on idevices or other hardwares, you can read this article.