Backlinks are a great way to boost your website's SEO. Why? Because search engines like Google will rank your website higher if other good quality and trustworthy sites link back to yours. It's like a little tick in the box to say your website is real and reputable.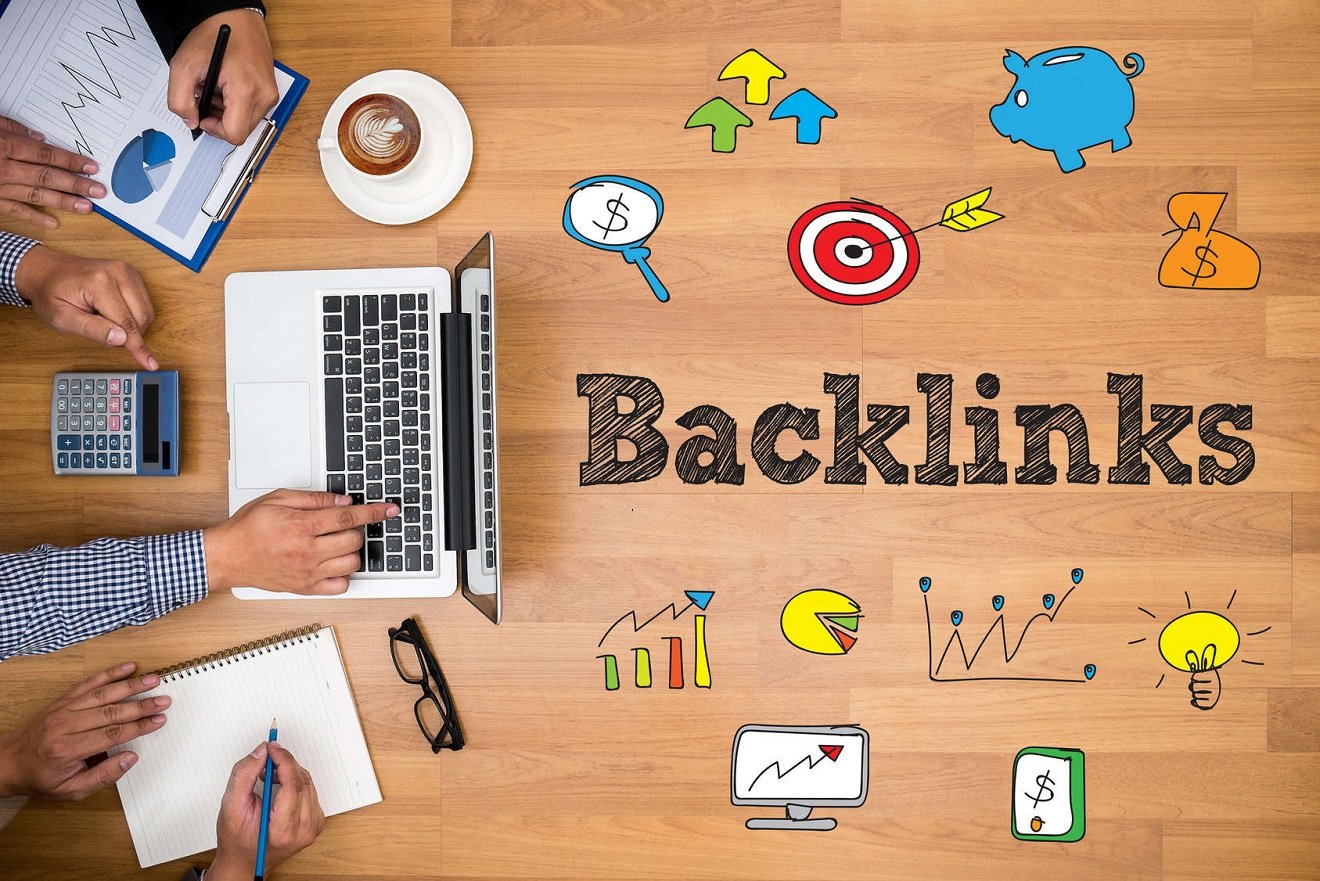 If your website's been live for a while, you've probably been writing content. But you might not have many backlinks – and that might have you wondering, 'what is it that I'm missing?'.
The thing with backlinks is, they don't just happen if you keep writing great content. In fact, you don't have to write more content to build backlinks at all.
Ways to Build Backlinks Without Writing Content
What am I talking about?
In this article, we'll let you in on the secret. The three techniques you can use to earn or build backlinks without investing hours in writing more content.
1. Repurpose Content
Repurposing your old content has many benefits. By recycling your existing content, you have the potential to reach an entirely new audience. People tend to remember up to 80% of what they see in comparison to 20% of what they read. Therefore, repurposing your written content into infographics and videos could be a great way to engage with a new target market.
Plus, images, infographics and other non-text media take time and expertise to produce. Which is why many site owners pinch other people for use in their articles. If they use yours, they'll link back to your original in their post… and hey presto, you've gained a backlink.
Types of content worth repurposing
Although you may have written an awesome piece of content back in 2015, it doesn't necessarily mean that you'll get much success from repurposing it. It's all about selecting the right piece of content and it needs to be something that's up-to-date and useful.
Evergreen content is content that continues to offer value over time. How to guides tends to fall into this category because they offer content which is unlikely to change, e.g. "how to tie your shoes".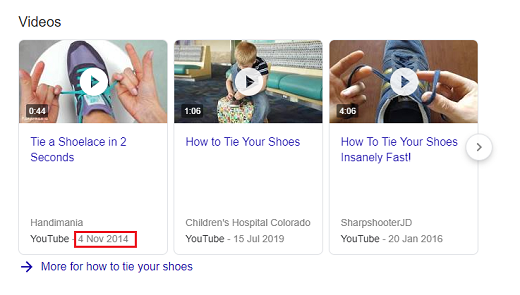 A Google search results for "how to tie your shoes" offers up content from 2014. That's because the method of tying shoes hasn't really changed over the years (unless I've missed a cool trick here).
Repurposing evergreen content and updating a few outdated references or links to other sites is a great way to build backlinks without writing new content. If you're not sure you have any evergreen content to repurpose, here are some alternative ideas:
Guides and videos: If you have a blog post that could easily be turned into a guide or video on YouTube, do it! Videos are a great asset for any website. People retain information from visuals more than written content, so videos tend to inspire more backlinks than written content.
Pinterest: If you have any image-heavy blog posts, you could turn them into Pins on Pinterest. Over 335 million people use Pinterest every month, so if you use it well, there's a good chance your content will get seen. So, if you have a blog post about the best WordPress themes or logos, add some eye-catching text and create a pin that others can use in their website posts and articles.
Infographics: Infographics are a popular form of digital world. They are easy to read and are incredibly shareable. Plus, you don't need to be a graphic designer to create a stunning infographic either because there are many tools available like Canva.
2. Email Outreach
Email outreach is the process of sending emails with an offer to site owners that might be interested in what you are doing. Whether you're selling something or just asking about guest posting information, it's still 'outreach'.
How to build backlinks via email outreach
Email outreach is a four-step process and it looks like this:
Decide which content (usually evergreen) you want to promote to other sites
Identify websites in your niche that might be interested in the content you have to offer
Use one of a few different approaches to pitch your content to the site owners
Send your email and one follow up if you don't get a response
The goal here is to extend the reach of your content by emailing it to site owners with an interest in what you do. You might directly ask them if they could link to your post or just ask them to take a look and do with it what they will.
For example, you could find and point out broken links in your target site owner's content. Broken links can cause problems for a website's SEO. By finding broken links for them, you're offering something helpful to your target and gaining a backlink in return.
If you choose to try this approach, use a tool like Ubersuggest to find sites that rank for keywords related to the content you're trying to promote, then use Broken Link Check to find out whether your chosen URL has any broken links you might be able to replace.
However, you choose to do it, the point of outreach is to get content you've already written in front of people who otherwise might not see it. To do it well, your emails need to be:
Relevant: only reach out to sites that are genuinely related to your niche and could benefit from your offer
Polite: you're taking up people's time and inbox space, so keep it short but well-mannered
Helpful: explain what you can do for their business
100% legislatively compliant: check laws in the countries relevant to your business and stick to them
And remember, there's no guarantee that people will respond to your emails. But it doesn't take too much time to prepare and send each one and you can easily track your success in software like Yesware, which works with Gmail and Outlook to tracks your outreach campaigns.
Bonus tip: If you don't have or want to use Gmail or Outlook for outreach campaigns, remember that most cheap web hosting providers offer free email accounts when you purchase a domain. So, you probably have a free email client waiting to be used.
3. Engage with your community
This method may not be relevant to all businesses and websites, but it's a great way for businesses with a strong local or online community to build trust and relationships, while gaining a nice SEO and brand name-based boost.
Ways to build backlinks from your community
It's important to remember that, however you choose to ramp up engagement with your community, it needs to be genuine and not driven solely by a desire for backlinks. People can smell a desperate attempt at self-promotion a mile off… so don't touch that cologne.
Community-building is all about offering value. When you offer interesting/useful/important information or free services to your community, people will naturally link back to you. Here are some ways you can start building lasting relationships with members of your online or local community:
Sponsor local events: we're talking local markets, competitions, awards, activity days and more. When you sponsor events, your brand will be promoted in local newspapers, e-newsletters, social groups, etc. That event will add a link to your business to its website and some of their traffic will go on to view your content.
Partner with other businesses: most search engines penalize reciprocal linking for the sake of reciprocal linking. But you can collaborate with other businesses to link up your offers or provide each other's customers with special deals and discounts.
Networking: don't be afraid to get out there and network with other businesses, your local or online community, or attend or lead events like trade shows and educational webinars.
Getting more involved with your online or offline community builds backlinks organically through building genuine and valuable connections. Not only will this approach build backlinks, but it will also boost trust in your business and drum up interest in what you do.
Conclusion
Creating awesome content is just the first step in your content strategy. Marketing and canny promotion is the real key to success.
So, if you don't want to splash a load of cash on freelance writers, try one or more of these three methods to boost your backlink profile:
Repurpose your content
Engage in email outreach
Build relationships in your community
Hopefully, this article gives you the best knowledge that how to build backlinks for your site. If you have any queries, feel free to ask in the comment section below.
Thank you for reading!!