There are so many blogs out there that most bloggers feel as if they can post anything and be successful. But just because you make a blog doesn't mean that you're doing it right. There actually is a right way and a wrong way to create and update your blog, and if you're making any of the following seven mistakes, you're on the wrong side of blogging.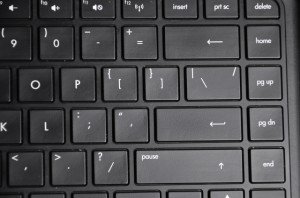 Mistake #1: You don't have a niche.
Every successful blog needs to have a niche. Maybe you're a financial blogger, maybe you're a mommy blogger, or maybe your company is hosting a blog about industry-related topics. It doesn't matter what niche you're in as long as you're in a niche. If you're a mommy blogger, be sure to only discuss things that other mothers (or parents) would be interested in. If you're a financial blogger, don't start blogging about the latest movie you saw. Keep everything in line with your niche, and you'll be able to hone down a target audience interested in what you have to say.
Mistake #2: Your blog is hard to navigate.
You may think you're being cute and creative by giving your navigation fun titles, but if your audience can't easily work their way around your site, they're going to move on. Make sure that your blog navigation is easy to find and follow. Incorporate a search field so that your audience can specifically find exactly what they want. You should also add your contact information to your blog so that your audience can easily find and contact you if necessary.
Mistake #3: Your blog is hard to look at.
You may want to stand out visually from other blogs, but if your blog is hard to look at, it's only going to cause problems. Make sure that you are using colors that are easy on the eye, so avoid neon. You also want to ensure you're using a font that's easy to read, both in style and in size. If your audience has to strain to see your website copy, they won't come back.
Mistake #4: You don't post any interesting copy.
Your audience is going to come to your blog for a reason. Maybe they want to learn information or maybe they want to be entertained. Either way, if you're not providing your audience with anything interesting, they're not going to come back. Make sure that you are creating engaging blog content in order to attract your readers. If you don't, your blog will be unsuccessful.
Mistake #5: You don't update your blog regularly.
Blogs need to be updated regularly for two main reasons. First, they need to be updated to keep your audience coming back on a regular basis. If a user continues to come back to your site and there is no new copy, he or she will stop coming back and you will lose traffic.
Second, updating your blog regularly keeps the search engines coming back to your site on a regular basis, and this ensures that your blog continues to be ranked appropriately in the search engines. This is extremely important for your website's visibility.
Try to create a schedule for your blog posts and stick with it. Maybe you can update your blog every day, or maybe you can only update it once a week. No matter your timeline, just do your best to remain consistent.
Mistake #6: You don't allow comments.
Yes, there is always a chance that someone is going to make a negative comment on your blog. So what? It's not the end of the world. You cannot disallow comments on your blog because you're afraid of a negative comment. Allowing comments is a great way to engage with your readers, get to know whom they are, and add to the blog post. You may find that readers have questions about your post, or you may come across someone else who has more knowledge on the subject than you who can add to the conversation. These are not only great ways to communicate with your readers, but it's also a great way to keep track of what your readers want to know and use that information to create future posts.
Mistake #7: Your blog is too hard to share.
Today's readers don't just want to read and enjoy your blog, they also want to share what they find with other people. You need to make sure that you have widgets enabled on your blog that allow your readers to easily share your content via email or social network. This is a great way to help reach a wider audience, earn more traffic, and possibly have your post go viral.
Guest Author: Lizzie Lau is a freelance writer who combines personal opinions and research to create appealing and informative articles on various topics.