What's most important for you as an internet marketer? Getting enough online visibility and good conversions, right? And that's possible only when you focus on smart SEO. Long tail keywords can get you the desired results. They can help your website making a prominent place on the search engine results. Here we'll talk about what are long tail keywords and how do they benefit your SEO. Long tail keywords can be formed with exact phrases or terms that the target audiences use when they search for a solution on the web. But for that, you got to find out what your target visitors are looking for.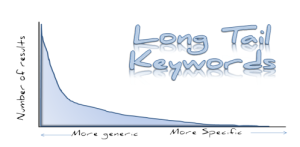 What Are Long Tail Keywords
If you can answer a specific question, using the keyword that has all those terms that people use when they search something on the web, you can create a long tail keyword. The basic aim is to attract traffic. When people find the exact answer to their questions on the web, they like to follow. This is how you draw the traffic to your website. When you optimize your content with the most specific long length keywords, they get higher page rank. You can use different keyword research tools to figure out the most appropriate phrases. And then you can use them wisely to get maximum clicks.
When you definitely can't ignore the importance of writing quality content, making a right keyword choice and using them properly throughout the content is more important. Ask the experts and you'll get the same response. Finding the right keywords is indispensable for the success of online business these days.
How Long Tail Keywords Can Benefit Your Business
There are millions and millions resources available online. Why should people follow you? OK, so you say that you offer the solution or right answer to their concern. But how people will find you among many other service providers like you? You got to make it easy for them, right? To compete against the millions of service providers like you, you've to find the most competitive long tail keywords. The long tail keywords really can help you get the desired visibility or online exposure. The ultimate result can be enjoyed in the form of increased sales.
Optimize Your Website
When people search for something using a specific term on the search engines, the long tail keywords comprising the exact terms can help you get a prominent place in the search results. That means you can optimize your website, your content with the help of this type of keyword. And it goes without saying that optimization of the website is extremely essential for surviving the competition.
Targeted Traffic
As you know, a good ranking in search engine result pages increases traffic to our sites. So, that makes the long tail keywords an obvious choice. The long tail keywords can help you get lots of traffic to your website. So you can say keyword optimization is too important for making new customers. However, your aim should be getting prospective customers. A customer, who is looking for the exact same solution you have to offer, are much more valuable. This is why we can say that the long tail keywords comprising the exact phrases can help you get the right traffic.
Build Website Authority
If you want to build website authority, that's possible with the help of the long tail keywords. As long as your content is optimized with some powerful long tail keywords, your website will do well in terms of SEO. As competition for this type of keywords is fairly low, they can help your website get first page rank for a long time for the term. That way you can build a strong website authority over time. The contribution of this type of keywords in the world of SEO is really awesome. The long tail keywords work amazingly well when it comes to confirming a higher page rank in the search engine results.
You must take some time to find out the most suitable keywords though. It's not so easy. You've to know the tactics that can make the keywords more search engine friendly. Say you want to sell Nike shoes. You'll find millions of content with Nike shoes online. How do you differentiate your content from the rest? This is why you've to make your keywords more specific using appropriate phrases so customers can easily find out. For example, you might like to choose keywords like red Nike shoes on sale. So this was an overall idea about what are long tail keywords and how do they benefit your SEO.
About Author: Robert Bryant is a blogger and works with Dover Downs – Delaware Casino. He likes blogging about online strategies that are related to Social Media, Online Marketing and Legal issues.