With the ecommerce industry booming all over the world, the competition increases in every sector. Magento is a leading ecommerce platform that is enriched with a lot of features to build feature rich and functional web stores and portals. If you are planning to build an online store using Magento or already have an ecommerce store, you may be worried about the speed of your website. If your store sells hundreds and thousands of products under different categories, then you would need a website that performs well. It is important to have a Magento store that is highly secure, performs well, and has a good speed.
Why is Magento  store performance important?
What would happen if your Magento website is slow? Your users would get turned off and they are likely to abandon carts. Hence, make sure that your web store is easy to fast and fast. Everyone loves a quick loading ecommerce website. All you need to do is incorporate a few features in your store and you can have a high-speed website that helps you generate the maximum ROI. You'd obviously agree that the loading speed of the website is directly proportional to the conversion rates. It is important to ensure that your site loads in less than 3 seconds or else you could be losing a lot of customers.
We've listed some of the tactics that can help you optimize your Magento store and improve its performance. You can choose one or multiple tips and tricks to boost the speed and performance of your website.
Let's show you ways to SPEED UP your Magento store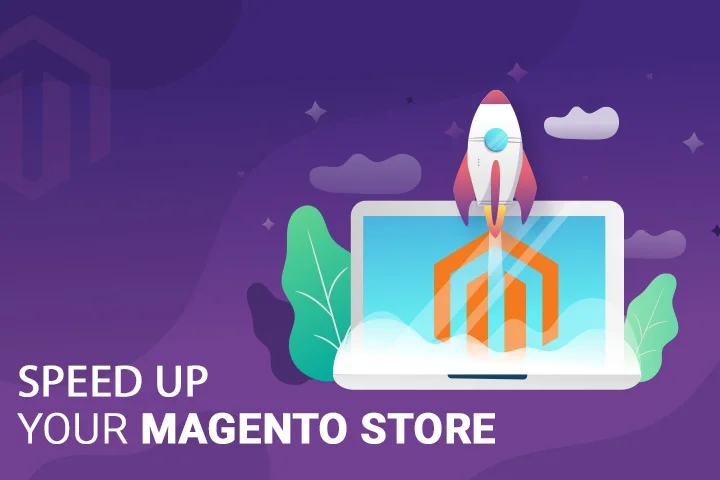 1. Upgrade to the latest version
You should upgrade your Magento website to the latest version, as soon as it is available. Magento always notifies the users of critical updates. The latest versions always come with bug fixes, performance improvements, and security patches. You should ensure that your Magento website is upgraded to the latest version. You may need technical help from leading and reliable Magento Development Company to upgrade the site from time to time.
2. Image Optimization
Half of your ecommerce store is full of images. It is essential to optimize the product images to improve the page loading time. It is advisable to compress the images using the right photo editing tools such as Photoshop before they're uploaded to the website. You can discuss different ways to optimize the images with a good Magento web development company. You can also use Magento extension known as GTspeed for image optimization.
3. Integrate Content Delivery Network
One of the easiest ways to speed up your Magento web store is to integrate a Content Delivery Network (CDN) to improve its performance. If your website has a decreased load times, you can choose to integrate a CDN to improve the page loading times.
4. Utilize Caching
There are several forms of caching that can be implemented to speed up your Magento ecommerce store. This platform comes with an inbuilt caching module and an option to install third party modules to achieve better results. Some of the popular caching options are page caching, browser caching, Gzip caching, Expire headers, and a lot more.
5. Fewer Extensions
Just like WordPress and other CMS platforms, the more extensions you have, the slower your website would become. If there are more extensions and modules, more HTTP requests and additional CSS and JavaScript files for loading the pages. Keep the extensions that you require and uninstall the ones that you do not require. Disable the features that you no longer need and doing this will enhance the performance of your site.
6. Secure Password
You would not want anyone to break into your web store and crash it. Right? Hence, it is important to choose a strong admin password that is not easy to be cracked. It can be a good idea to use a mix of capital characters and small alphabets to build a strong password. You can also add numbers to create the password for your Magento store admin panel.
7. Choose the right Hosting
Selecting a reliable and fast web hosting can be one of the most important decisions of your life to improve Magento website performance. Stay away from cheap shared web hosting solutions as it can make your website slow. Contact a good Magento website development agency to guide you on choosing the best hosting plan for your store.
Wrap Up
There are a lot of free tools to test Magento speed of your site. Every time you make any change to your website, you should use such tools and check out what impact it has on the website speed. No matter what type of website you may have, it should provide a faster browsing experience to the users. When the visitors come to the site, they should be able to enjoy an engaging experience. This would definitely help you experience a better engagement rate and conversion rate also.