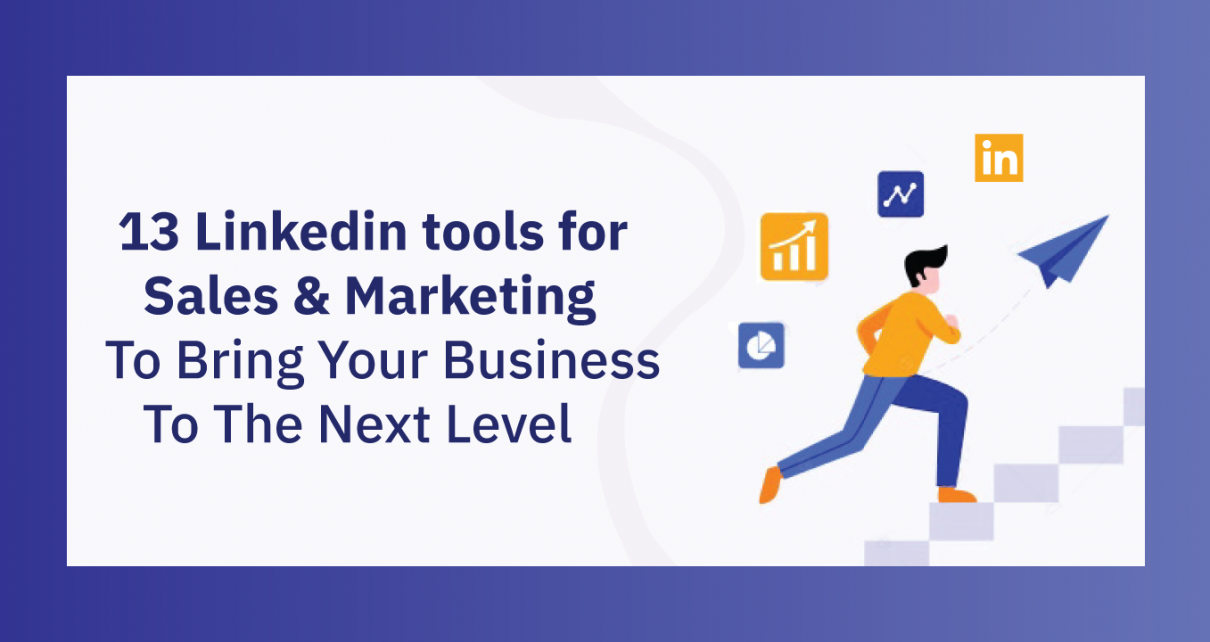 13 LinkedIn Tools for Sales & Marketing to Bring 3x More Leads for Your Business
Do you know that LinkedIn has more than 760 million prospects? How about the fact that these people belong to more than 150 industries and 200+ countries?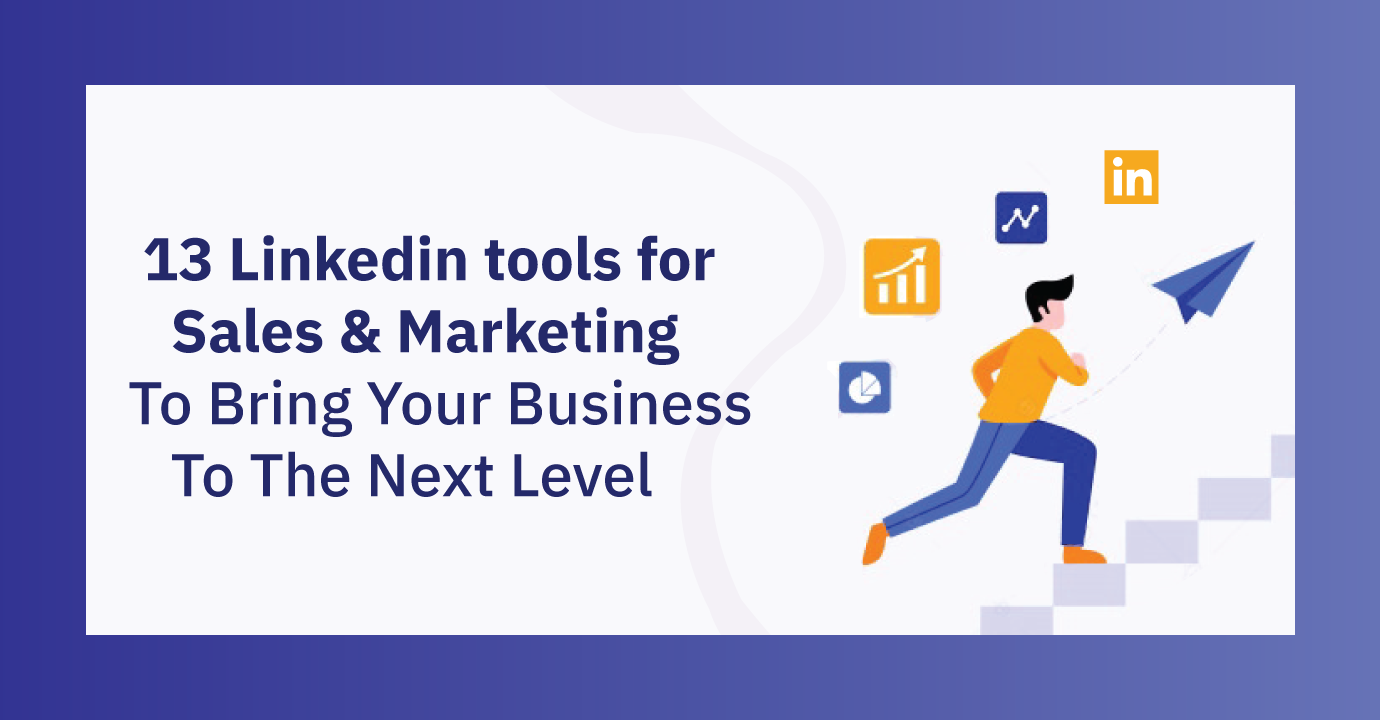 For business owners, B2B marketers, entrepreneurs, and someone else who works in the B2B industry, it's a go-to platform for lead generation. Unlike past days, when businesses used cold outreach to generate some leads, today they are using LinkedIn automation tools to improve their overall social selling strategy.
These tools are very useful for outreach and help businesses to generate qualified leads easier and faster.
Why Should You Consider LinkedIn Automation Tools?
These are time-saving. Using these tools, you can automate most of your outreach and lead generation processes: connecting with leads, sending messages and follow-ups automatically.
With the best LinkedIn automation tools, you can even bring personalization to mass outreach. Using these tools, you can send personalized outreach messages to thousands of prospects automatically thus, zero spamming.
These tools not only run campaigns but also generate reports so you can analyze performance and metrics. This means you can easily see how many leads are generated, replied to, and converted at a glance.
You can even integrate them with your existing systems and workflows to make the whole lead generation process easier.
Now that you know the amazing benefits of these tools, the question arises, which LinkedIn tool you should be using?
13 Best LinkedIn Automation Tools to Use in 2021
That's where we come in. For a successful LinkedIn lead generation strategy, you must be using the right tools. There are some tools that are not safe, miss obvious features, are very costly, and are just awkward to use. You should avoid wasting your money on such tools.
But don't worry! We've got your back. We have compiled a list of the top LinkedIn automation tools 2021 that you should be using to make your LinkedIn marketing and lead generation strategy successful.
Tool #1. LinkedCamp
LinkedCamp is one of the safest cloud based LinkedIn automation tools in the market. This tool is super convenient and safe to use as it runs from the cloud. Most people prefer this because it provides IPs addresses to keep your login details secure.
Moreover, its advanced features are perfect for successful lead generation. It offers hyper-personalization features to help you message your prospects based on custom variables.  Not just that, you can also send custom images and GIFs along with the text.
Other amazing features of this tool include a smart inbox, advanced filters, CSV file features, third-party integrations, webhooks, and much more.
Tool #2. LinkedIn Sales Navigator
If you're a B2B marketer who is hunting leads, you must have heard about LinkedIn Sales Navigator.
It's a LinkedIn automation tool introduced by LinkedIn itself and is great for searching even the most difficult leads.
With its advanced lead and company search filters, you can find your ideal prospects with great search filters that deliver more relevant results.
Not only this tool finds the right leads for you but also recommends 'Leads suggestions' for you. Moreover, it automatically saves leads, adds custom notes, connects with custom CRM and much more.
Tool #3. TexAu
TexAu is a growth automation platform that is a combination of two words: text and automation.
This tool is great for searching leads and all the relevant data so you can customize your services. It can extract results from a LinkedIn Sales Navigator search result and scrape out email addresses from each profile.
You can also scrape profiles of a particular LinkedIn group and assign them to a campaign. If your purpose is extracting the leads' data, this is a perfect tool for you.
Tool #4. Dux-Soup
This LinkedIn automation tool is a chrome extension and it's very popular in the market due to its amazing features.
It's a great tool for beginners as it is very easy to set up and marketers can easily understand all the features.
With dux-soup, you can leave notes and tags directly on LinkedIn profiles that you want to target automatically. It not only finds the leads' data but also uploads them into CRM for easy prospect management.
Unfortunately, the tool doesn't offer any advanced features but it's really great for beginners who are just looking for basic features.
Tool #5. Discover.ly
If you use other social media platforms along with LinkedIn and want a tool where they can merge on a single dashboard to make things easier, then Discover.ly is what you need.
This tool has so many advantages that make it one of the must-have LinkedIn automation tools in the market. When you find someone using Discover.ly, it extracts a person's profile not only from LinkedIn but also from Facebook, Twitter, and Gmail giving you a chance to get the maximum information about your lead.
Tool #6. Crystal
For successful lead generation, you need to understand the personalities of the leads that you want to target. Crystal is a LinkedIn automation tool that enables you to create a personality profile showing the kind of work ethic you create.
A lot of businesses and B2B marketers prefer Crystal when they want to find the best fit for their business. When it comes to choosing the most useful and rewarding tool for marketing, Crystal comes on the top.
Tool #7. SalesLoft
If you're in search of an advanced tool with perfect features for sales engagement, SalesLoft is here to help.
It's a great tool that bridges the gaps between consumers and business owners. This tool offers features in order to personalize your sales features so you can establish connections based on real human connections.
Not only that, but this tool also provides data-driven results, so you know how much your sales techniques are working. If you want to streamline your sales cycle, SalesLoft is the perfect tool to invest in.
Tool #8. Phantombuster
A chrome-based LinkedIn automation tool that is code-free and very useful for data extraction, scraping profiles, lead generation, and automated growth.
It is also known as LinkedIn growth booster as it finds leads, sends them to connect requests, messages, and follow-ups completely on auto-pilot.
It's an auto engager as it engages with relevant LinkedIn posts and profiles and extracts out data.
Tool #9. LeadFuze
Another great LinkedIn automation tool on our list.  It's a must-have tool for sales and marketing teams as it easily finds leads and saves you hours of manual searching.
It looks into every LinkedIn profile thoroughly and extracts all the data that it has to offer. The tool helps you search for leads in specific areas and connect you with people that are related to your business and can be your potential clients in the future.
Tool #10. LinkedIn Pulse
LinkedIn Pulse is a great tool that is also a mobile application and brings all the news related to your leads right on your phone screen.
This tool brings you all the related news about your leads, what trends are popular in the market, what lead generation strategies are working, news about your favorite marketers and business owners.
This tool aims to stay up-to-date and get all the data that is important for your business growth.
Tool #11. MeetAlfred
Previously known as Leonard, this is one of the best LinkedIn automation tools and is a decent jack-of-all-trades.
It is a great tool for end-to-end social selling campaigns that helps for better leads management, building successful LinkedIn campaigns, and creating outreach sequences.
It also offers Alfred CRM, enabling users to manage their leads using built-in LinkedIn CRM. While using Alfred, you get all the real-life analytics and metrics to get actionable insights.
Tool #12. WeConnect
Like LinkedCamp, WeConnect is also a cloud based LinkedIn automation tool that helps to nurture leads and close more deals in a short time.
It's a powerful campaign manager that sets up and runs multiple campaigns at the same time. It also offers 'Smart Reply Management' to manage all the leads and reply to their messages on time. With the dashboard features, you can get a bird' eye view of all your campaigns and monitor all the analytics easily.
Tool #13. Quintly
Need a tool for cross-platform strategy? Quintly is a great LinkedIn automation tool when it comes to organizing the essentials of LinkedIn marketing tools.
With Quintly, you get a chance to combine different social media platforms into one simple user interface.
Using this tool, you can easily create multiple versions of the same post and then customize it for each social media platform. Additionally, it also provides top social media analytics and insights about how your strategy is working. Using analytics, you can make more informed decisions and put your marketing strategy on the right track.
Wrapping Lines!!!
We have provided you with a list of the best and most reliable tools available in the market. It's important that you have the best of the best LinkedIn automation tools in your arsenal to make your lead generation successful and generate 3x more leads in a short time.
Each tool in the above list has something unique to offer. Analyze features carefully so you have the right tool under your belt.