You might be a fan of video editing, but many professional video editing tools are expensive. If you can't afford to get a copy of Adobe Premiere Pro or Sony Vegas, there are also many online platforms that you can edit and make professional videos quickly for free or at a much lower price.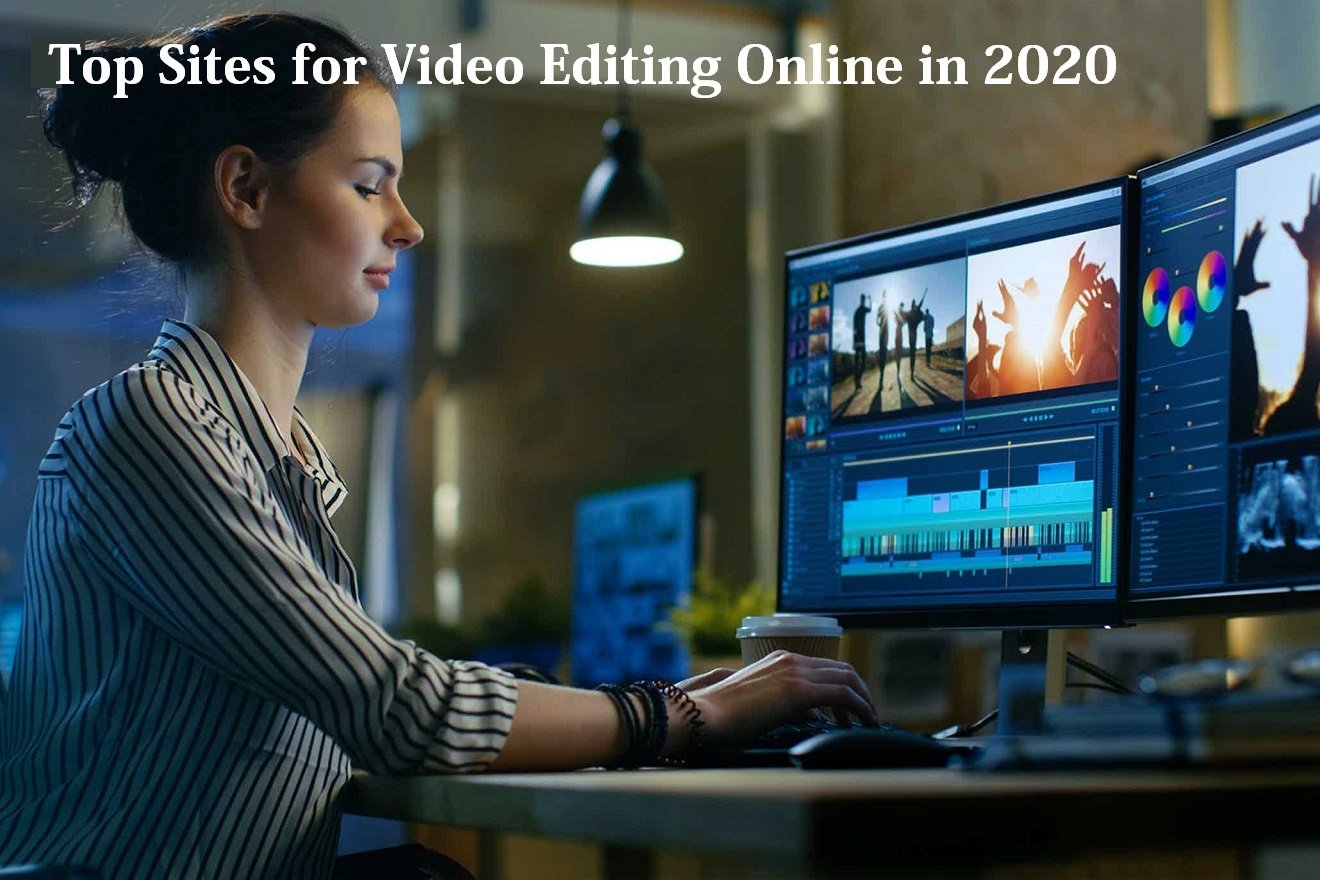 While using these online tools, you have to be very careful because sometimes the network connection isn't good, and when there is a network error, your all efforts are gone. Editing videos with online tools also need high upload and download speed, so it's suitable for editing short and small size video clips. Online video editing solutions may be not the best choice if you need more advanced editing options and beautiful video effects.
Best Sites for Video Editing Online in 2020
In this post, we will talk about sites specialized in editing your videos directly from your browser. What distinguishes these sites is that they provide you with free services to edit and make videos with your photos or online audio files for the purpose of marketing or educational slides for courses.
1. FlexClip
FlexClip Video Maker is a video editing service. This is a web-based platform provided by PearlMountain Ltd. If want to create a professional video clip but do not have sufficient experience in design and montage programs, if you own a YouTube channel and want to add the final touch to your videos before sharing them with your audience, or if you want to design a video for a wedding, party, etc., then you can't find a better tool than Flexclip, which enables you to create and edit videos professionally online, and with a free version available.
The most important of the features we think are:
You can use the site for free and this is what makes this site very suitable for those who can't afford expensive tools. It has other paid version including a basic version, a plus version and a business version, which cost from $4.99/month to $19.99/month. These prices are very competitive among video editors.
It is very simple and easy to use this platform, which means that you will do not need any experience or skill in creating and editing videos with FlexClip.
The flexclip site provides you with a lot of templates, elements, resources and very great editing options. For example, you can add your own logo and watermark to save video rights in addition to changing the aspect ratio and editing the audio for the video, etc.
The site provides you with the ability to download videos at any time in multiple resolutions, which are 480p, 720p, and 1080p.
2. Movie Maker Online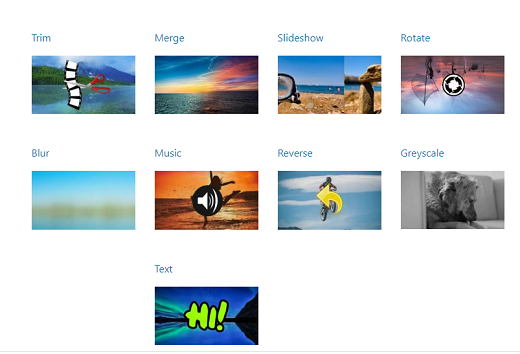 Movie Maker Online is a flexible video editor with royalty-free media to complement movie clips, audio files, and images. It allows you to upload video, photos, and music, and merge them into a project by dragging and dropping them onto a timeline. The page layout is a little weird so you'll need to scroll down a little to find it.
Movie Maker Online is funded by ads that may distract you, and you will need to deactivate any ad blocking extensions before you can use the software.
3. ClipChamp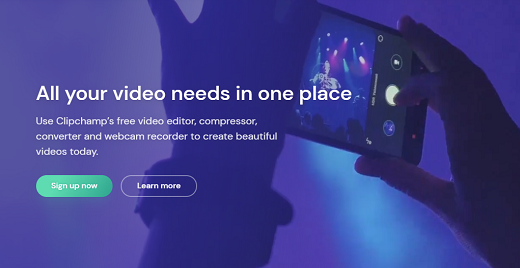 The free version of ClipChamp don't have some advanced features but is easy to use and is a good choice for simple movie making tasks. The paid version comes in for $ 9 a month, but the free account still offers a lot of editing tools.
However, the program imposes some restrictions: You can create more than five videos per month, the maximum resolution is 1080p, and the videos cannot be more than five minutes long.
4. WeVideo
The website for videos – WeVideo competes with paid video editing software, as the site provides you with many tools for editing video and adding many effects such as slowing down and speeding up the video, adding the green screen and adding your own touch to the video.
After editing and modifying your videos, you can publish them directly on YouTube or Facebook, or store them on your free hosting on Google Drive and access them anywhere and anytime.
5. Kizoa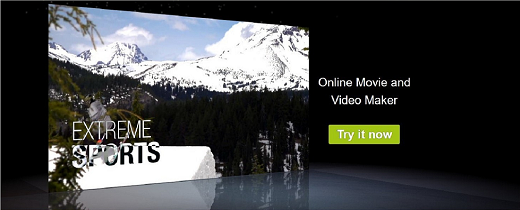 Kizoa designed to create your videos for your Work, your Life or your Schools projects in much easier way as it is an online Video Editor, Movie Maker and Slideshow Creator. With Kizoa, you can easily create movies by adding your own photos, videos, texts, effects and music whether it's a wedding, a birthday, your love story or your last trip.
You can create beautiful and eye-catching videos for your social media to engage with your followers with just a click of a button. Kizoa is a powerful promotional tool that is easy-to-use, efficient, and professional for any type of business by which you can attract new customers, increase brand visibility and create relevant content for your business.
6. Magisto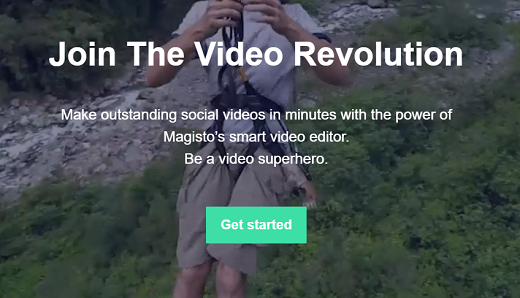 Magisto is a great online video maker that is really popular for automatically turning what would otherwise be an everyday type video into a beautiful poignant movie and outstanding social videos. So, if you want to make professional-looking videos quite easily, Online Magisto Editing Videos provides you with professional editing tools similar to the effects that Instagram offers you.
Once the video is finished, you can choose the music that you want to put in the background of the video clip, the site has its own applications on Google play and the App Store which means you can use it on Mobile devices, tablets and web, just use the same account and you can access your videos on all devices. You can share the video to social media platforms directly, but if you want to save the videos to computer, you need to upgrade your plan
7. PowToon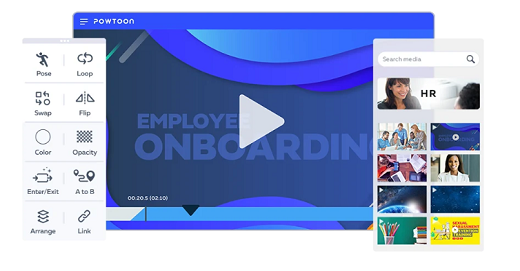 PowToon gives you everything you need to easily make professional videos and presentations that your clients, colleagues, and friends will love! No design or tech skills are necessary — it's free, easy, and awesome! It allows you use what is essentially a digital version of paper cut-outs superimposed on colourful backgrounds. The drag and drop style editing leaves you with a video reminiscent of the Common Craft style.
PowToon is a web-based animation software that allows users to create animated presentations by manipulating pre-created objects, imported images, provided music and user-created voice-overs. You can upload your own video footage or use the built-in video sources from Storyblocks. You can choose to select one of PowToon's many drawings of people and objects, which you can then arrange on a blank canvas or on a colourful background of your choice.
Conclusion
Web-based video editors makes it possible that you don't need to be an expert to produce relatively high-quality videos for your business. You have at your disposal, at the click of a button, a multitude of audiovisual editing programs without having to leave the pot.
After your experience with these sites, what is the online video editing and making website that you like? Are there any online video editing sites that you know other than the ones provided? Share it with us in the comments below.