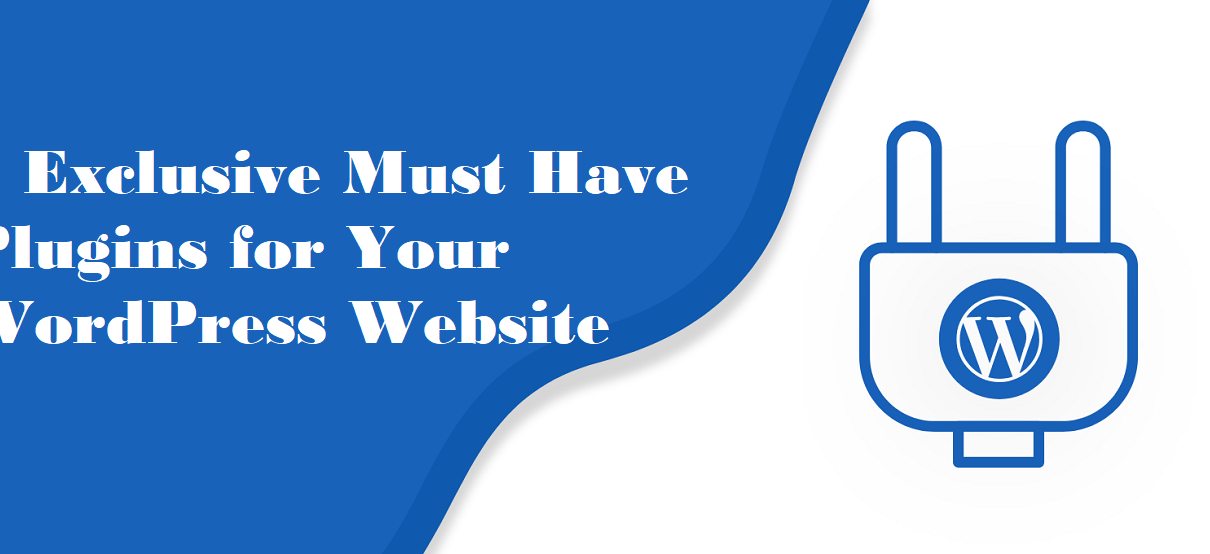 8 Exclusive Must Have Plugins for Your WordPress Website
WordPress is inarguably the best and most user-friendly content management platform in use today. WordPress CMS is so popular because it has the feasibility to extend the CMS solution in a limitless way. In addition to that, it can be grown into an even more feature-rich and user-friendly platform by adding the right plugins to it.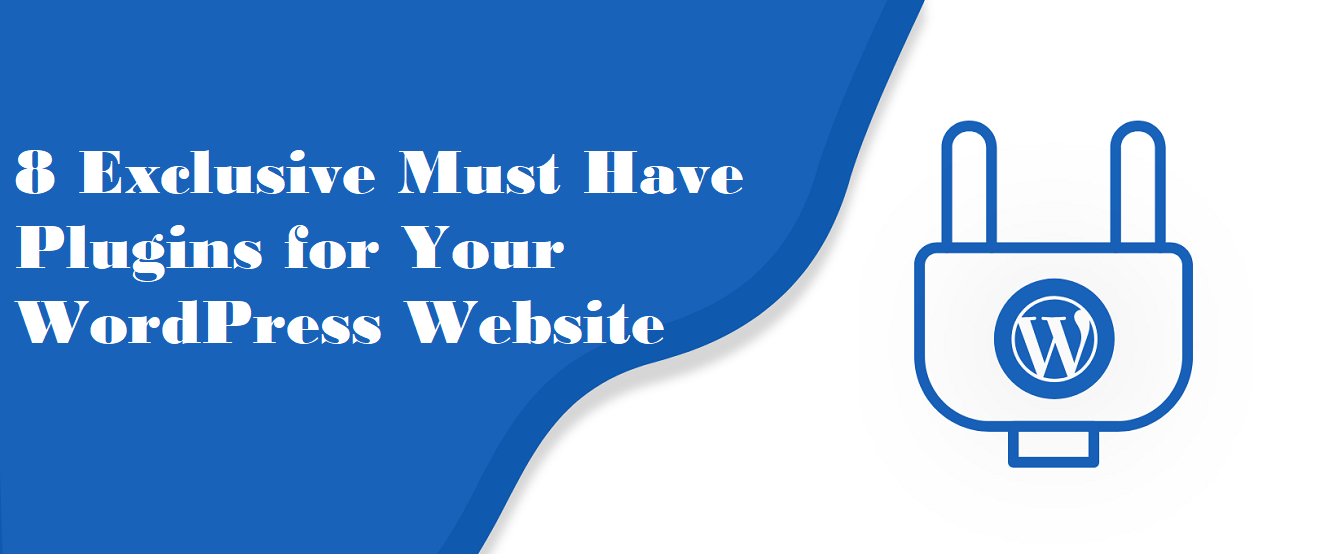 It is difficult to beat the intrigue of WordPress as it has tons of themes, useful plugins and extensive support. WordPress has a large collection of plugins and still counting which might be intimidating for a WordPress user while trying to find the right plugins for their WordPress website.
Top 8 Plugins for Your WordPress Website
Hence, this article introduces you to some of the best and essential plugins that are great options to add to your WordPress website for improving its functionality and scalability.
So, without further ado, let's take a look at each of them.
1. GDPR Cookie Consent Plugin
The new GDPR law has made it mandatory to review how your WordPress website deals with its cookie usage along with other data privacy requirements. It has also put forth certain guidelines regarding the requirements for complying with the law. The GDPR cookie consent plugin is developed to offer you an easy way to deal with the GDPR cookie compliance of your WordPress website.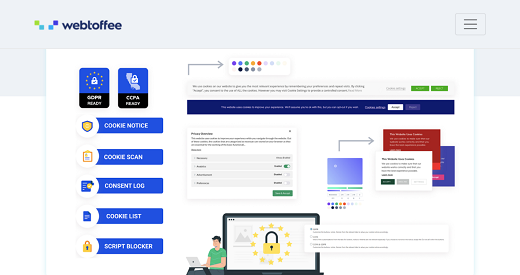 Key features of the plugin
Display cookie banner – By displaying cookie banners on your website you will be able to be transparent with your users on the presence of cookies on your website. You can choose from multiple layouts or pre-designed templates and customize them to match your website's style.
Automatic cookie scan – This feature allows you to scan your website for cookies and add the cookies to the cookie list. You can also show the cookie list on your cookie policy by using a simple short code so that you can let your visitors know of the cookies present on your website.
Automatic script blocking – As per the cookie law compliance, your website requires to seek the consent of your visitors before enabling cookies in it. This feature allows you to block cookies before the consent is given. The list of third-party scripts that are blocked automatically by the plugin includes,

Google Analytics
Facebook Pixel
Google Tag Manager
Hotjar Analytics
Google Publisher Tag
YouTube
And more.

Easy management of cookies – The cookie management will be easier on your website as cookies are identified and added to the cookie list automatically. It even categorizes cookies into categories based on their purpose.
GeoIP based cookie notice – Using this feature you can choose to show cookie notice to only the visitors from the EU.
Granular opt-in – With this feature, you can allow your visitors to enable or disable cookies based on the categories it falls into.
What to choose? The free or premium version
The plugin comes in both its free and premium versions. Although the free version features are enough to assist you in GDPR cookie law compliance, you will miss powerful features such as location-based cookie notice exclusion and automatic script blocking, CCPA compliance, etc., in the free version.
Pricing
The pricing starts at $49 for a single site license. $99 for up to 5 site licenses, and $199 up to 25 sites.
2. Yoast SEO
Yoast is the most popular plugin for taking care of search engine optimization for your WordPress website. It comes with many powerful features to keep your website always on the top in the SERP.

Key features of the plugin
Powerful SEO analysis – It monitors your website's content for better SEO and lets you know about the changes that need to be made on it to make it better.
Keyword Optimization – Keyword optimization is one of the important SEO strategies. You can easily optimize your content for keywords with the help of this plugin. Even multiple keyword optimization is possible with it.
Readability analysis – Readability is another factor that has a great impact on SEO. The more readable the content the better its popularity and SEO. The plugin analyzes your content for readability and lists the changes that need to be made for increasing its readability.
Automatic internal linking suggestions – You can make it easy to add internal linking to your blog content with this feature as it displays internal linking suggestions automatically.
Redirect manager – No more dead links on your website as its redirect manager allows you to fix all links on your website.
Social preview – This feature allows you to see how your content will look on different social media platforms thereby ensuring a strong presence on your social media pages.
What to choose? The free or premium version
If you have an average knowledge of SEO, the free version is all you need to bring the best out of your website in terms of SEO. All the most important SEO features such as SEO analysis, readability check, Google preview, etc., are available in its free version itself. But if you need more you may go for the premium version.
Pricing
For the plugin subscription alone (including updates and 24/7 support) you only have to pay $199/year. A $599/year plan gives you access to SEO training courses along with the plugin subscription. Monthly based subscription is also available.
3. W3 Total Cache
If your website's speed matters then caching also matters. W3 Total cache is an excellent caching solution for your WordPress website with over 1 million active installs. It speeds up your WordPress website by reducing its download time and thereby making your webpage load faster. The plugin claims to increase your website speed by at least 10 times (as indicated by Google PageSpeed Insights) in overall site performance.

Key features of the plugin
Compatibility with different hosting platforms – The plugin is compatible with shared hosting, virtual private hosting, dedicated servers/clusters.
Supports multiple caching methods – Local Disk, Redis, Memcached, APC, APCu, eAccelerator, XCache, and WinCache.
Caching statistics – Advanced metrics about your site's performance helps you diagnose previously unknown performance issues with your site, web server, MySQL, etc.
Fragment caching – Control the caching times for comments, eCommerce, and other interactive elements to ensure that your users see the most up to date content available.
Supports AMP (accelerated mobile pages support)
Secure Socket Layer (SSL) support
Minify CSS, Minify JavaScript and Minify HTML with granular control
Minification of posts, pages, and RSS feeds
Content delivery network – Transparent content delivery network (CDN) management with Media Library, Theme files, and WordPress itself.
What to choose? The free or premium version
Both free and paid versions of the plugin are excellent. But if you are not so cool with the idea of spending a lot of money on your website's caching it would be better if you go with the free option rather than the expensive premium version of the plugin.
Pricing
The plugin is billed annually at $8.25/month.
4. Updraft Plus
Updraft Plus is one of the most popular back-ups, restore, and clone plugins for WordPress. It is used by over 2 million WordPress sites. With its easy setup it would be very easy for you to carry out and manage the backup, restore, and cloning in just a few clicks of your WordPress website.

Key features of the plugin
Backup – The plugin performs complete manual or scheduled backups of all your WordPress plugins, themes, WordPress files, and databases. It also backs up limitless non- WordPress files and external databases.
Supports scheduled backup- Backups can also be scheduled at every 4, 8, 12 hours, daily, weekly, fortnightly, or monthly.
Allows incremental backups – With this feature, you can backup only the changes that have been made to your website since the last backup. It can be set to the hourly schedule of your choice.
Pre-update backups – It enables your website to automatically backup before the WordPress core updates, or any updates to plugins and themes.
A plethora of options for remote storage – The plugin claims to have the most number of remote storage options than any other backup plugin. Some of the options include Dropbox, Google Drive, Amazon S3, Updraft vault, Rackspace Cloud, FTP, DreamObjects, Microsoft one drive, Microsoft Azure, Google cloud storage, Backblaze B2, SFTP, SCP, WebDAV, and more.
Secure backup – Database backups can be encrypted for security.
Compatibility with WordPress Multisite – The plugin is compatible with WordPress Network/Multisite installs.
What to choose? The free or premium version
If you are running a small to medium, lower traffic site that changes infrequently, it's better to go with the free version, to avoid any unnecessary expenses. But if you have a medium to high traffic website, you might want to consider the paid version as its necessary for your website to be performing without any downtime.
Pricing
The whole plugin package that includes addons, updates, and support costs $42/year.
5. Wordfence
Wordfence is a popular name when it comes to WordPress website security. It has surpassed 3 million in the number of active installations, leaving other security plugins far behind. It includes an endpoint firewall and a malware scanner that can take your website's security to the next level.

Key features of the Plugin
Web application firewall – The web application firewall of the plugin identifies and blocks malicious traffic to your website.
Real-time malware signature updates – The Wordfence security scanner and firewall rely on thousands of malware signatures to help identify malware on your website and to block malicious uploads.
Country blocking – The feature allows you to block any traffic that comes from countries that engage in malicious activities.
Leaked password protection – It lets you protect your site against attacks that use password information stolen in data breaches. You can also block logins for admins who use compromised passwords.
Advanced manual blocking – Using pattern matching and IP ranges you can quickly block entire malicious networks and any human or robot activity that indicates suspicious intentions.
Repair files – Using source code verification feature you will be able to easily understand what changed in core, theme, and plugin files after a hack and repair them easily.
Two-factor authentication – You can easily enable two-factor authentication on your website to stop brute force attacks permanently.
What to choose? The free or premium version
The free version of Wordfence is said to be providing adequate security to its users with its excellent features such as firewall, rate limiter, malware scanner, IP blocker, and so on. Thus if you don't find any of the premium features necessary for your website's security needs, it's best to go with the free version than wasting your money on the paid version.
Pricing
Although a single site license costs $99, the cost per license reduces as you buy additional site licenses. If you are buying 15+ site licenses you only have to pay $74.25 per license. In other words, Wordfence is a great choice for those who run multiple websites.
6. SeedProd
SeedProd is a coming soon page and maintenance mode plugin for WordPress. The plugin lets you create beautiful coming soon pages, grow your email list, and limit the access to your WordPress website while under construction.
Key features of the plugin
Page builder – The SeedProd builder comes with built-in design controls that let you create professional-looking coming soon pages in minutes.
Huge collection of free images – It lets you choose from a large collection of pre-made themes and background images form Unsplash.
Grow email list – It lets you collect emails with your third-party email service providers such as MailChimp, ActiveCampaign, ConvertKit, etc.
Restrict access to your website – You can restrict access to your website by using password protection, allowing special access to clients, or by limiting access by roles or IP addresses.
Multilingual supported – It lets you translate any text in the coming soon page to your native language. You can also create multilingual coming soon pages.
GDPR compliance support – It provides features such as an opt-in checkbox and an area for a privacy policy to help you achieve compliance.
What to choose? The free or premium version
The plugin comes in both its free and premium versions. Thus, if you are using the plugin for the first time or need it only for one website either its free or basic plan would be enough. But if you are handling multiple websites, you probably need the premium plan.
Pricing
It comes in three different plans.
Basic – $29/year
Plus – $69/year
Pro – $99/year
7. WPML
If you wish to build a multi-lingual WordPress website, WPML is a must. The plugin makes it easy to run a multilingual website with a single WordPress installation. You can choose languages for your site and start translating content.

Key features of the plugin
Multiple language support – The plugin supports over 40 languages and lets you add your own language variants with WPML's language editor.
Powerful translation management – It lets you turn ordinary WordPress users into translators or lets you connect it with a translation service of your choice.
Translation for theme and plugin texts – It helps you to translate texts in other plugins and admin screens.
What to choose? The free or premium version
The plugin doesn't have a free version but its affordable than any other plugin for multilingual WordPress.
Price
The plugin comes at three different price plans. Multilingual blog ($29), Multilingual CMS ($79), Multilingual agency ($159).
8. Smush
Smush is one of the popular image optimization plugins for your WordPress website. In addition to optimizing images, it also supports lazy load, resize, compress, to improve your website's page speed.

Key features of the plugin
Great compression – With this plugin's advanced algorithm, you will be able to compress images without a drop in its quality.
Bulk image optimization – It lets you optimize unlimited images on your site with just a click.
Smush CDN – With this feature, you will be able to serve your images from 45 locations around the world. Thus helping your site load faster.
Backup original images – Optionally store original images as a backup so you can quickly restore full quality images at any point in time.
Automatic resize and scale – Properly size image as recommended by Google, so the images fit within the container correctly.
Auto convert PNG to JPEG – It allows you to automatically convert PNG (without transparency) to JPEG.
What to choose? The free or premium version
The free version is enough for basic optimizations of small images that are up to 1MB. However, the paid version of the plugin comes loaded with many additional features that can help you achieve the best possible performance for your website.
Price
The plugin comes in two different packages that cost $49/year and $79/year respectively. It also offers monthly subscriptions.
Wrapping up
Plugins can be of great help for WordPress users who have no technical or coding background, to build and run a website without much effort. The above list is created based on the general requirements that every WordPress website will have.
But depending on your website's niche, specifications, and skill-set the list of plugins that your website needs could be different for each one of you. Thus first understand which part of your WordPress website needs improvement and find the right plugin that will help you fix it.