There are many ways you can scale up your business in 2021, such as digital ads, traditional marketing, social media, and Blogging. But which one of them do you think is the cheapest and brings tremendous results in the long run? Well, the answer is blogging. There are tons and tons of examples in the market of how people scale their businesses to multi-millions just with the help of a single blog.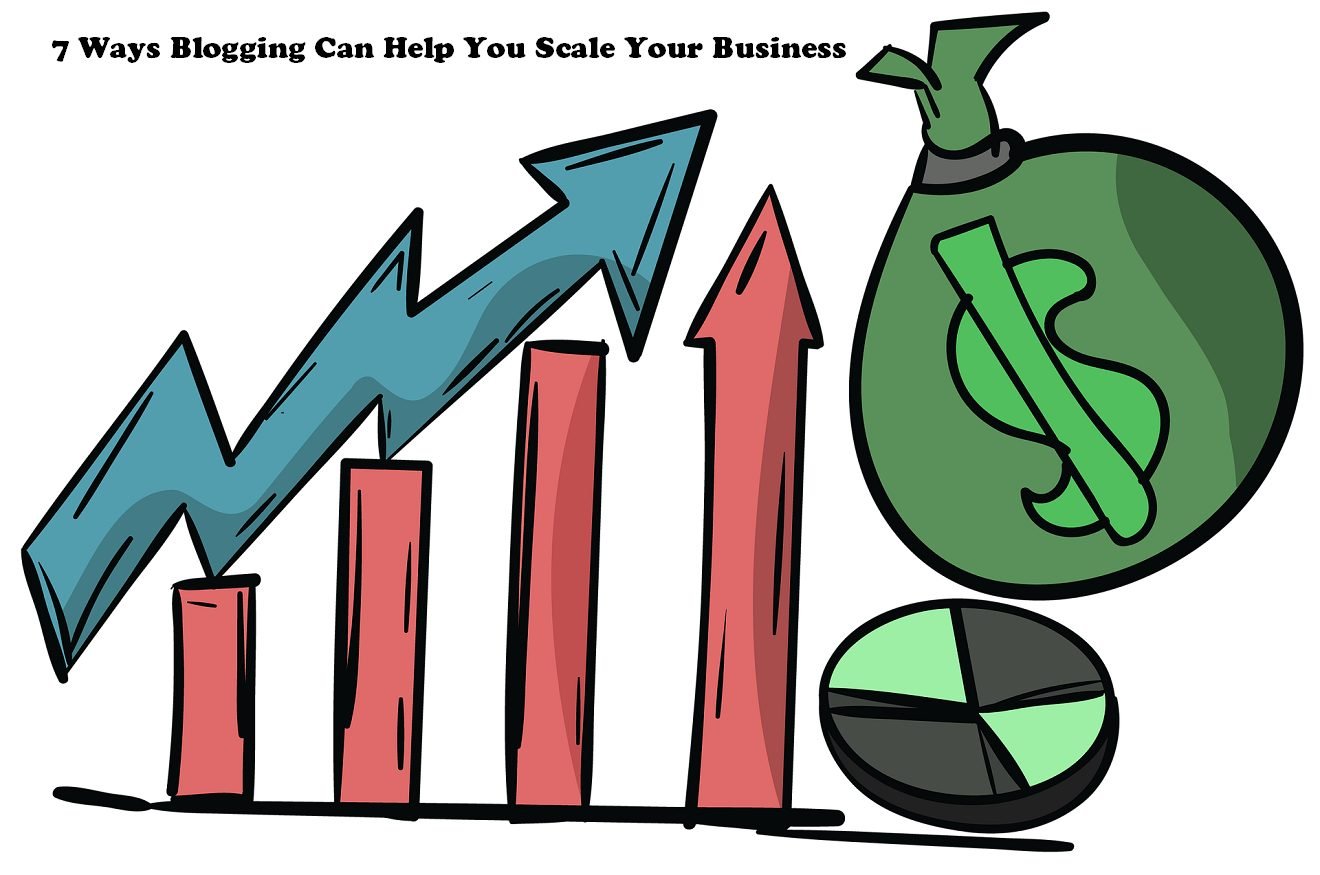 Whether you want to attract new customers, turn customers into loyal fans, and become a leader in your industry. A blog can do it all if you play the game right. The ultimate goal of Blogging is to provide tremendous value to your users and reader and help them solve their problems. But whatever it may be, it only works when you implement the right strategy.
7 Ways to Effectively Scale Your Business by Blogging
Anyways, now let us talk about how Blogging can give a massive boost to your existing or new business regardless of the industry. 
Way #1) Helps to Increase Traffic to Your Business/Site
Blogging is the most inexpensive way to drive traffic to your business. Just stay consistent with your content (You should educate users about your product or the industry) and watch the horde of customers coming to your site/business.
The most important thing is being consistent with your blog. Reports show that businesses see 70% more results than businesses that don't stay consistent with their content.
More people coming to your site means more customers & more customers means more profit.
Create content that solves your target customer's pain points, and implement a few SEO strategies. That's it!
Way #2) Target Specific Clients
With the help of the blog, you can target specific clients and customers with keywords. Whenever you write a blog, make sure that you target long-tail keywords as they are more generic and mostly contain a direct question. Long-tail keywords are easier to rank on Google and are more relevant to your target audience.
Let us take an example- Suppose you run English classes in India. You would obviously want to rank for keywords like "English Classes," But you know what, it will be very difficult to rank for this keyword as it's a short one and may have fierce competition.
But when you take the help of blogging, it allows you to use long-tail keywords and target a more specific audience. And you can target the phrase "Learn English In India" and write blogs about "Is it easy to learn English in India."
Even though this term will get fewer monthly searches than the English Classes, it's comparatively easy to rank well on Google.
This way, you are only targeting people who are more likely to buy your product/service (wishing to learn English only in India, in this case) and generate more quality leads.
Way #3) Helps to Establish Your Brand Image
These days everyone is talking about the importance of branding in marketing. From design to the tone of copy or the feel of your website and, most importantly, your content, everything plays a vital role in making a memorable brand.
Perhaps you own a school? Then why not establish your brand and voice by making an educational blog? Your blog will consist of great content that will help students from all around the world to solve their problems (related to studies) in a tone or a way that reflects your values and brand voice. And as you are already aware, people trust and remember the most about the brand they find on google and engage with.
Way #4) Show & Tell What Your Business Can Do
For many businesses like coaches, gyms, real estate, designers, etc., a blog acts as a portfolio and proof of their knowledge. And blogging can tremendously help the companies or businesses that thrive on past success, just like a few mentioned above.
On your blog, you can post about your client's success stories, attractive photos about your work; you can publish your subject knowledge.
For example, if you're a doctor, using your blog, you can show off impressive client stories and how you are helping the public with your services. And consistently post about whatever you know, which will eventually build your image as an expert doctor who is famous and knows almost everything about his specialization.
Way #5) Low Cost Leads for Years
In simple words, blogging is all about ranking your content on the web using different SEO tactics. And guess what? SEO does not need you to spend millions and millions of dollars to bring results.
Though it can take a long time to rank (depending on the competition) your content will continue to attract new customers for years.
HubSpot, one of the most famous digital marketing companies in the world, claims that 90% of their leads still come from the blogs that they published 3-4 years ago.
Along with that, you also need to keep updating the old blogs so that they stay relevant for years to come. Sometimes all it takes are a few minor changes in the existing blog to make it useful.
Way #6) Build Your Network Within Your Niche
With blogging, most businesses only think about customers and clients they will get, but if you look at the potential, blogging can be effectively used for networking with other businesses and entrepreneurs.
Every industry has a handful of well-established and valuable blogs – you can mention those blogs in your article and stand an opportunity for collaboration or something else that has mutual benefit for both of you.
This will further help you in:
Additional backlinks.
Invites to industry events.
Or maybe even an entire buyout of companies.
Way #7) New Stream of Revenue
Do you know blogging can also open a new stream of income for your business? Well, there are many ways to do it.
When your blog starts getting enough traffic, you will be eligible for Google's partner program. Then you will be able to show ads to the readers on the blog, and whenever they click on that ad, you will get a small amount of commission. Well, most businesses don't prefer to annoy their customers with ads. So, they go with affiliate marketing, paid newsletters, and much more. Isn't it amazing?
Conclusion
Blogging is really, really powerful for your business, no matter who, where, and what your customers are.
Do thorough research about all the competitor's blogs available on the internet and start adapting to what they are doing. As you go down the line and learn a few bits about blogging, you hire a team dedicated to blogging and ranking and make your own impressive strategies. Keep tracking your results and always update your older content to keep it relevant to the time.
If you play it right, blogging will bring you thousands of organic leads and get the best out of your business.
Before winding up, let us do a small recap of how blogging can help you scale your business-
Bring new online traffic.
Nurture customers to make them more loyal.
Keep existing customers engaged.
Grow your brand, demand, and interest in your products or services.
Bring leads for years to come.
And, yeah, earn a significant amount of money besides sales.
Thanks for reading! And if you have any questions, please drop them in the comment section.