Website traffic is the foundation of any high performing website. It is the most genuine indicator to show the health and status of any good website. Without website traffic, there can be no sales or revenues. According to Google, a website, which has a good amount of traffic flowing is an indicator of authentic information and content.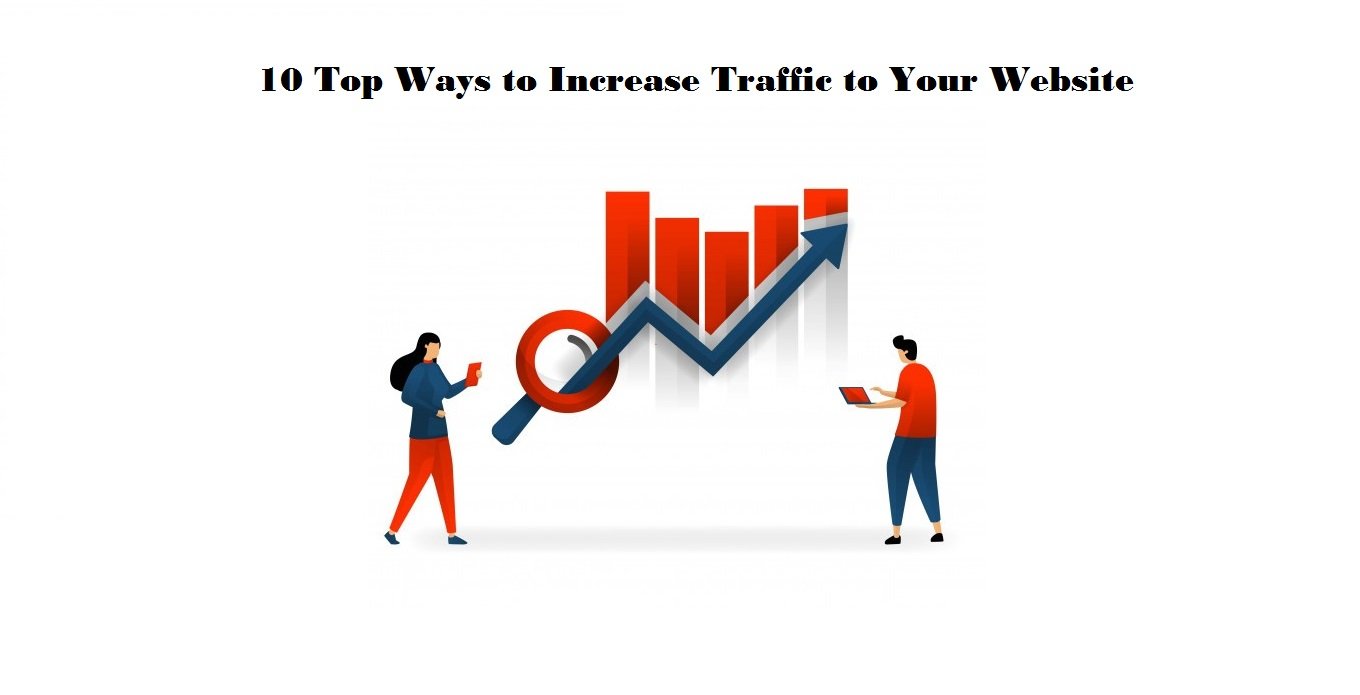 Agencies and SEO experts have explored many ways to increase traffic flows toward website. While some of them work, others are simply a temporary success. Given the fact that we have over a billion websites on the internet, Google gives top priority to sites, which are able to drive traffic.
Now the matter of fact is
Do you want to explore innovative ways in order to increase traffic to your website?
Are you aware of the advantages of improving website traffic flow?
Has your digital marketing agency set a plan of action in place to increase traffic to your website?
So, in this article, we will look at the top 10 ways of increasing traffic to your website.
10 Ways to Increase Traffic to your Website: The List
1. Social Media
Every brand, regardless of the industry they are in need to have a strong social media presence. Facebook, Instagram, LinkedIn, Twitter, Snapchat and Pinterest are some of the social platforms, which every brand should be on.
Brands should look to share everything from their products and services to blog posts on social media. This helps in redirecting traffic from social media pages to your website. If you are doing it diligently and putting out great content on social media, you will see a definite spike in your website traffic.
2. Quora and Reddit
In addition to social media, Quora and Reddit have emerged as strong authority websites. They help in driving targeted traffic to your website. You can engage with issues regarding your industry and offer viable and workable solutions.
If people like your suggestions, they will be encourages to click on your link and come to your website. It is important that you consistently share a couple of long format answers on the platforms daily. This will help drive website traffic to your product and blog pages.
3. Guest Posting
For a very long time, Guest Posting has continued to enjoy a dominant position in digital marketing. This strategy not only helps in diverting traffic, but also helps in building backlinks. By publishing high quality original content on authority sites, you can drive a huge volume of traffic to your brand site.
It is important to follow White Hat Guest Posting strategies at all times. Google comes down heavily on sites, which do not subscribe to its Quality Guidelines.
4. Blogger Outreach
Blogger Outreach is the strategy of reaching out to bloggers in your industry niche and requesting them to cover your content. This can be in the form of product reviews, sponsored posts, video reviews or just a shout out on social media.
Bloggers command influence over a vast section of their audiences. People look up to them when it comes to buying advices and suggestions. Try to forge a long-term relationship with a blogger. You can also look at working with a specialised Blogger Outreach Agency.
5. Google AdWords
Most brands and agencies highly recommend Google AdWords as it is a high ROI driven campaign strategy. Google is very good at optimizing and targeting audiences. The advanced levels of algorithm help in reaching out to people, who are interested in your industry.
In my experience, the ROIs from Google AdWords Campaign are always satisfactory in nature. It is important for brands to run small campaigns every month on Google AdWords, This helps not only in traffic, but also in generating qualified leads and sales.
6. Google My Business
Google My Business is the bedrock of any successful Local SEO strategy. It is important for brands to have an active and aggressive GMB listing. Google uses the GMB listing and triangulates it with the GPS location of people.
GMB listings not only helps in driving local footfalls, it also helps in improving brand presence and awareness on search platforms. Try to get reviews, offer posts and complete information on your GMB listing at all times.
7. Local Official Directories
Every business, regardless of the industry they are in are always part of some local business and community associations. I am talking about the local Doctor's Directory, or the Food Safety Directories.
It is important that your website link is always there on as many local business directories. This shows that you are an active member of the association and maintain a presence on multiple platforms. As these association platforms are credible and many people visit them, it is important for redirecting website traffic.
8. Citation and Aggregator Platforms
In the past few years, aggregator platforms have come up in nearly every industry- food, fashion, health, etc. For single brands, it is an exciting opportunity to increase their sales and revenues. However, it is equally important to place your website links on the platforms for better organic traffic flows.
Even though aggregator platforms are criticized for deep discounting, it is always better to maintain a presence on as many platforms as possible.
9. Set up a Blog Section
People might not always want to buy products and services. Sometimes, they would just be looking for advice and suggestions. A blog section is a necessity for any business. In my experience, blogs garner significant traffic flows.
In digital marketing circles, this is known as 'Inbound Marketing'. If you are creating high quality original content, which is SEO friendly, you will start seeing a lot of organic traffic on your website.
10. Offline Activities
If you are looking for ways to increase traffic to your website, you cannot ignore offline mediums. Small ad promotions and collaborations in the physical world can help you drive traffic in the online world.
If you would have notices, almost all the biggest Ecommerce brands take to some form of offline advertising at all times. This is because, even though there businesses are on the internet, it is important to generate awareness in the offline world.
Conclusion
Increasing traffic to your website will help you create a high performing website in a short span of time. It is important to follow all the above listed strategies simultaneously. It is only then that you will be able to see a marked difference.
Do let me know about other strategies that can help in increasing website traffic.