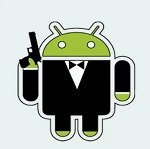 Android: Top 5 Security Apps
Your Android-powered device contains useful data that may attract cyber criminals and thieves. That's why it's advisable to download and install one of the most reliable security apps on your tablet/phone as soon as you unwrap the package containing your brand new gadget. 🙂
Below I've made up a compilation of the most popular Android Security Apps. Use them to protect yourself from cyber criminals. But when facing the real ones – contact the police or a security company! 🙂
Lookout Mobile Security
This security application is one of the most reliable security apps for the phones working on Android OS. As usual, there are two versions: free and paid. Free version allows you to scan your smartphone for malware, restore data and track your device's GPS location (this option may come in handy in case of theft, or if you're prone to losing things :)). In order to enjoy more advanced features you need to upgrade your plan (for $3 per month). Add-ons include remote locking and helpful security tips.
Norton Mobile Security
This app is developed by one of the most reliable antivirus software providers in the market. In addition to the handy remote locking option and scanning for malware, Norton Mobile Security lets you lock the phone when your SIM is removed.
AVG Antivirus
AVG has been proven to be one of the top antiviruses for personal computers and it is now available for Android smartphones, too. With this app you can make a precise scan of your smartphone's content: apps, settings and media. You can also lock certain applications by putting passwords on them. This function comes as part of the Premium version.
WaveSecure Mobile Security
This application is similar to Norton Mobile app. You can get its premium features for $20/year. However, with WaveSecure you can't scan your smartphone for malware. But you may backup your phone's data easily. There is another useful feature – "WaveSecure Uninstall Protection". If it's 'on', hackers won't be able to uninstall your security app, unless they know your password.
mSecure Password Manager
Unlike the aforementioned apps, mSecure isn't an antivirus program. It's a convenient password and data manager. With this app you can safely store your most important information on the Android device (logins and passwords, credit card details, social security numbers, etc.). This software employs the latest technologies in data encryption to ensure your data is protected from third parties.
Seal Application Locker
With this simple, but intelligent app you can protect any app with a password or a pattern (graphical password) so nobody could open it, but you. This lightweight application is easy-to-install and use, and can be seamlessly integrated with Locale and Tasker plugins. If needed, you may group your protected apps by categories.
SeekDroid: Find My Phone
This app allows you to find your Android device anywhere in the world. It comes with a bunch of awesome features: ability to set off audible alarm, see your phone/tablet on the map (and even display its location history) as well as erase your SD card remotely.