Artificial Intelligence (AI) is the field of computer science that aims to replicate human intelligence processes in machines. It involves tasks like judgment, language interpretation, learning, and problem-solving. AI is used by major companies like Apple, Microsoft, and Meta to improve operations and gain a competitive edge.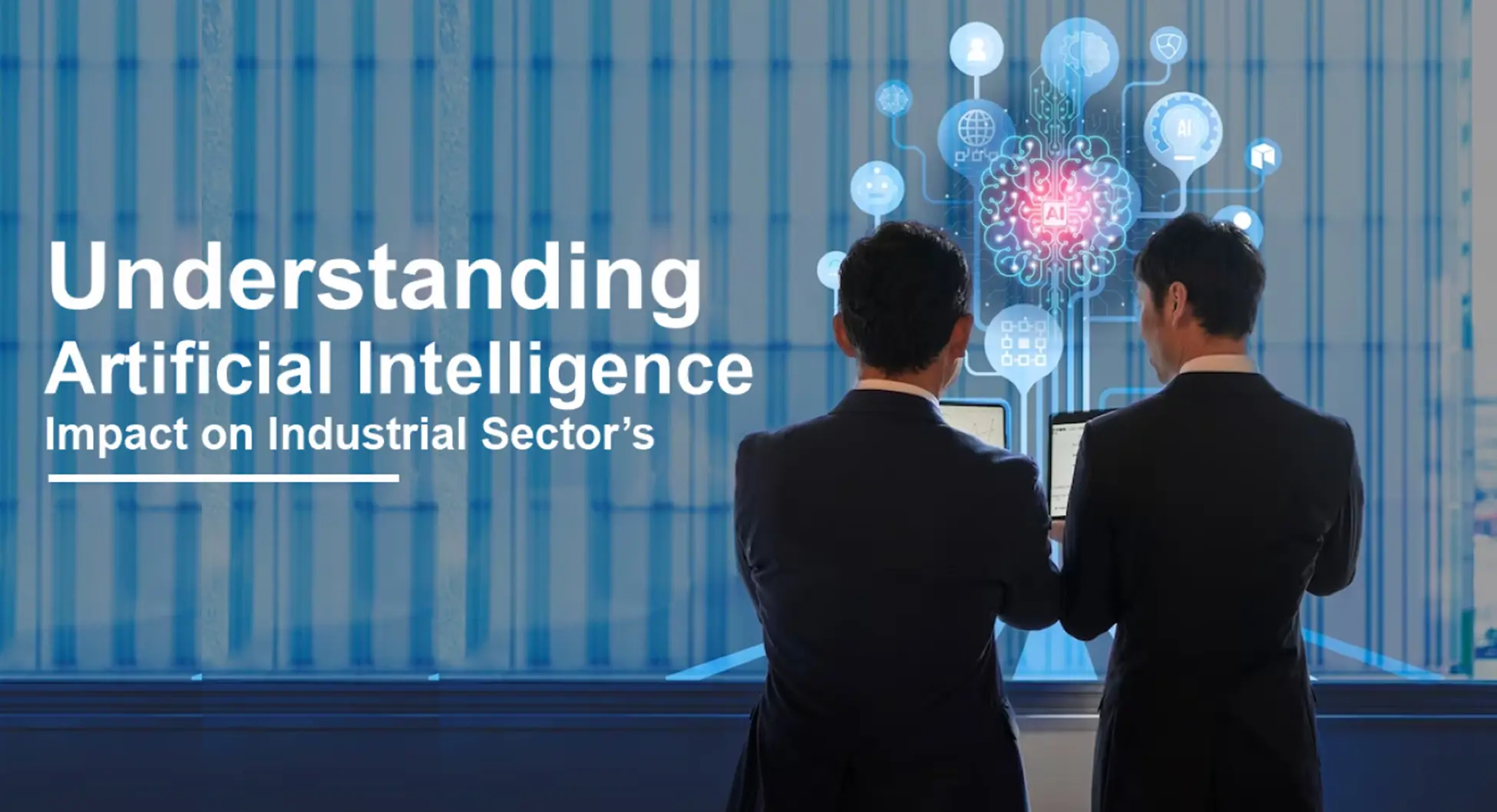 Examples include Google's search engine, Waymo's autonomous vehicles, and Google Brain's Transformer Neural Network, which advances natural language processing. AI certification can provide in-depth knowledge and real-world applications of this technology.
With AI certification you can discover the massive aspects of Artificial Intelligence which will help you to understand the core of it with more real world examples and applications.
The following graph will help you understand AI's market size, which is projected to reach $241.80 Billion in 2023. It is expected to show an annual growth rate of 17.30%, which results in a market volume of $738.80 Billion by 2023.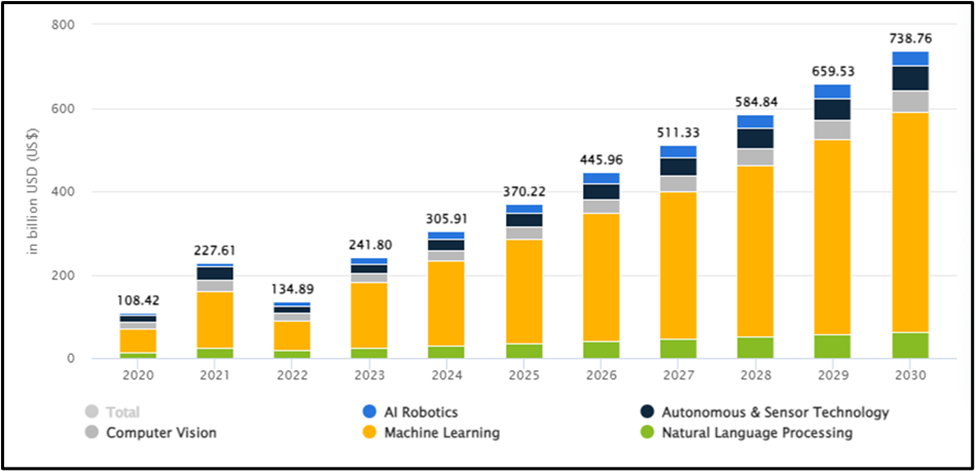 AI-related techniques
Machine Learning (ML): Machine Learning is a branch of AI that teaches algorithms to recognize patterns and develop predictions or judgment calls based on information. Supervised learning, unsupervised learning, and reinforcement learning are examples of common ML approaches.
Natural Language Processing (NLP): The goal of natural language processing is to make it possible for robots to comprehend, analyze, and produce human language. It is utilized in sentiment analysis, language translation, and Chat-bots.
Computer Vision: Teaching robots to decipher and comprehend visual data from pictures or movies. Applications include autonomous cars, object detection, and facial recognition.
Robotics: AI-powered machines are made to do tasks independently or autonomously. They are used in industries including construction, medicine, and space exploration. The below graph shows the global AI-driven robots market size with the forecast until 2023. The AI robots are used in all possible industries and the integrate programs allows them to stimulate the human intelligence and perform the tasks autonomously.
Deep learning: Artificial neural networks are used in deep learning, a specialized branch of machine learning, to model complicated data patterns. It does particularly well at tasks like speech and picture recognition. Here, through AI certificate course, you can get in-detailed information along with examples and strategies by which these types get used in applications.
Impact of Artificial Intelligence on Industrial Sector's
AI is a transformative technology that can potentially transfigure different industries. It can analyze vast information, learn from different patterns and develop intelligent decisions. It operatively reshapes businesses and brings new opportunities for invention.
Image Description: (Artificial Intelligence (AI) has had a profound impact on the industrial sector, revolutionizing the way businesses operate and enhancing their competitiveness. In this article, we'll explore the various ways AI has transformed the industrial sector, from manufacturing to supply chain management and beyond.)
Artificial Intelligence in Healthcare
Recently, the use of AI in healthcare has been initiated successfully, and here, ML brings the trends within a population, similar to how computer vision can detect diseases with the help of X-rays and NLP can in meditation safety. These advancements for patients will come together once we get real data interoperability, which will support the safe interchange of health information.
Artificial Intelligence in Manufacturing
AI drives smart manufacturing by optimizing production procedures, decreasing downtime, and enhancing product quality. AI-powered robots and automation systems are taking over repetitive tasks, increasing efficiency and productivity. The algorithms of Machine Learning are used to predict maintenance requirements and schedule proactive repairs, reducing unplanned downtime. AI-enabled quality control systems can detect errors or defects in real-time by ensuring products meet the highest quality standards. 
Artificial Intelligence in Finance
Artificial Intelligence transforms the finance industry by automating repeated tasks enhancing fraud detection and customer experience. The algorithms of AI successfully analyze a wide amount of financial data, identify patterns and make real-time predictions for investment decisions. Robo-advisers are using Artificial Intelligence to provide personalized financial advice to investors.
Artificial Intelligence in Agriculture
AI is transforming the agriculture sector with the help of optimization for crop yields, reducing resource consumption and enhancing farming practices. The algorithms analyze the environmental data, soil conditions, and weather patterns to give farmers insight into the finest planting times, irrigation schedules, and pest control measures. Hence, the technology helps to grow productivity, reduce costs, and promote sustainable farming practices.
Artificial Intelligence in Retail
AI is transforming the retail sector through advancements in customer engagement, better stock control, and the facilitation of tailored marketing efforts. AI-driven recommendation systems offer individualized product recommendations rooted in customer tastes and past online activity. Additionally, chatbots and virtual assistants are capable of aiding customers in locating items, addressing inquiries, and delivering assistance.
The impact of AI on modern culture is hotly contested. People believe that AI has positively impacted their daily lives due to its performance, and even complex activities are done more efficiently and effectively than they can. Still, in some areas, AI leads to increased unemployment and racial profiling.  
Future of Artificial Intelligence in Industrial Practices
In Manufacturing
AI will be used in the manufacturing industry for different purposes such as design, process optimization, reducing equipment wear and optimizing energy uses, and the change has already started happening. Another sector where AI will continue to bring benefits is Journalism. This industry can use automated insights to generate thousands of annual earnings reports and stories.
In Education
In the Education sector, AI will bring different strategies that will change humans' learning methods. The strong use of Machine Learning, Natural Language Processing as well and Facial Recognition will help digitize textbooks, detect plagiarism and gauge the emotions of learners or students facing complexities in their studies. Hence, AI is set to tailor the learning experience to each student's requirements.
In Transportation
For the Transportation industry, AI will provide self-driving cars and AI travel planners, a couple of facets of how humans get from point A to point B, which AI will influence.
In Military
In the Military, AI-assisted military techniques generated autonomous weapon systems that don't need human beings, resulting in the safest way to enhance the security of nations. So this way, AI will bring positive factors for different industries in the future.
Applications of Artificial Intelligence
Image Description: E-commerce businesses will engage better with consumers. These recommendations are developed in accordance with their browsing history, preferences as well and interests. It allows to improve the relationship with consumers and increase their loyalty towards the brand. Education, Robotics, Agriculture-Commerce.
E-Commerce: AI technology is used to generate recommendation engines through which E-commerce businesses will engage better with consumers. These recommendations are developed in accordance with their browsing history, preferences as well and interests. It allows to improve the relationship with consume E-Commerce's and increase their loyalty towards the brand.
Education: In the education sector, without any direct involvement of the lecturer or the teacher, learners can access extra learning materials with the help of Voice Assistance. With the use of this, the printing cost of temporary handbooks will be reduced.
Robotics: The application of AI in Robotics is normally used as they are powered by AI and use real-time updates to sense complexities in their path and pre-plan their journey instantly. It is used to carry goods in hospitals, in inventory management and other operations.
Agriculture: AI is used to identify defects and nutrient deficiencies in the soil. It is done with the help of computer vision, robotics and ML applications, where AI can analyze where things are going wrong.
These are the few example of AI application which are used in relevant sectors. Here, with the help of best AI certification you will have the great opportunity to discover broad applications of AI which are used in real world cases effectively.
Conclusion
The above blog has successfully showcased how AI has an impact on different industries. The techniques of AI which are used in its applications are given. The Future of AI for relevant sectors, along with the applications, are also elaborated in this blog. As AI is a broad technology, make sure to go with artificial intelligence certification to learn more about the work of AI and how it will have a positive impact on industries in Future.